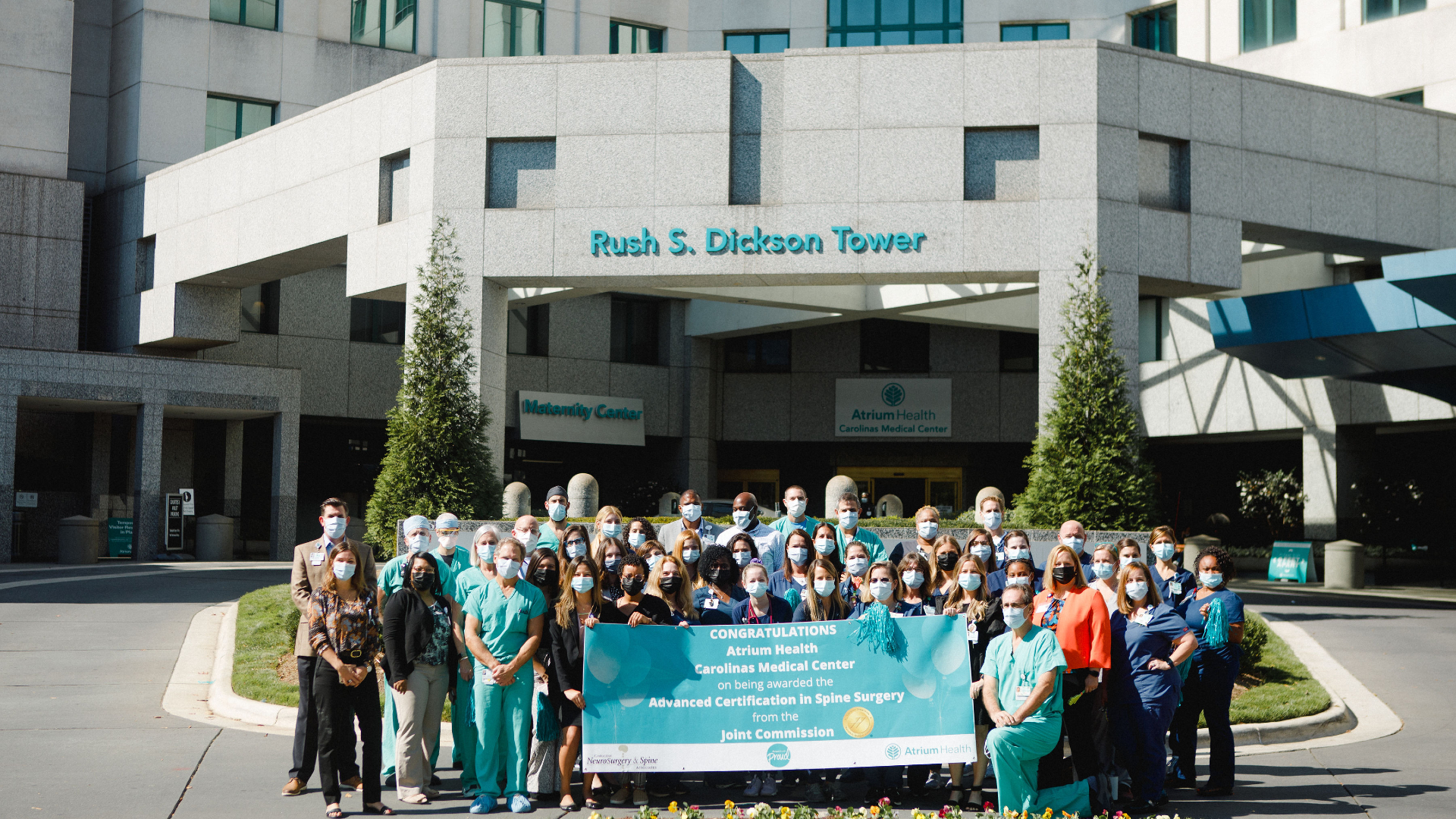 Atrium Health and Carolina Neurosurgery & Spine Associates Partner to Achieve Advanced Certification in Spine Surgery from The Joint Commission
11.15.2021
Atrium Health News |
Musculoskeletal Institute
Atrium Health Carolinas Medical Center (CMC) was awarded The Joint Commission's Gold Seal of Approval® for Advanced Certification in Spine Surgery by demonstrating continuous compliance with its performance standards, the first site in North Carolina to achieve this designation. The Gold Seal is a symbol of quality that reflects a health care organization's commitment to providing safe and quality patient care. In collaboration with the American Academy of Orthopaedic Surgeons, the certification focuses on the surgical flow process from the pre-surgical spine consultation to the hospital admission, intraoperative experience, rehabilitation activities, and follow-up visits with the spine surgeon.
Atrium Health and Carolina Neurosurgery & Spine Associates (CNSA) partnered in this achievement and have recently come together to establish SpineFirst. This new initiative will revolutionize and elevate the delivery of spine care. The goals of SpineFirst align with the high standard set by the Joint Commission for excellence in care coordination and a commitment to consistent communication across all spine care settings.
"The cooperative effort between Atrium Health and CNSA to create SpineFirst gives our collective patients access to the best care by the top professionals in the country," said Dr. Claude "T" Moorman, president of Atrium Health Musculoskeletal Institute. "We could not be prouder of this stamp of approval in the first round of endorsements from the Joint Commission. A great credit to the wonderful work by the two parties, now combined."
In late August, Atrium Health Carolinas Medical Center and Carolina Neurosurgery & Spine Associates underwent a rigorous, virtual review. During the visit, the Joint Commission reviewer evaluated compliance with related certification standards, including collaborative design, implementation, and evaluation of the spine program and alliance of interdisciplinary teams and leadership within the spine program. In addition to these standards, CMC was also evaluated on meeting patient needs through safe and accessible facilities, care pathways, patient-specific therapy, evidence-based interventions, discharge planning, and the patient's involvement in care. The team was also assessed on its consistent communication between outpatient practices at Carolina Neurosurgery & Spine Associates. Joint Commission standards are developed in consultation with health care professionals and providers, measurement experts, and patients. The reviewer also conducted virtual observations and interviews.
"Atrium Health has always made quality and patient safety a key priority in its clinical processes," said Dr. Domagoj Coric, executive medical director, SpineFirst. "We are proud to be recognized by the Joint Commission as one of the nation's leaders in spine surgery and we are excited to showcase the strength of SpineFirst and the opportunities we can offer to our patients."
Multidisciplinary teams across Atrium Health joined to ensure each group had opportunities to weigh in on the process, ask questions, and collaborate in preparation for the site visit, including nursing, pre-op, operating room, the Post-Anesthesia Care Unit, rehabilitation, and many more. In addition, the team presented to the Joint Commission methods for ensuring consistent communication and effective collaboration with CNSA and displaying compliance with clinical practice guidelines in its daily spine care.
"This certification was an opportunity to highlight the amazing spine program we already had in place," said Vicki Block, senior vice president, central division at Atrium Health. "We were well-prepared thanks to our spine and system-wide continuous improvement teams and partners in spine care at CNSA."
For more information, please visit The Joint Commission website.
About SpineFirst
SpineFirst is a Joint Venture established between two of the most respected and renowned health care organizations in the country – Atrium Health and Carolina Neurosurgery & Spine Associates. This Joint Venture is an equal partnership of the two Charlotte-based medical innovators, nationally known for creating and providing multidisciplinary treatments for complex spine ailments, including surgical and nonsurgical care. SpineFirst provides complete spine care through an established network that includes 37 experienced, board-certified spine specialists from the fields of neurosurgery, physiatry, and orthopedic spine surgery. The leadership team consists of pioneers in the national advancement of spinal surgery, research, and patient outcomes. As a result, SpineFirst makes it easier than ever for patients and their physicians to have access to the best possible spine care provided by the region's largest team of spine specialists, which has over 80 years of experience. To learn more or make a referral to SpineFirst, please visit www.spinefirst.com or call 704-831-4000.
About Atrium Health
Atrium Health is a nationally recognized leader in shaping health outcomes through innovative research, education and compassionate patient care. Based in Charlotte, North Carolina, Atrium Health is an integrated, nonprofit health system with more than 70,000 teammates serving patients at 40 hospitals and more than 1,400 care locations. It provides care under the Atrium Health Wake Forest Baptist name in the Winston-Salem, North Carolina, region, as well as Atrium Health Navicent and Atrium Health Floyd in Georgia and Alabama. Atrium Health is renowned for its top-ranked pediatric, cancer and heart care, as well as organ transplants, burn treatments and specialized musculoskeletal programs. A recognized leader in experiential medical education and groundbreaking research, Wake Forest School of Medicine is the academic core of the enterprise, including Wake Forest Innovations, which is advancing new medical technologies and biomedical discoveries. Atrium Health is also a leading-edge innovator in virtual care and mobile medicine, providing care close to home and in the home. Ranked nationally among U.S. News & World Report's Best Hospitals in eight pediatric specialties and for rehabilitation, Atrium Health has also received the American Hospital Association's Quest for Quality Prize and its 2021 Carolyn Boone Lewis Equity of Care Award, as well as the 2020 Centers for Medicare & Medicaid Services Health Equity Award for its efforts to reduce racial and ethnic disparities in care. With a commitment to every community it serves, Atrium Health seeks to improve health, elevate hope and advance healing – for all, providing more than $2 billion per year in free and uncompensated care and other community benefits.
About Carolina Neurosurgery & Spine Associates
Carolina Neurosurgery & Spine Associates was established in 1940 and is the largest neurosurgery practice in the country. The group includes 48 physicians and has 10 offices in the Charlotte and Greensboro areas. Carolina Neurosurgery & Spine Associates features physicians in the specialty areas of neurosurgery, physical medicine & rehabilitation (physiatry), and pain management. The group offers advanced surgical and nonsurgical treatment for the entire spectrum of brain, spine, and peripheral nerve disorders, including brain tumors, spine injuries, degenerative spine disorders, stroke, aneurysms, and movement disorders. The practice has offices in Charlotte, Concord, Huntersville, Matthews, Mooresville, Rock Hill, Ballantyne, Gastonia, Greensboro, and Kernersville. To learn more about Carolina Neurosurgery & Spine Associates, go to www.cnsa.com or call 704-376-1605.