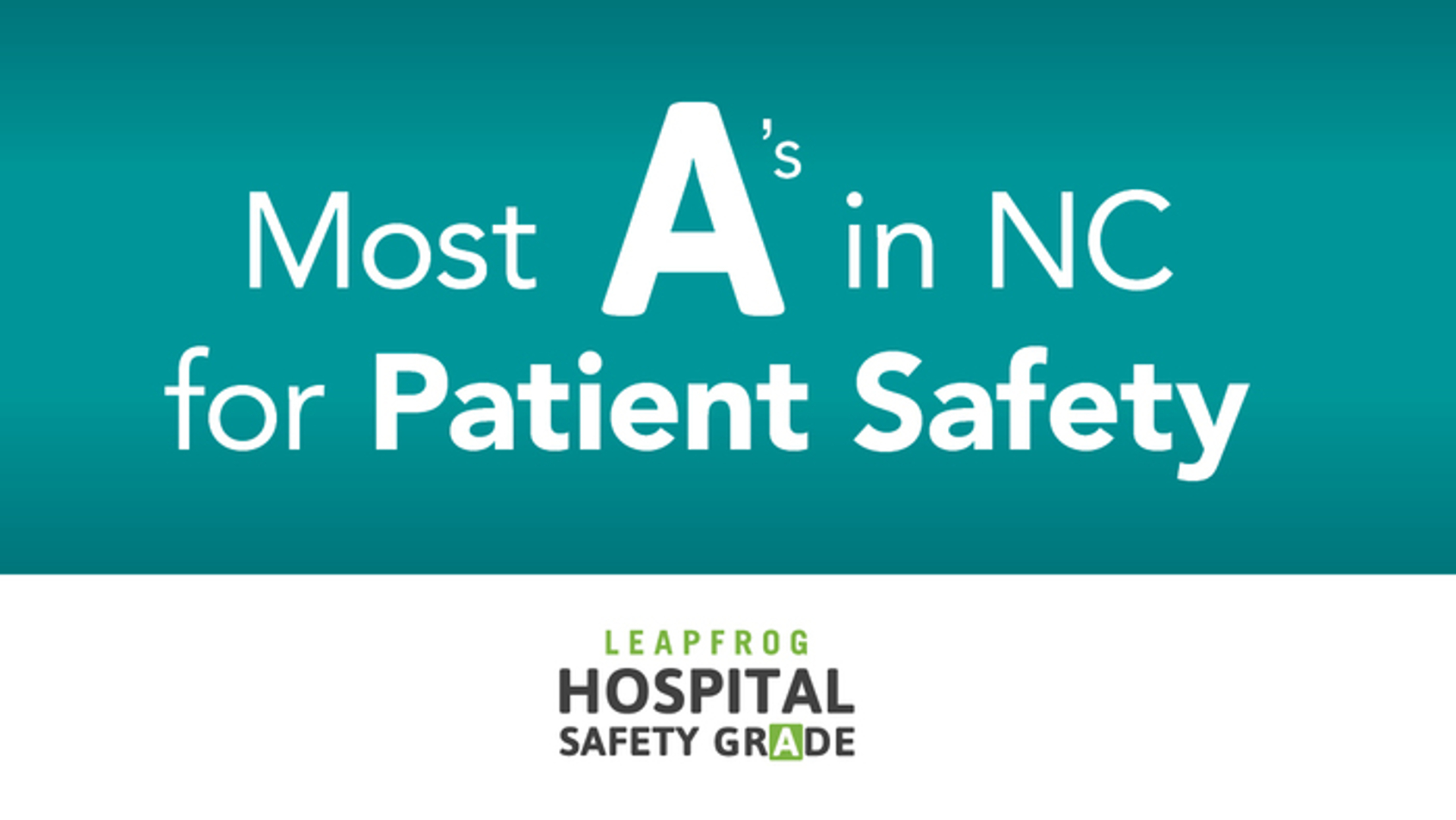 Atrium Health Hospitals Rank Among the Safest in the Nation
05.10.2022
Atrium Health News
Leapfrog Hospital Safety Grades awards the system the most "A" ratings in North Carolina
CHARLOTTE, N.C., May 10, 2022 – The Leapfrog Group has awarded 13 Atrium Health hospitals with top-rated "A" grades on its spring 2022 patient safety report card. Atrium Health has the most "A" ratings of any health system in North Carolina. Leapfrog Hospital Safety Grades recognized Atrium Health's achievements in protecting patients from preventable harm and error while in the hospital.
The 13 Atrium Health hospitals that received an "A" rating are:
Atrium Health Cabarrus

Atrium Health's Carolinas Medical Center

Atrium Health Cleveland

Atrium Health Kings Mountain

Atrium Health Lincoln

Atrium Health Mercy

Atrium Health Stanly

Atrium Health University City

Atrium Health Floyd Medical Center

Atrium Health Wake Forest Baptist Davie Medical Center

Atrium Health Wake Forest Baptist High Point Medical Center

Atrium Health Wake Forest Baptist Lexington Medical Center

Atrium Health Wake Forest Baptist Wilkes Medical Center
"These grades reflect our deep commitment to safe care," said Dr. Scott Rissmiller, enterprise executive vice president and chief physician executive for Atrium Health. "When it comes to our patients' care, nothing is more important than their safety. I am incredibly proud of our teammates in our hospitals across the southeast for their dedication to quality care that prevents harm and provides healing through the highest standards of safety."
The Leapfrog Hospital Safety Grade is the only hospital ratings program based exclusively on hospital prevention of medical errors and harm to patients. Leapfrog assigns A-F grades to hospitals across the country based on more than 30 national performance measures reflecting errors, accidents, injuries and infections, as well as the systems hospitals have in place to prevent harm. Grades are updated twice annually, in the fall and spring.
"An 'A' safety grade is an outstanding achievement, and one that is not possible without a 24/7 effort by the entire health care workforce to protect patients from harm," said Leah Binder, president and CEO of The Leapfrog Group. "These communities should be proud."
Atrium Health has a long-standing commitment to innovation, advancing health in communities and providing access to patient- and family-centered care that is both safe and of exceptional quality. In addition to the daily work, its teammates accomplish to prevent injury, falls and errors, Atrium Health also uses large databases of data and benchmarking from thousands of other hospitals across the country to identify areas for improvement.
Atrium Health has received numerous awards recognizing its high-quality care, including the 2021 Richard A. Norling Premier Alliance Excellence Award and previously the American Hospital Association's Quest for Quality Prize. It also is ranked nationally among U.S. News & World Report's Best Hospitals in eight pediatric specialties and for rehabilitation.
To learn more about Leapfrog Hospital Safety Grades details, visit www.hospitalsafetygrade.org.
About Atrium Health 
Atrium Health is a nationally recognized leader in shaping health outcomes through innovative research, education and compassionate patient care. Based in Charlotte, North Carolina, Atrium Health is an integrated, nonprofit health system with more than 70,000 teammates serving patients at 40 hospitals and more than 1,400 care locations. It provides care under the Atrium Health Wake Forest Baptist name in the Winston-Salem, North Carolina, region, as well as Atrium Health Navicent and Atrium Health Floyd in Georgia and Alabama. Atrium Health is renowned for its top-ranked pediatric, cancer and heart care, as well as organ transplants, burn treatments and specialized musculoskeletal programs. A recognized leader in experiential medical education and groundbreaking research, Wake Forest University School of Medicine is the academic core of the enterprise, including Wake Forest Innovations, which is advancing new medical technologies and biomedical discoveries. Atrium Health is also a leading-edge innovator in virtual care and mobile medicine, providing care close to home and in the home. Ranked nationally among U.S. News & World Report's Best Hospitals in eight pediatric specialties and for rehabilitation, Atrium Health has also received the American Hospital Association's Quest for Quality Prize and its 2021 Carolyn Boone Lewis Equity of Care Award, as well as the 2020 Centers for Medicare & Medicaid Services Health Equity Award for its efforts to reduce racial and ethnic disparities in care. With a commitment to every community it serves, Atrium Health seeks to improve health, elevate hope and advance healing – for all, providing more than $2 billion per year in free and uncompensated care and other community benefits.