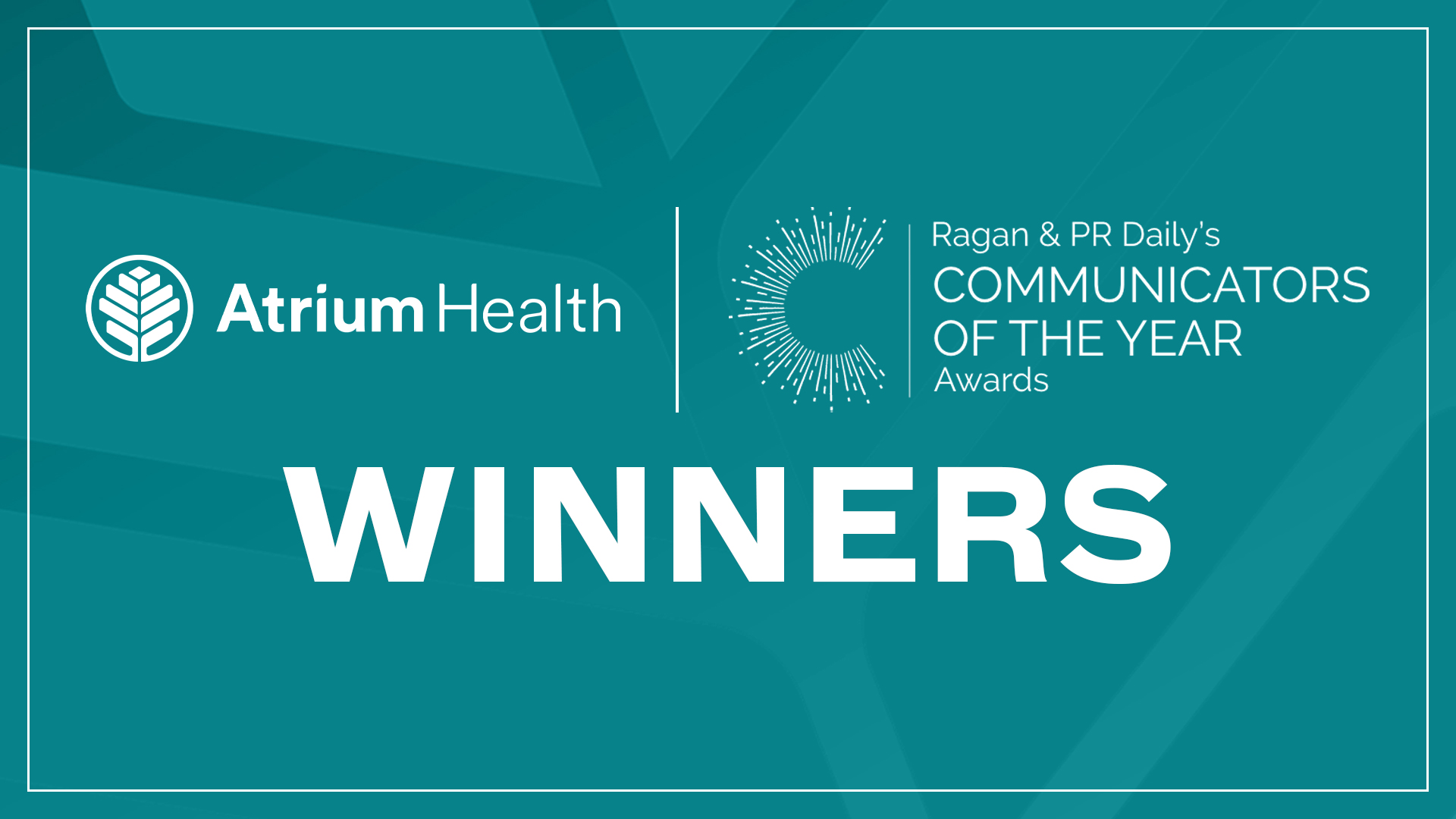 Atrium Health Communications Team Receives National Accolades
08.04.2022
Atrium Health News
Leading PR organization recognizes Atrium Health's accomplishments in multiple communications disciplines
CHARLOTTE, N.C., August 3, 2022 – The Atrium Health Enterprise Communications team has been recognized nationally in the Ragan Communicator of the Year Awards by Ragan Communications and PR Daily. The team was honored with both individual and team awards for its work over the past year. Ragan is the leading resource and publisher of information about corporate communications. Ragan and PR Daily Award programs celebrate the most successful campaigns, initiatives, people and teams in the communication, public relations, marketing and employee well-being industries.
"We're fortunate to have captured a degree of magic on our Atrium Health communications team, where it truly feels like we are part of a work family in the culture we've been able to build," said Chris Berger, vice president of enterprise communications for Atrium Health. "While the pandemic brought stressors, it also brought us together more closely and had a unifying element for our team, as we educated the public about COVID and the benefits of vaccination. During this time, the incredible levels of talent from every member were showcased for our community to see. We are deeply honored by this recognition, and I am humbled by the opportunity to lead this family of outstanding communications professionals."
The list of awards includes:
2022 Team of the Year

: Atrium Health's enterprise communications team was named among Ragan's teams of the year

 

for its work on COVID-19

mass vaccination events, a heart transplant and a violence prevention program.


Leaders – Chris Berger, Samantha Cook, Dan Fogleman, Rachel Gogal, Jolie Shifflet, Claire Simmons

During the second year of the COVID-19 pandemic, the communications team had three goals: Enhance Atrium Health's reputation as the preeminent care provider in the

Southeast; earn recognition for clinical excellence and thought leadership within the health care industry; and keep its workforce of 70,000 teammates inspired and informed.

The team facilitated hundreds of media interviews, including more than 60 with national media outlets. Since Jan. 1, 2021, more than 15,000 mentions of Atrium Health have appeared in media coverage, with a potential reach of 9.1 billion viewers. Plus, in the eight primary media outlets in Atrium Health's home market of Charlotte, more than 2,700 media placements featured the health provider.
Internal Communications Team of the Year:

Atrium Health's internal communications team was recognized for its work on what they called "phase two" of the pandemic with an

award in Ragan's Communicators of the Year and Rising Star Award

.




Leader: Jolie Shifflet



When the delta variant of COVID-19 arrived, the internal communications team focused on building and sustaining resilience among its workforce, along with providing the latest information. In all, the team created nearly 1,000 pieces of internal content for distribution to employees throughout 2021, resulting in more than 6 million views. Email open rates, views on intranet pages and viewers of content on the mobile app were, on average, 230% higher than pre-pandemic levels.
Health Care Crisis Response:

Atrium Health enterprise communications team was also a winner in Ragan's Crisis Communications Awards for its leadership in pandemic outreach.


Leaders: Dan Fogleman, Claire Simmons

Mass vaccination events staged at Charlotte Motor Speedway and Bank of America Stadium drew thousands of people seeking to avoid catching COVID-19 as the communications team helped spread the word about the safety and availability of the vaccine.

The mass vaccination events brought North Carolina from the bottom tier of vaccinations to among the best in the nation. Beyond that, they created a model that could be used to improve public health all over the country, including the creation of a mass vaccination event handbook, created in cooperation with Honeywell, that was shared with the White House and the nation's governors.



As part of its efforts to vaccinate the masses, Atrium Health also launched the "Community Immunity for All" collaborative, using culturally responsive vaccine education materials to help underserved communities make informed decisions to best protect their health and well-being, using smaller-scale, neighborhood-based events to have the greatest impact.
PR Professional of the Year:

Chris Berger, vice president of enterprise communications, was honored with a Ragan and PR Daily's Communicators of the Year Award for leading Atrium Health's evolution from regional hospital system to academic medical powerhouse as well as helping to cast Atrium Health leaders into the national and political spotlight.



Skilled at building and leading others to manage change and critical issues, Berger helped guide the 40-hospital health provider through the pandemic. His team threaded together strategic work product, sharing critical information in media, social media, internal communications and more, helping save lives throughout the system's service area. In addition to that, Berger led communications efforts for two strategic combinations with other health systems (while still in the height of the pandemic), the announcement of Charlotte's first 4-year medical school being built and its adjacent innovation district.
Speechwriter of the Year:

Rachel Gogal, director of executive communications, was honored in Ragan's Communicators of the Year & Rising Star Award.

Gogal's recent highlights include drafting and developing speeches, scripts, remarks and talking points on behalf of Atrium Health President & CEO Eugene A. Woods for over 85 internal and external events, including those involving national audiences – from the United States Senate to the American Hospital Association to the Wall Street Journal. She also produced over 30 enterprise-wide teammate and board memos, nearly 60 personal correspondences (such as letters, emails and notes) and more than 15 governing board presentations. Gogal has also helped launch several large enterprise-wide campaigns, including the announcement of the new Wake Forest University School of Medicine Charlotte. Likewise, she helped launch campaigns around Atrium Health's strategic combination with Floyd Health, in Georgia, and the rollout of the system's new employee-centric culture commitments.
In May, the enterprise communications team also received the "Outstanding In-House Team" award by PR Week at its Healthcare & Pharma Comms Awards.
About Atrium Health 
Atrium Health is a nationally recognized leader in shaping health outcomes through innovative research, education and compassionate patient care. Based in Charlotte, North Carolina, Atrium Health is an integrated, nonprofit health system with more than 70,000 teammates serving patients at 40 hospitals and more than 1,400 care locations. It provides care under the Atrium Health Wake Forest Baptist name in the Winston-Salem, North Carolina, region, as well as Atrium Health Navicent and Atrium Health Floyd in Georgia and Alabama. Atrium Health is renowned for its top-ranked pediatric, cancer and heart care, as well as organ transplants, burn treatments and specialized musculoskeletal programs. A recognized leader in experiential medical education and groundbreaking research, Wake Forest University School of Medicine is the academic core of the enterprise, including Wake Forest Innovations, which is advancing new medical technologies and biomedical discoveries. Atrium Health is also a leading-edge innovator in virtual care and mobile medicine, providing care close to home and in the home. Ranked nationally among U.S. News & World Report's Best Hospitals in eight pediatric specialties and for rehabilitation, Atrium Health has also received the American Hospital Association's Quest for Quality Prize and its 2021 Carolyn Boone Lewis Equity of Care Award, as well as the 2020 Centers for Medicare & Medicaid Services Health Equity Award for its efforts to reduce racial and ethnic disparities in care. With a commitment to every community it serves, Atrium Health seeks to improve health, elevate hope and advance healing – for all, providing $2.46 billion last year in free and uncompensated care and other community benefits.