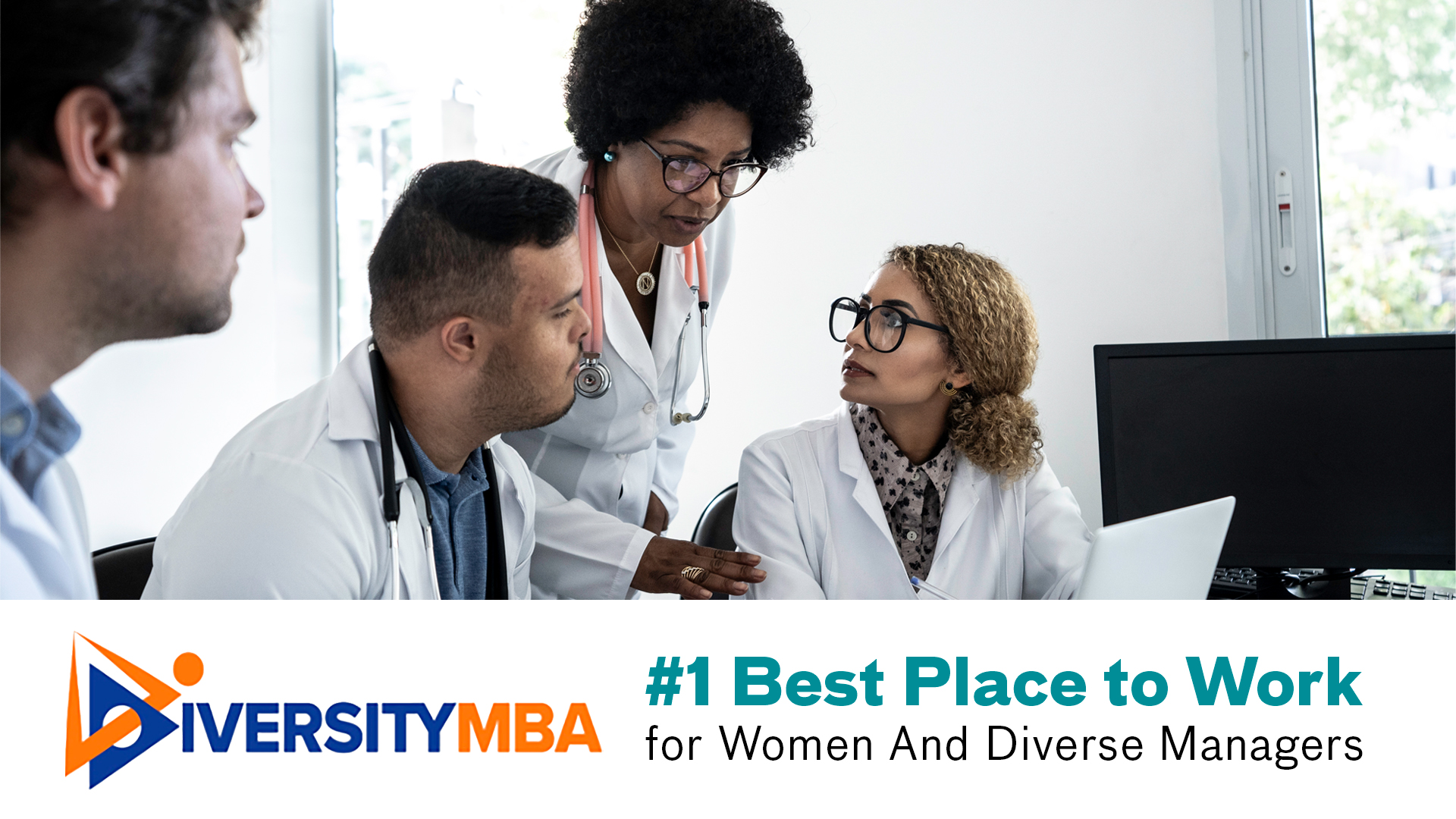 Atrium Health is "Best Place to Work" in U.S. for Women and Diverse Managers
07.19.2022
Atrium Health News
No. 1 on Diversity MBA Magazine's annual list; also named "best in class" in five categories
CHARLOTTE, N.C., July 19, 2022 – Atrium Health tops a new, national listing of best places to work. Diversity MBA Magazine's 16th annual listing of "50 Out in Front: Best Places to Work for Women and Diverse Managers" recognizes the Charlotte-based health provider as the top employer in the U.S for 2022.
Diversity MBA Magazine ranks companies using a set of benchmarks designed to "measure how companies and organizations intentionally invest in strategies and practices to advance women and managers of diverse backgrounds." Atrium Health ranks number one on this year's list, ahead of household names such as L'Oreal, Colgate-Palmolive and Clorox.
"Progress continues as companies become more involved and committed to investing in and accelerating minority talent in the workforce," said Pamela McElvane, CEO and publisher of Diversity MBA Magazine. "More CEOs are speaking out in support of projects and initiatives to train managers in how to invest in new talent and not feel threatened, as well as create workplaces where women and managers of color feel like they belong."
"This is a tremendous honor and it is truly humbling to see that we are considered the standard for the nation in creating meaningful career opportunities for women and people of color, especially among the leadership ranks," said Fernando Little, enterprise vice president and chief diversity officer for Atrium Health. "At Atrium Health, we believe in working as one team to make great things happen, and one of our core culture commitments is creating a space where all belong. Honors such as these reaffirm our approach that centers around being the best place for our teammates to provide care for our patients."
Atrium Health's diversity, equity and inclusion (DEI) efforts span more than 20 years, with a goal of achieving transformative equity for patients, teammates, learners and the communities it serves. Last year, Atrium Health worked to increase its organizational DEI-related measurement and accountability capacity. This included a requirement for all executives to complete an introspective survey and a learning module on racial equity and inclusive leadership, then create DEI-specific goals informed by this process. Engagement in diversity efforts extends throughout the organization, with one out of every seven teammates participating in DEI-centric resource groups, councils and networking opportunities.
Atrium Health has been among Diversity MBA's top 10 places to work, nationally, in eight of the past nine years. Companies who make the list are selected based on scores in six categories: representation, board diversity, recruitment, workplace inclusion, retention, succession planning and accountability. Atrium Health was ranked among the 10 best-in-class companies in five of those categories, and topped the list for recruitment, accountability and board diversity.
Diversity MBA also evaluated companies' processes for accountability and achieved outcomes across 25 measures. Atrium Health scored among the top five in seven of those.
About Atrium Health
Atrium Health is a nationally recognized leader in shaping health outcomes through innovative research, education and compassionate patient care. Based in Charlotte, North Carolina, Atrium Health is an integrated, nonprofit health system with more than 70,000 teammates serving patients at 40 hospitals and more than 1,400 care locations. It provides care under the Atrium Health Wake Forest Baptist name in the Winston-Salem, North Carolina, region, as well as Atrium Health Navicent and Atrium Health Floyd in Georgia and Alabama. Atrium Health is renowned for its top-ranked pediatric, cancer and heart care, as well as organ transplants, burn treatments and specialized musculoskeletal programs. A recognized leader in experiential medical education and groundbreaking research, Wake Forest University School of Medicine is the academic core of the enterprise, including Wake Forest Innovations, which is advancing new medical technologies and biomedical discoveries. Atrium Health is also a leading-edge innovator in virtual care and mobile medicine, providing care close to home and in the home. Ranked nationally among U.S. News & World Report's Best Hospitals in eight pediatric specialties and for rehabilitation, Atrium Health has also received the American Hospital Association's Quest for Quality Prize and its 2021 Carolyn Boone Lewis Equity of Care Award, as well as the 2020 Centers for Medicare & Medicaid Services Health Equity Award for its efforts to reduce racial and ethnic disparities in care. With a commitment to every community it serves, Atrium Health seeks to improve health, elevate hope and advance healing – for all, providing $2.46 billion last year in free and uncompensated care and other community benefits.