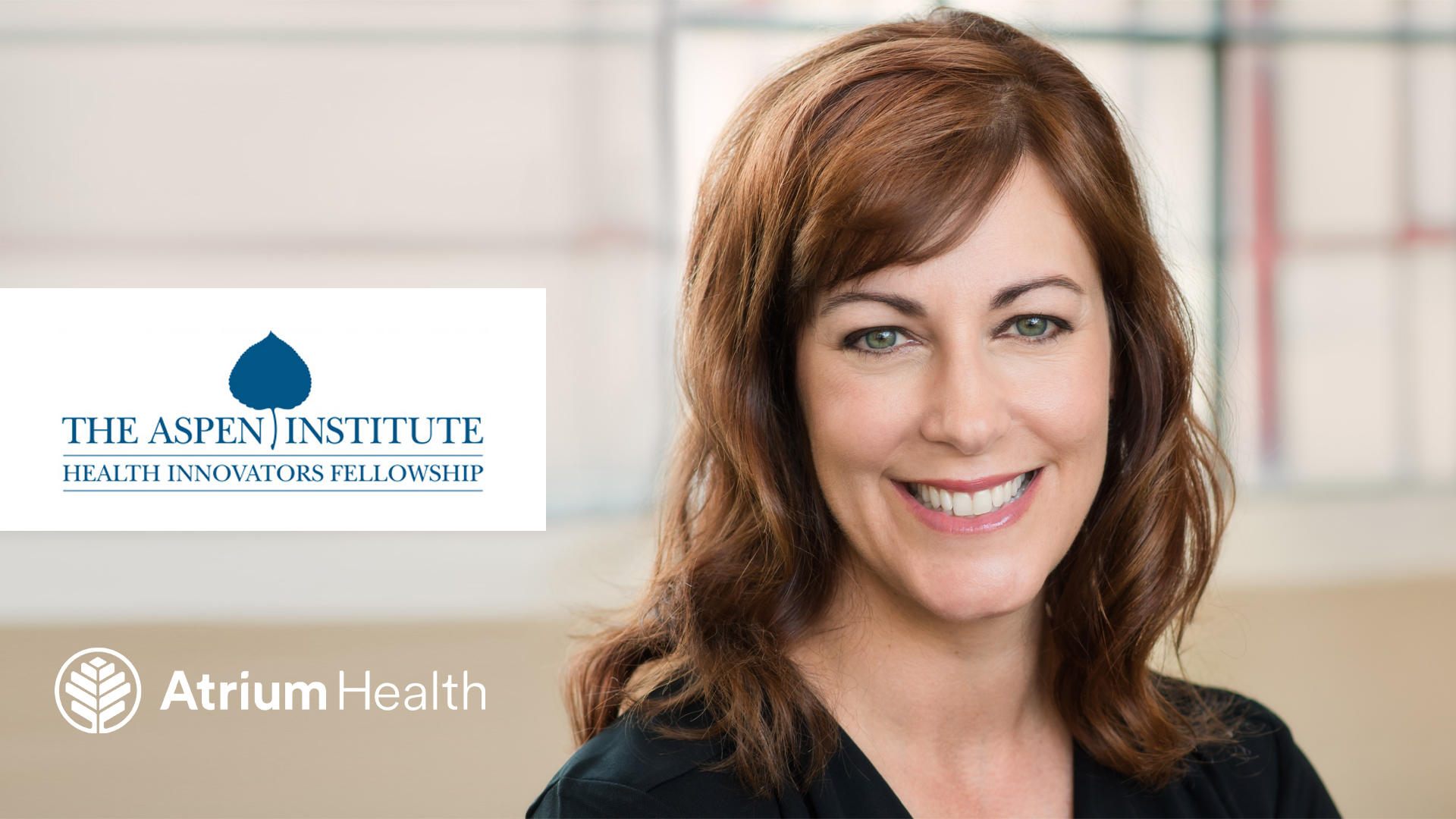 Atrium Health Leader Chosen for Prestigious Health Innovators Fellowship
07.20.2022
Atrium Health News
Dr. Jennifer Sullivan among select Aspen Institute class aiming to improve health care
CHARLOTTE, N.C., July 20, 2022 – As the intersection of innovation and health care continues to grow in importance, Dr. Jennifer Sullivan will have a unique opportunity to help shape the nation's path forward as the sector evolves. Sullivan, who is the enterprise senior vice president of strategic operations for Atrium Health and a practicing pediatric emergency room physician, has been chosen for an Aspen Institute Health Innovators Fellowship. She will join 20 other senior health care leaders who will spend the next two years examining new approaches to improve the health and well-being of people living in the U.S.
This is the sixth class of fellows in this program at the institute, with participants hailing from all parts of the country and across the entire spectrum of health care. Not only does it include clinical leaders and administrators, it also includes influencers from technology and venture capital, representing business, nonprofit and government organizations.
"Throughout my career, I've been fortunate to be in a position to help shape positive change in public health in service to others," said Sullivan, who prior to joining Atrium Health last year served as the cabinet-level secretary of the Indiana Family and Social Services Administration. At Atrium Health, she sets the strategic direction for the system's clinical specialties across 40 hospitals and more than 1,400 provider locations in multiple states. "Seeing patients keeps me grounded in the reality of what the effects of change really are and what more is needed. I'm so excited to have this opportunity to collaborate with some of the sharpest minds in medicine and health; to dive deep into the most challenging issues and work towards positive, impactful changes that are measurable and meaningful."
The Health Innovators Fellowship will spend four weeks over the course of the next two years exploring their leadership, core values, desired legacies and vision for the health care system. Each fellow commits to launching a leadership venture that will stretch and challenge them and have a positive and lasting impact on health care in the U.S.
"We are delighted to welcome this group of diverse, accomplished and trail blazing individuals to the Aspen Institute's Health Innovators Fellowship and the Aspen Global Leadership Network," said Tanya Harris, executive director of the Health Innovators Fellowship. "In today's health care climate, it is imperative to bring thought leaders together to meet the health care needs of vulnerable populations. Only through collaboration and meaningful dialogue will we be able to leverage our collective efforts to magnify impact."
The Health Innovators Fellowship was created in 2015 to strengthen the leadership of innovators across the U.S. health care ecosystem and to connect, inspire and challenge them to create new approaches to improve the health and well-being of the U.S. population. It provides health care leaders a unique opportunity to clarify their own core values and explore questions of effective and enlightened leadership with a diverse group of peers with whom they may not ordinarily interact. The Health Innovators Fellows join more than 3,000 other entrepreneurial leaders from over 60 countries to also become members of the Aspen Global Leadership Network.
About Atrium Health
Atrium Health is a nationally recognized leader in shaping health outcomes through innovative research, education and compassionate patient care. Based in Charlotte, North Carolina, Atrium Health is an integrated, nonprofit health system with more than 70,000 teammates serving patients at 40 hospitals and more than 1,400 care locations. It provides care under the Atrium Health Wake Forest Baptist name in the Winston-Salem, North Carolina, region, as well as Atrium Health Navicent and Atrium Health Floyd in Georgia and Alabama. Atrium Health is renowned for its top-ranked pediatric, cancer and heart care, as well as organ transplants, burn treatments and specialized musculoskeletal programs. A recognized leader in experiential medical education and groundbreaking research, Wake Forest University School of Medicine is the academic core of the enterprise, including Wake Forest Innovations, which is advancing new medical technologies and biomedical discoveries. Atrium Health is also a leading-edge innovator in virtual care and mobile medicine, providing care close to home and in the home. Ranked nationally among U.S. News & World Report's Best Hospitals in eight pediatric specialties and for rehabilitation, Atrium Health has also received the American Hospital Association's Quest for Quality Prize and its 2021 Carolyn Boone Lewis Equity of Care Award, as well as the 2020 Centers for Medicare & Medicaid Services Health Equity Award for its efforts to reduce racial and ethnic disparities in care. With a commitment to every community it serves, Atrium Health seeks to improve health, elevate hope and advance healing – for all, providing $2.46 billion last year in free and uncompensated care and other community benefits.