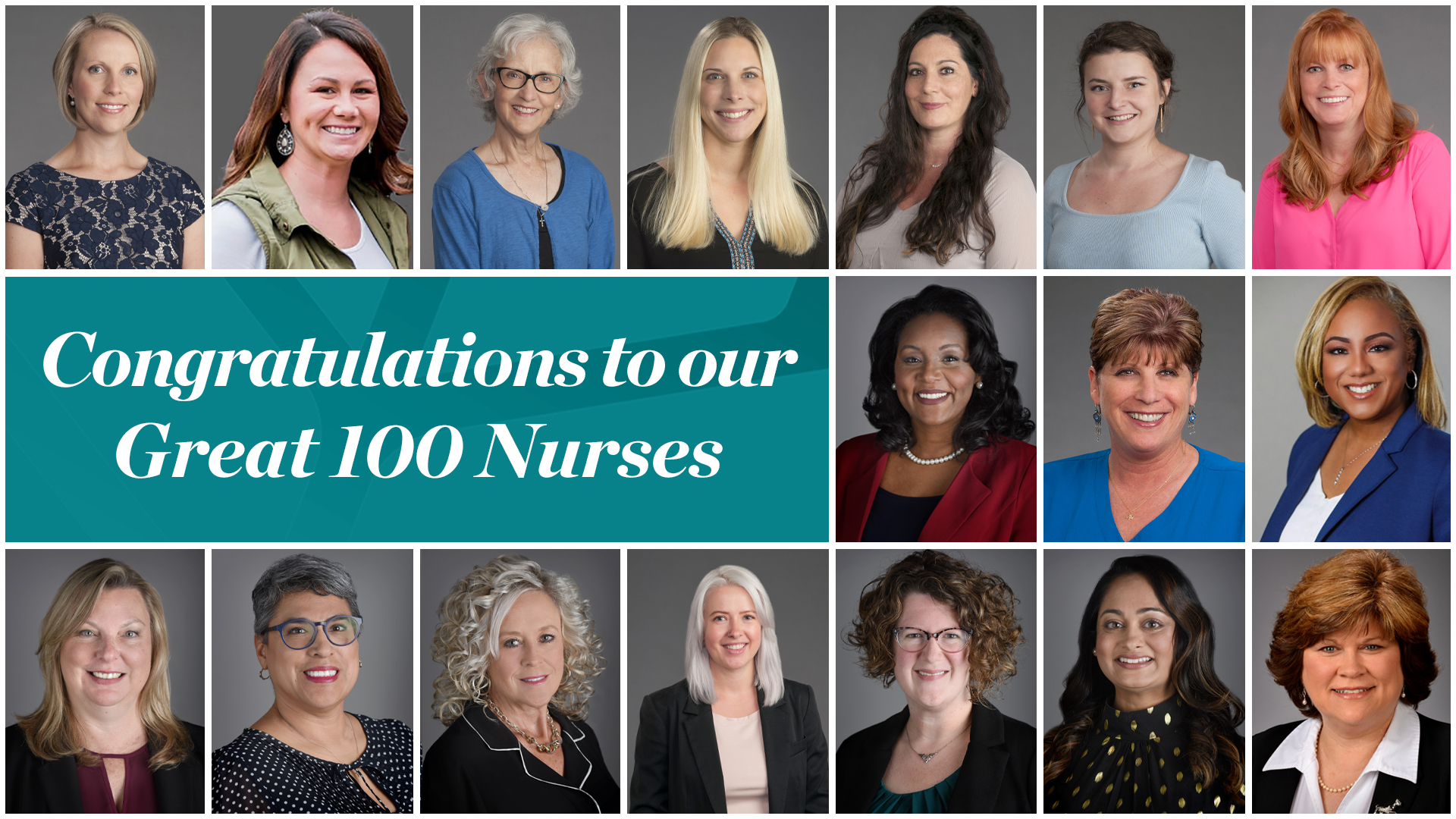 Atrium Health Nurses Among Top in the State
08.03.2022
Atrium Health News
More than a dozen nurses recognized for their continued commitment to patients, families and colleagues
CHARLOTTE, N.C., Aug. 3, 2022 – Atrium Health is proud to announce 17 of its nurses in North Carolina have been recognized by the Great 100, Inc. Honorees are peer-nominated and excel in their career from the bedside to advancing the profession through their actions. Atrium Health recognizes and appreciates all nurses and the critical role they play in health care, and especially those Atrium Health teammates selected for this year's Great 100 Nurses list.
"It is a tremendous honor for these 17 nurses who have been selected as part of North Carolina's Great 100," said Maureen Swick, senior vice president of nursing and pharmacy and enterprise nurse executive at Atrium Health. "I am proud of all of our more than 19,000 nurses at Atrium Health for their dedication and resilience during these past several months, but I must take a moment to recognize the extraordinary commitment, leadership and countless sacrifices these honorees have made for the betterment of our patients and our community throughout the last year."
The Great 100, Inc. has been honoring nurses in North Carolina for their commitment to excellence and to promote a positive image of the nursing profession for more than 30 years. This year's class was selected from more than 700 applicants based on several criteria:
Promotes and advances the profession of nursing in their practice setting and/or community.
Demonstrates integrity, honesty and accountability.
Displays commitment to patients, families and colleagues.
Demonstrates caring and assists others to grow and develop.
Radiates energy and enthusiasm and contributes to overall outcomes in their practice setting.
The eight nurses recognized in the Charlotte area are: Carmen Shaw, April Schultz, Sandy Arneson from Atrium Health Virtual Critical Care, Rhonda Wright from Atrium Health Cabarrus, Shawana Burnette from Atrium Health Carolinas Medical Center, Heena Nagarji from Atrium Health Carolinas Medical Center, Crista Brown from Atrium Health Cleveland and Rose Green from Atrium Health Union. The nine Wake Forest Baptist nurses recognized include four from Brenner Children's Hospital: Kayla Atkinson, Eden Hair, Angel Mitchell and Nancy Smith; three from Wake Forest Baptist Medical Center: Valerie Bitterman, Amanda Goodin-Sherrill and Sandy Tysinger; and two from High Point Medical Center: Amy Stehle and Jessica Whisenhunt.
About Atrium Health
Atrium Health is a nationally recognized leader in shaping health outcomes through innovative research, education and compassionate patient care. Based in Charlotte, North Carolina, Atrium Health is an integrated, nonprofit health system with more than 70,000 teammates serving patients at 40 hospitals and more than 1,400 care locations. It provides care under the Atrium Health Wake Forest Baptist name in the Winston-Salem, North Carolina, region, as well as Atrium Health Navicent and Atrium Health Floyd in Georgia and Alabama. Atrium Health is renowned for its top-ranked pediatric, cancer and heart care, as well as organ transplants, burn treatments and specialized musculoskeletal programs. A recognized leader in experiential medical education and groundbreaking research, Wake Forest University School of Medicine is the academic core of the enterprise, including Wake Forest Innovations, which is advancing new medical technologies and biomedical discoveries. Atrium Health is also a leading-edge innovator in virtual care and mobile medicine, providing care close to home and in the home. Ranked nationally among U.S. News & World Report's Best Hospitals in eight pediatric specialties and for rehabilitation, Atrium Health has also received the American Hospital Association's Quest for Quality Prize and its 2021 Carolyn Boone Lewis Equity of Care Award, as well as the 2020 Centers for Medicare & Medicaid Services Health Equity Award for its efforts to reduce racial and ethnic disparities in care. With a commitment to every community it serves, Atrium Health seeks to improve health, elevate hope and advance healing – for all, providing $2.46 billion last year in free and uncompensated care and other community benefits.