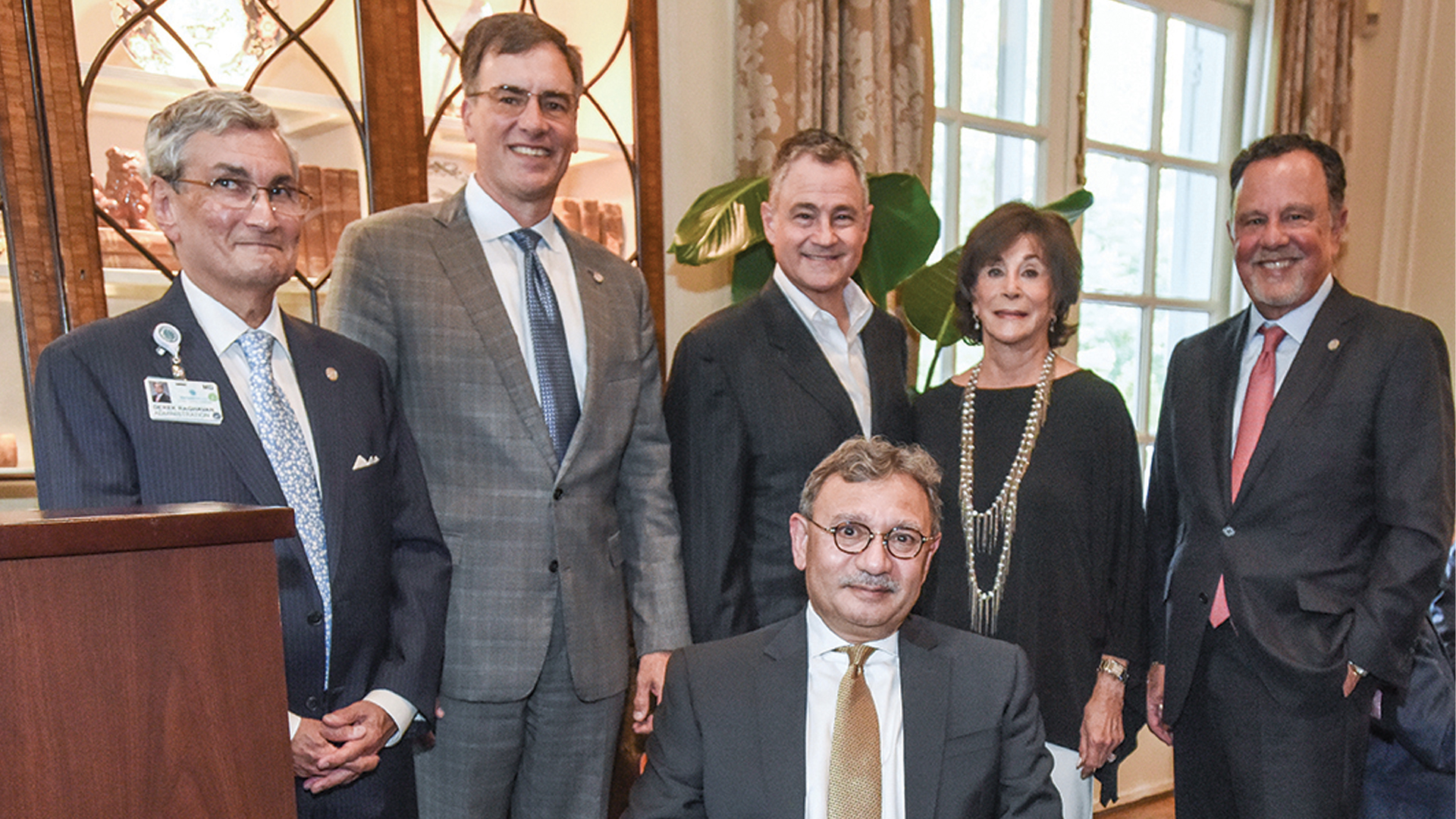 $1 Million Gift Establishes Distinguished Chair in Melanoma Research at Atrium Health Levine Cancer Institute
07.29.2022
Atrium Health News
Endowed gift to advance research and treatment of melanoma
CHARLOTTE, N.C., July 29, 2022 – Atrium Health Foundation announced today a $1 million gift from the family of Alvin Levine to further advance melanoma research at Atrium Health Levine Cancer Institute. The gift will establish the Alvin E. Levine Distinguished Chair in Melanoma Research Endowment at Levine Cancer Institute. Dr. Asim Amin, director of immunotherapy at Levine Cancer Institute, is the first recipient of the chair. He was honored at a private investiture ceremony held yesterday.
"Philanthropy continues to play a significant role in supporting endowed positions at Atrium Health, which are crucial for attracting, recruiting and retaining the best physician partners," said Dr. Derek Raghavan, president of Levine Cancer Institute. "We are grateful for this transformational gift and for the Levine family's understanding of the value of this gold standard of faculty distinction."
The Levine family established the endowment to honor the memory and legacy of the late Alvin E. Levine, as well as Levine's long-term commitment to improving health care and advancing cancer research. Levine, who was the founder of both Pic 'n Pay Shoe Stores and Levine Properties, served on the board of Charlotte Memorial Hospital and Carolinas HealthCare System (now Atrium Health), helping to transform health care delivery in the community.
"Alvin E. Levine, a humble man from Rockingham, North Carolina, loved Charlotte and was thankful for all the opportunities it offered throughout his life," said his son, Daniel Levine. "Like many before him, he believed great cities have strong public hospitals. He was filled with joy to see Charlotte Memorial Hospital become one of the country's great medical centers."
The endowment named in Alvin E. Levine's memory will help advance melanoma research, led by Amin, leading to earlier detection, novel therapies, improved outcomes and curative treatments for melanoma.
"It is our hope that this gift will help others for years to come," said Alvin's wife, Helene Levine. Her husband battled melanoma with support from the care team at Levine Cancer Institute. "It was Dr. Amin's commitment to caring for Alvin that compelled our family to give back."
"The Alvin E. Levine family is humbled and grateful to honor Dr. Amin for his excellence in oncology and, most of all, for his care and humanity in working with everyday patients – just like our dad," said Daniel Levine.
Amin, in turn, is grateful for the opportunity to meaningfully impact the trajectory of cancer care in the greater Charlotte region.
"Immunotherapy clinical trials for melanoma will help to advance the broader knowledge of how this form of therapy can impact different forms of cancer," said Amin.
Amin underscored the importance of the Levine family's gift to melanoma research, citing the benefits of immunotherapy, a form of biological therapy that uses an individual's own immune system to fight cancer, allowing researchers to create personalized therapies to better target the disease.
"This generous donation by the Alvin Levine family is not only personal to me, but to the countless patients who will benefit from advances in immunotherapy," he said.
Amin is a 17-year veteran of Atrium Health who attended King Edward Medical College and completed his residency at Providence Hospital of Washington, D.C., and his fellowship at Georgetown University. In his current role at Levine Cancer Institute, he serves as principal investigator for clinical trials in renal cell carcinoma and malignant melanoma.
About Atrium Health Foundation
Founded in 1959, Atrium Health Foundation is one of the largest charitable foundations in Charlotte. As the point of contact for all contributions benefiting Atrium Health in the Charlotte region, the Foundation inspires transformational giving to improve health, elevate hope and advance healing – for all. Through its current Giving Hope Campaign, Atrium Health Foundation is supporting Atrium Health's efforts to create the learning health system of the future by building healthy communities, outstanding education programs, preeminent research and exemplary facilities.