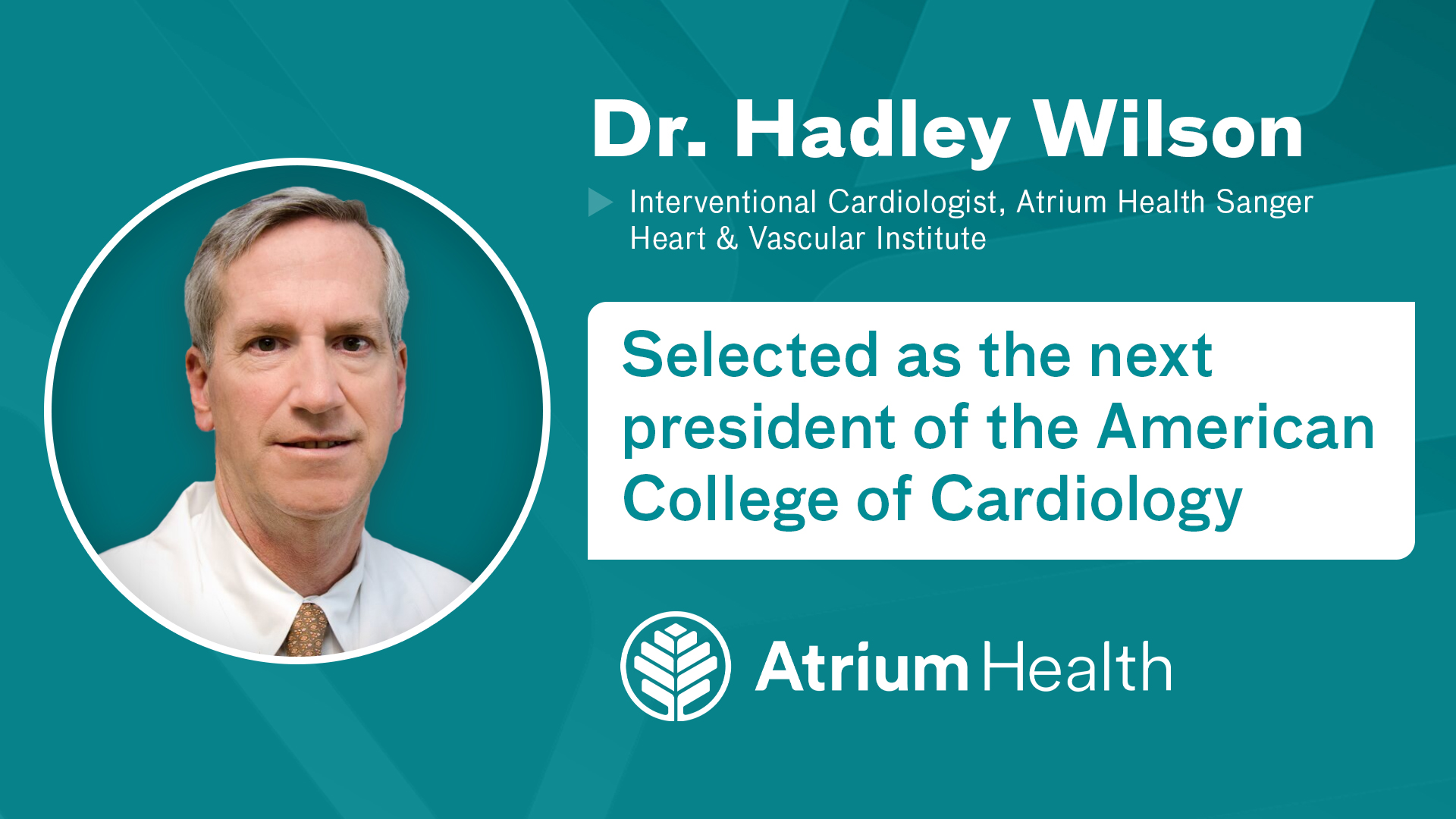 Atrium Health Cardiology Leader Named President of the American College of Cardiology
08.12.2022
Atrium Health News |
Sanger Heart & Vascular Institute
Dr. B. Hadley Wilson's appointment brings global recognition to Atrium Health Sanger Heart & Vascular Institute
CHARLOTTE, N.C., Aug. 12, 2022 – The American College of Cardiology (ACC), a prestigious professional organization representing 56,000 cardiologists and other professionals in cardiovascular care, has selected Dr. B. Hadley Wilson, executive vice chair for Atrium Health Sanger Heart & Vascular Institute, to serve as its president in 2023-2024.
An interventional cardiologist and prominent leader in cardiovascular research, Wilson has been caring for patients at Atrium Health for decades. He served as the chief of cardiology for 15 years. Prior to that role, he was director of the Cardiac Catheterization Laboratory. For the past decade, he has also served as a clinical professor of medicine at the University of North Carolina School of Medicine.
"I am excited to lead the American College of Cardiology next year," said Wilson. "The organization is devoted to transforming cardiovascular care and improving heart health for people world-wide through science and innovation to optimize healthy outcomes. My vision is to further this transformation to provide increased knowledge and value to all our members and their patients."
The ACC is known and respected as the trusted source of cardiovascular education through its professional meetings, guidelines, publications and knowledge for the entire cardiovascular team.
Wilson has previously served in many ACC leadership roles, including secretary of ACC's Board of Trustees and chair of the College's Board of Governors, which is a group of cardiovascular leaders representing all 50 states, the District of Columbia, Puerto Rico, Canada, Mexico and the U.S. uniformed services.
Wilson graduated with honors from Davidson College and Duke University Medical School. He went on to train in internal medicine at Vanderbilt University, where he served as chief resident before his cardiology fellowship.
"It is imperative that we work to reduce cardiovascular disease, which remains the No. 1 killer in the United States and around the world," said Wilson. "Along the way, as ACC president, I hope to further Atrium Health Sanger Heart and Vascular Institute's already prominent national reputation as a leader in heart care, and to involve our physicians and cardiovascular team leaders further on the global stage of education and optimal cardiovascular care."
The ACC leads in the formation of health policy, standards and guidelines for cardiovascular care and bestows credentials upon cardiovascular professionals who meet stringent qualifications. The College also provides professional medical education, disseminates cardiovascular research through its world-renowned JACC Journals, operates national registries to measure and improve care and offers cardiovascular accreditation to hospitals and institutions. For more information, visit acc.org.
About Atrium Health  
Atrium Health is a nationally recognized leader in shaping health outcomes through innovative research, education, and compassionate patient care. Based in Charlotte, North Carolina, Atrium Health is an integrated, nonprofit health system with more than 70,000 teammates serving patients at 40 hospitals and more than 1,400 care locations. It provides care under the Atrium Health Wake Forest Baptist name in the Winston-Salem, North Carolina, region, as well as Atrium Health Navicent and Atrium Health Floyd in Georgia and Alabama. Atrium Health is renowned for its top-ranked pediatric, cancer and heart care, as well as organ transplants, burn treatments and specialized musculoskeletal programs. A recognized leader in experiential medical education and groundbreaking research, Wake Forest University School of Medicine is the academic core of the enterprise, including Wake Forest Innovations, which is advancing new medical technologies and biomedical discoveries. Atrium Health is also a leading-edge innovator in virtual care and mobile medicine, providing care close to home and in the home. Ranked nationally among U.S. News & World Report's Best Hospitals in eight pediatric specialties and for rehabilitation, Atrium Health has also received the American Hospital Association's Quest for Quality Prize and its 2021 Carolyn Boone Lewis Equity of Care Award, as well as the 2020 Centers for Medicare & Medicaid Services Health Equity Award for its efforts to reduce racial and ethnic disparities in care. With a commitment to every community it serves, Atrium Health seeks to improve health, elevate hope and advance healing – for all, providing $2.46 billion last year in free and uncompensated care and other community benefits.