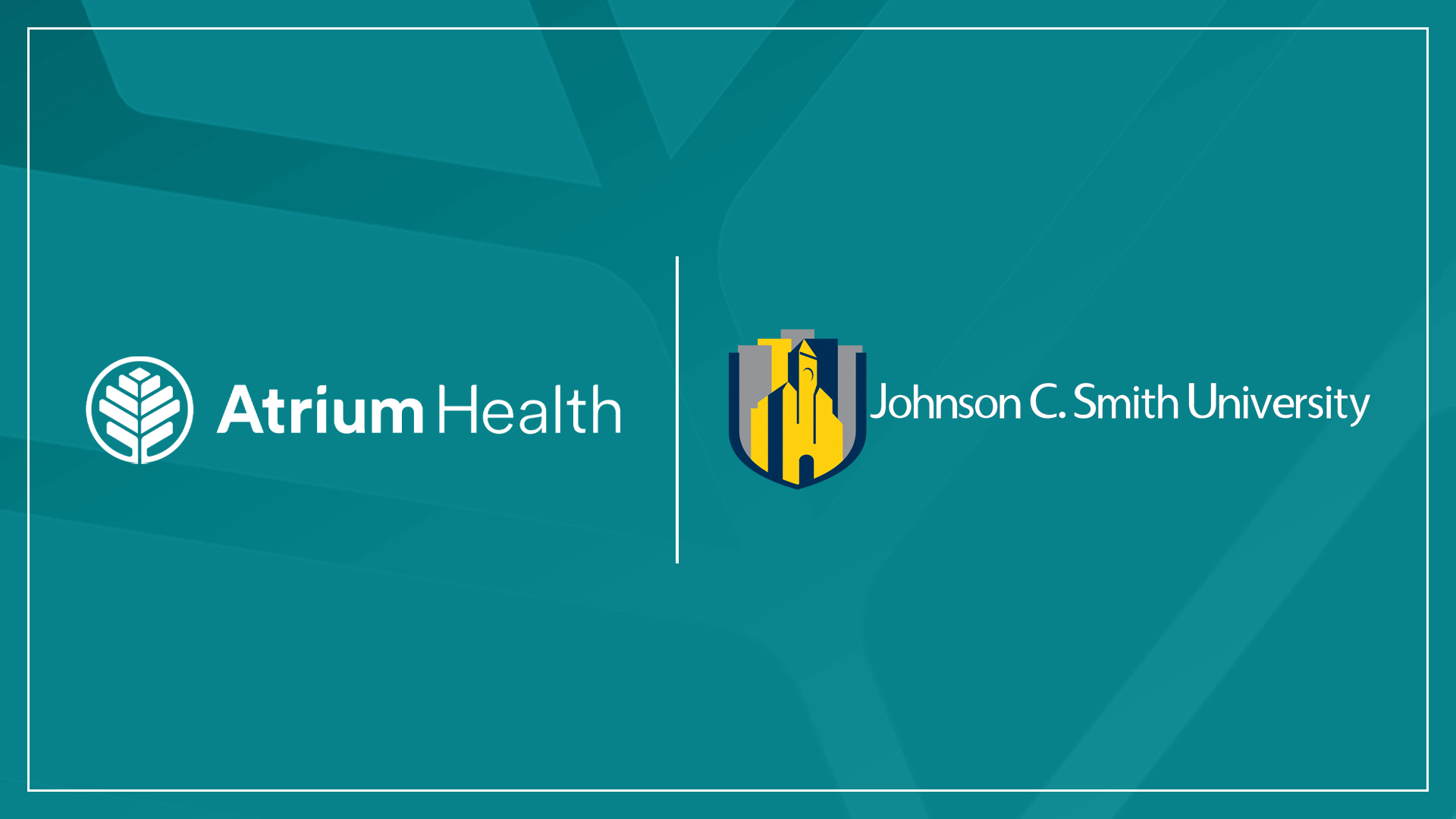 Atrium Health Johnson C Smith University Partner to Enhance Student Health Center
08.18.2022
Atrium Health News
Mayor's Racial Equity Initiative component supports student health and well-being
CHARLOTTE, N.C., Aug. 18, 2022 – For decades, students, faculty and staff at Johnson C. Smith University (JCSU) have had convenient access to its on-campus health center. As students return to classes this fall, they will find it has some expanded offerings as a result of a new partnership between the university and Atrium Health.
As part of the Charlotte Mayor's Racial Equity Initiative, Atrium Health committed $3 million in support of JCSU. Roughly half of that will go to staff and support the Johnson C. Smith University Health Center, as part of a multi-year agreement coordinated through Atrium Health Employer Services.
"Here at Atrium Health, we fundamentally believe that health, education and access to opportunity are the essential building blocks of a bright future for our community," said Eugene A. Woods, president and CEO of Atrium Health. "That's why we are proud to partner with JCSU to provide top-notch health care to the university's students, faculty and staff, as well as invest in a talent pipeline to educate and train students who dream of becoming health care professionals."
The Atrium Health involvement is expected to improve access to on-campus health care providers, lab services, chronic condition management and other services for the students, faculty and staff. It also aims to enhance the health literacy of everyone on campus, providing the knowledge and confidence to navigate the complexities of the health care system, especially for those students who are living independently for the first time.
"We are so grateful for this generous gift and ongoing support of Atrium Health," said Clarence D. Armbrister, J.D., president of Johnson C. Smith University. "Our students depend on the JCSU Health Center for a variety of their health and wellness needs, and they will continue to receive the same excellent service. Because of this partnership, our faculty and staff will now be able to receive limited services at the center. Atrium Health is investing in a series of enhancements to the facility, including the introduction of electronic medical records – rather than paper – and easy connectivity to advanced care, when needed. All of this is at no cost to the university, helping us keep tuition more affordable for our students."
The center is staffed by a nurse practitioner, registered nurse, certified medical assistant, dedicated client lead and a center operations manager. Nineteen-year JCSU Health Center leader Marian Jones, who holds a doctorate in public health, will remain on staff at the university as director of health and wellness.
The partnership between the JCSU Health Center and Atrium Health will offer comprehensive acute care and primary care including:
Point of care testing for common illnesses
Chronic condition management and monitoring
Annual wellness exams and athletic physicals
On-site routine lab work
Sexual health
Preventative vaccinations
There will also be a new, limited, on-site pharmacy and over-the-counter medications offered, along with health coaching and education programming; health literacy resources for students, faculty and staff; health care navigation to appropriate off-site care and additional on-campus services when needed; and integrated electronic medical records to improve the continuity of care when on- or off-campus.
The center will be open Monday through Friday from 8 a.m. – 5 p.m.
In November 2021, Atrium Health made a substantial, $22.8 million commitment to improve racial equity in the Charlotte region, as part of the Mayor's Racial Equity Initiative. Of that, more than $3 million was earmarked in support of JCSU.
In addition to its support of the JCSU Health Center, Atrium Health committed $1.5 million from its newly created Bishop George E. Battle Jr. Scholarship Fund to go toward scholarships and pipeline programs for JCSU students who are pursuing careers in health care.
Atrium Health is also working to construct Charlotte's first 4-year medical school – Wake Forest University School of Medicine Charlotte – in a new Midtown innovation district. As part of Atrium Health's equity commitment, leaders from Wake Forest University School of Medicine will collaborate with leaders at JCSU to build a pre-med curriculum that prepares JCSU students for top medical schools and clinical programs, such as that of Wake Forest University School of Medicine.
About Atrium Health
Atrium Health is a nationally recognized leader in shaping health outcomes through innovative research, education and compassionate patient care. Based in Charlotte, North Carolina, Atrium Health is an integrated, nonprofit health system with more than 70,000 teammates serving patients at 40 hospitals and more than 1,400 care locations. It provides care under the Atrium Health Wake Forest Baptist name in the Winston-Salem, North Carolina, region, as well as Atrium Health Navicent and Atrium Health Floyd in Georgia and Alabama. Atrium Health is renowned for its top-ranked pediatric, cancer and heart care, as well as organ transplants, burn treatments and specialized musculoskeletal programs. A recognized leader in experiential medical education and groundbreaking research, Wake Forest University School of Medicine is the academic core of the enterprise, including Wake Forest Innovations, which is advancing new medical technologies and biomedical discoveries. Atrium Health is also a leading-edge innovator in virtual care and mobile medicine, providing care close to home and in the home. Ranked nationally among U.S. News & World Report's Best Hospitals in eight pediatric specialties and for rehabilitation, Atrium Health has also received the American Hospital Association's Quest for Quality Prize and its 2021 Carolyn Boone Lewis Equity of Care Award, as well as the 2020 Centers for Medicare & Medicaid Services Health Equity Award for its efforts to reduce racial and ethnic disparities in care. With a commitment to every community it serves, Atrium Health seeks to improve health, elevate hope and advance healing – for all, providing $2.46 billion last year in free and uncompensated care and other community benefits.
About Johnson C. Smith University
Founded in 1867, Johnson C. Smith University is an independent historically Black university located in Charlotte, N.C. It has a growing national reputation for integrating the liberal arts with business, the sciences and technology in ways that empower tomorrow's diverse entrepreneurial citizens and leaders. Offering 23 fields of study, including a master's degree in social work, to more than 1,200 students from a variety of ethnic, socioeconomic and geographic backgrounds, the university's excellent academic programs focus on servant leadership, civic engagement and global responsibility. For more information about JCSU, visit www.jcsu.edu or follow the university on social media sites Facebook, Twitter, YouTube, LinkedIn and Pinterest.