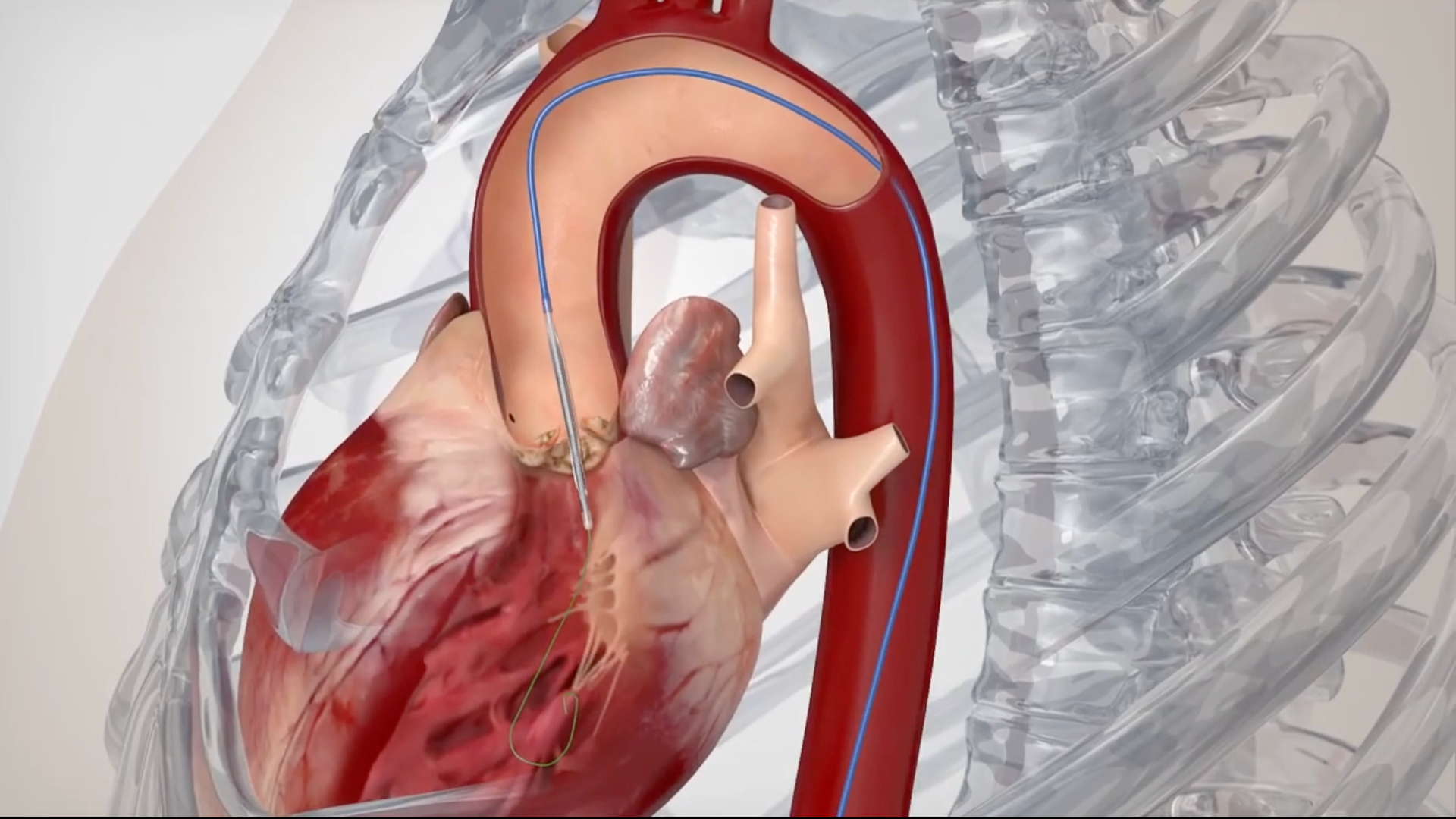 Atrium Health Sanger Heart & Vascular Institute Marks Milestone Surgery
08.11.2022
Atrium Health News |
Sanger Heart & Vascular Institute
Minimally invasive alternative to open heart surgery offering hope to more patients
CHARLOTTE, N.C., Aug. 8, 2022 - Atrium Health Sanger Heart & Vascular Institute has hit a milestone in heart care, having performed 2,022 transcatheter aortic valve replacements (TAVR). This procedure allows the TAVR team to replace the patient's aortic valve using a catheter-based approach instead of open-heart surgery.
Aortic stenosis, a condition that can require a TAVR procedure, occurs when calcium deposits form on the aortic valve, causing a buildup in the heart and lungs. The condition tends to affect patients over the age of 65, but it can also affect those who are middle-aged. Historically, the calcified valve was replaced using open heart surgery.
"The problem is that many elderly patients aren't healthy enough for open-heart surgery," said Dr. Michael Rinaldi, interventional cardiologist and medical director of the Structural Heart Program at Atrium Health Sanger Heart & Vascular Institute. "Most patients want to avoid heart surgery when they can because it's a big commitment, with a lot of risk and recovery time involved."
TAVR has become the preferred therapy for patients with aortic stenosis, particularly for those over 70 years of age. The procedure is associated with low rates of mortality, stroke, bleeding and kidney failure. In addition, most TAVR patients can return home the next day to complete their recovery, which is much quicker compared to surgical recovery.
In addition to helping patients who do not qualify for heart surgery, TAVR can help patients who could have heart surgery, but would likely have a higher mortality rate and spend considerable time in the hospital. It's also an alternative procedure for younger, healthier patients who are good surgical candidates, but want to return to their everyday lifestyles immediately after a valve replacement.
During the milestone procedure, the new valve was placed in a stent, which was inserted into the patient's leg artery using a catheter. The TAVR team, which included Rinaldi and cardiovascular surgeon Dr. Eric Skipper, tracked the catheter's pathway through the patient's circulatory system using X-ray cameras and placed it across from the narrowed aortic valve. Once in place, the stent was expanded, propping open the new valve.
Sanger Heart & Vascular Institute has been performing TAVR procedures for the past decade. The TAVR team pioneered technology that protects a patient from having a stroke during a procedure. By filtering out small particles during the valve replacement, the team at Sanger Heart & Vascular has been able to reduce strokes by 50%, leading to better patient outcomes within 30 days of the procedure.
"Aortic stenosis touches a lot of people's lives, and TAVR can dramatically improve their survival rate," said Rinaldi. "We've refined this therapy over time to become something that is very safe and effective."
Dr. John Fredrick, chief of the division of cardiovascular surgery at Sanger Heart & Vascular Institute, says they have been the busiest TAVR center in the Carolinas since the valve became commercially available 10-years ago.
"That's important because a multitude of studies show that higher volumes translate to better quality and a lower risk of complications," said Fredrick.
Because of this experience, the TAVR team was selected by Edwards Lifesciences to host a training course for providers from other regional valve replacement programs. During the course, the providers learned how to improve the efficiency of TAVR procedures.
Atrium Health Sanger Heart & Vascular Institute's TAVR program has earned the 5-star program rating from U.S. News & World Report, making it one of only three centers to receive this designation in the Carolinas. It also received a 3-star rating, the highest possible designation from the Society of Thoracic Surgeons/ American College of Cardiology Transcatheter Valve Therapy Registry. The TAVR program is one of only a small number of programs in the U.S. to receive the highest ratings from both organizations.

About Atrium Health  
Atrium Health is a nationally recognized leader in shaping health outcomes through innovative research, education, and compassionate patient care. Based in Charlotte, North Carolina, Atrium Health is an integrated, nonprofit health system with more than 70,000 teammates serving patients at 40 hospitals and more than 1,400 care locations. It provides care under the Atrium Health Wake Forest Baptist name in the Winston-Salem, North Carolina, region, as well as Atrium Health Navicent and Atrium Health Floyd in Georgia and Alabama. Atrium Health is renowned for its top-ranked pediatric, cancer and heart care, as well as organ transplants, burn treatments and specialized musculoskeletal programs. A recognized leader in experiential medical education and groundbreaking research, Wake Forest University School of Medicine is the academic core of the enterprise, including Wake Forest Innovations, which is advancing new medical technologies and biomedical discoveries. Atrium Health is also a leading-edge innovator in virtual care and mobile medicine, providing care close to home and in the home. Ranked nationally among U.S. News & World Report's Best Hospitals in eight pediatric specialties and for rehabilitation, Atrium Health has also received the American Hospital Association's Quest for Quality Prize and its 2021 Carolyn Boone Lewis Equity of Care Award, as well as the 2020 Centers for Medicare & Medicaid Services Health Equity Award for its efforts to reduce racial and ethnic disparities in care. With a commitment to every community it serves, Atrium Health seeks to improve health, elevate hope and advance healing – for all, providing $2.46 billion last year in free and uncompensated care and other community benefits.