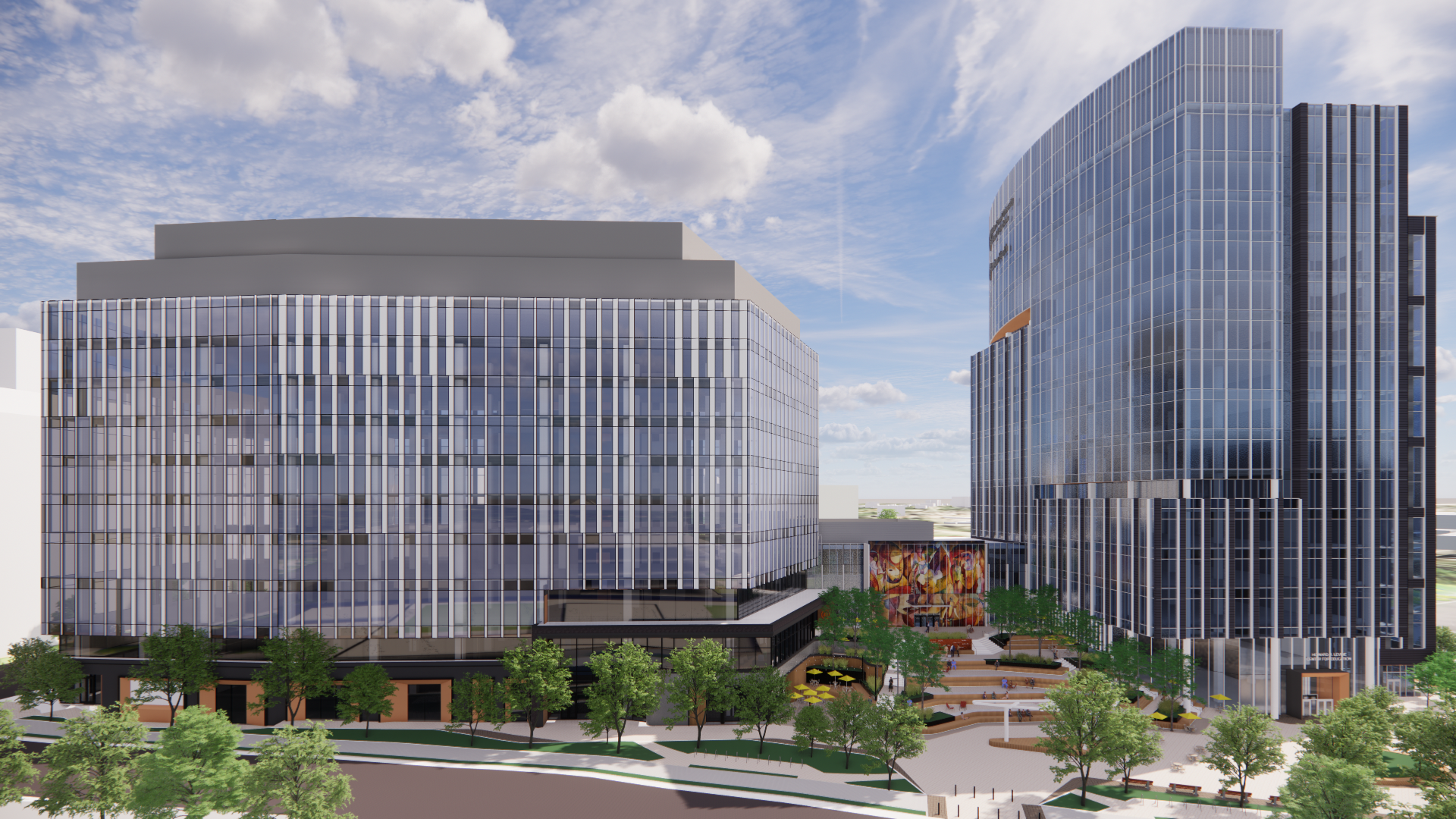 "The Pearl" Awaits its Future
08.09.2022
Atrium Health News
Charlotte's innovation district unfolding strong promise for future of life science
CHARLOTTE, N.C., Aug. 9, 2022 – In nature, the creation of a pearl takes as little as six months but typically takes a few years to develop. In much the same fashion, "The Pearl" innovation district in Midtown Charlotte is in its earliest stages, as what will be included in the crown jewel of the Queen City continues to take shape.
Progress will be evident as early as this week, as site preparation begins for the demolition of Atrium Health's data center at 801 S. McDowell Street. The building was recently decommissioned after more than 20 years of service, replaced by more advanced physical storage and internet cloud-based systems. The site will be enclosed by a wall of fencing proclaiming the future, with logos of Atrium Health, Wake Forest University School of Medicine, The Pearl and Wexford Science & Technology, the developer of the mixed-use district.
The Pearl will have at its heart the campus of Wake Forest University School of Medicine Charlotte. It will share space within the Howard R. Levine Center for Education with Wake Forest University School of Business, Wake Forest School for Professional Studies and Carolinas College of Health Sciences, each of which have announced plans to locate there, along with other educational opportunities. Formal groundbreaking is expected during the first quarter of next year. The school of medicine is expected to seat its first class in 2024 and open the following year.
The research, learning and innovation mantra from the education center will carry forward into the adjacent building, which is expected to become home to the exclusive North American headquarters of IRCAD, a France-based, global, surgical training center. IRCAD draws thousands of medical professionals to each of its sites each year for training and seminars using the latest surgical techniques, including robotics, medical virtual and augmented reality, surgical artificial intelligence and simulation training.
"We will educate a new generation of medical professionals who will be among the finest in the country," said Eugene A. Woods, president and CEO of Atrium Health, detailing the current state of the innovation district project before Atrium Health's board of commissioners at its meeting Tuesday. "This will be a place for students, clinicians and researchers to learn from each other and focus on the art of the possible. These inspirational collaborations will lead to new medicines, techniques and therapies that have the potential to change the world and provide better health for all."
Atrium Health leaders recently met with top executives from leading, global medical technology manufacturers, such as Johnson & Johnson, Pentax, Siemens Healthineers and Stryker, each of which is anticipated to have a role within the IRCAD program. Some are considering co-locating a hub of operations in The Pearl to take advantage of the innovation and collaboration destined for the space. Because each of these companies are leading-edge in the medical technology space, IRCAD is anticipated to be outfitted with some of the best medical tools in the world. If one or more chooses to locate operations in Charlotte, it would immediately catapult North Carolina even higher among states with top-tier capabilities of improving public health.
"Working with Atrium Health and with IRCAD presents a unique and exciting opportunity to create a meaningful impact, driving medical innovation in North Carolina and beyond," said David Pacitti, president of Siemens Medical Solutions USA, Inc., and head of the Americas for Siemens Healthineers. "While there are several innovation districts across the country, we are excited about the level of impact that Charlotte can deliver to the life sciences industry. It's something we are excited to be a part of and where we believe we can make ground-breaking change working together."
When combined with the Innovation Quarter, which is home to the campus of Wake Forest University School of Medicine, in Winston-Salem, the district will create the framework for an innovation corridor between Winston-Salem and Charlotte, further strengthening the academic bonds Wake Forest University has with Charlotte and helping advance learning, economic growth and opportunity.
Over the next 15 years, The Pearl and its tenants are projected to create more than 5,500 onsite jobs – 40% of which are not expected to require a college degree – and more than 11,500 jobs, in total, in the Charlotte community. In addition to the medical technology firms, leaders within Atrium Health and developer Wexford Science & Technology are continuing to look for industry partners and others interested in locating in The Pearl, as well as benefactors who want to shape or create a lasting legacy in life sciences and academic medicine.
Upon completion, The Pearl will be a mixed-use development featuring education, retail, apartments, a hotel and an open community space, in addition to being ground-zero for entrepreneurial activity, research and development that is expected to reshape the economy of the Charlotte region.
About Atrium Health
Atrium Health is a nationally recognized leader in shaping health outcomes through innovative research, education and compassionate patient care. Based in Charlotte, North Carolina, Atrium Health is an integrated, nonprofit health system with more than 70,000 teammates serving patients at 40 hospitals and more than 1,400 care locations. It provides care under the Atrium Health Wake Forest Baptist name in the Winston-Salem, North Carolina, region, as well as Atrium Health Navicent and Atrium Health Floyd in Georgia and Alabama. Atrium Health is renowned for its top-ranked pediatric, cancer and heart care, as well as organ transplants, burn treatments and specialized musculoskeletal programs. A recognized leader in experiential medical education and groundbreaking research, Wake Forest University School of Medicine is the academic core of the enterprise, including Wake Forest Innovations, which is advancing new medical technologies and biomedical discoveries. Atrium Health is also a leading-edge innovator in virtual care and mobile medicine, providing care close to home and in the home. Ranked nationally among U.S. News & World Report's Best Hospitals in eight pediatric specialties and for rehabilitation, Atrium Health has also received the American Hospital Association's Quest for Quality Prize and its 2021 Carolyn Boone Lewis Equity of Care Award, as well as the 2020 Centers for Medicare & Medicaid Services Health Equity Award for its efforts to reduce racial and ethnic disparities in care. With a commitment to every community it serves, Atrium Health seeks to improve health, elevate hope and advance healing – for all, providing $2.46 billion last year in free and uncompensated care and other community benefits.