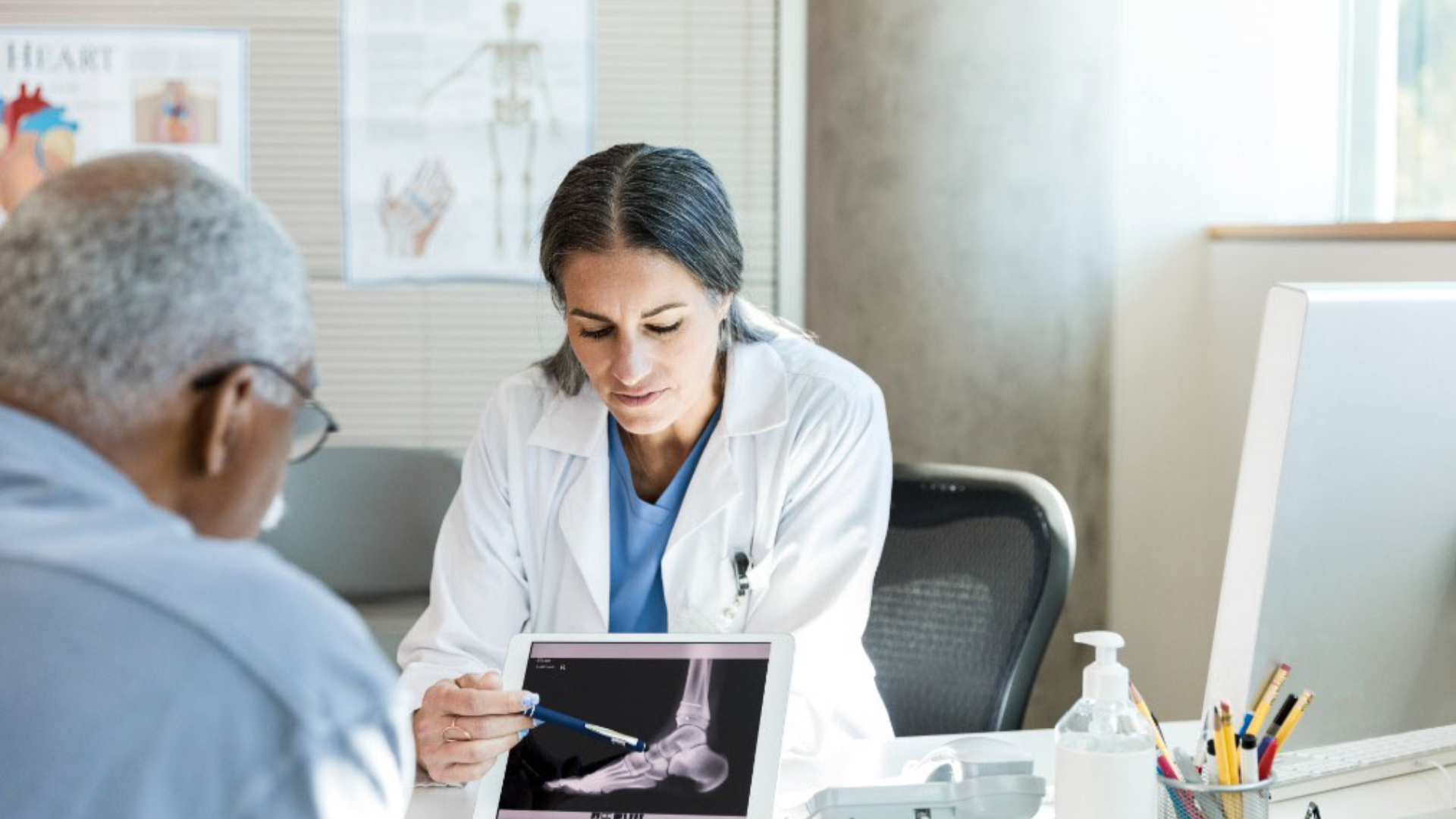 Atrium Health Musculoskeletal Institute's Fracture Prevention Programs Earn National Recognition
09.21.2022
Atrium Health News |
Musculoskeletal Institute
Charlotte and Winston-Salem facilities are two of only three in North Carolina
CHARLOTTE, N.C., Sept. 21, 2022 – Atrium Health Musculoskeletal Institute's (MSKI) fracture prevention programs at Atrium Health Carolinas Medical Center, in Charlotte, and Atrium Health Wake Forest Baptist Medical Center, in Winston-Salem, North Carolina, have received a Star Performer designation from the American Orthopaedic Association (AOA) for participation in the association's "Own the Bone®" program. This is the fourth consecutive year for Atrium Health centers to receive this designation, which is reserved for select institutions that perform the highest level of bone health care.
The AOA's Own the Bone program is a multidisciplinary initiative to treat patients' bone health after a fracture and prevent future fractures. The goal is to help patients understand their risk of future fractures and improve patient care and treatment after a fragility fracture. The Own the Bone program focuses on nutrition, physical activity and lifestyle counseling in addition to bone density testing and improving patient communication.
"It's an honor to be recognized for our fracture prevention programs at both facilities, which are preventive-care programs that work to improve bone health in older adults," said Dr. Claude "T" Moorman, president of Atrium Health Musculoskeletal Institute. "This designation shows the clinical expertise and commitment of our teammates to ensure patients receive industry-leading care to help them minimize their risk of suffering additional fractures."
Own the Bone star performers like Atrium Health must achieve a 75% compliance rate with at least five Own the Bone prevention measures, including:
E

ducating patients on the importance of

c

alcium and

v

itamin D

P

hysical activity

F

alls prevention

L

imiting alcohol intake and quitting smoking

R

ecommending and initiating bone mineral density testing

D

iscussing pharmacotherapy and treatment (when applicable)

P

roviding written communication to the patient and their physician regarding specific risk factors and treatment recommendations
"We take great pride in keeping our elderly patients safe and this designation demonstrates the commitment of Atrium Health to care for those who are at high risk for fractures before they need the care of a surgeon," said Anne Lake, who has a doctorate in nursing practice and is the leader of Atrium Health Wake Forest Baptist's fracture prevention program.
Both programs provide a multidisciplinary approach to bone health. Atrium Health Wake Forest Baptist's program was one of the first academic medical centers in the country to establish a formal fracture liaison service program and the only program in the nation to receive The Joint Commission's Gold Seal of Approval for Osteoporosis Certification.
About Atrium Health
Atrium Health is a nationally recognized leader in shaping health outcomes through innovative research, education and compassionate patient care. Based in Charlotte, North Carolina, Atrium Health is an integrated, nonprofit health system with more than 70,000 teammates serving patients at 40 hospitals and more than 1,400 care locations. It provides care under the Atrium Health Wake Forest Baptist name in the Winston-Salem, North Carolina, region, as well as Atrium Health Navicent and Atrium Health Floyd in Georgia and Alabama. Atrium Health is renowned for its top-ranked pediatric, cancer and heart care, as well as organ transplants, burn treatments and specialized musculoskeletal programs. A recognized leader in experiential medical education and groundbreaking research, Wake Forest University School of Medicine is the academic core of the enterprise, including Wake Forest Innovations, which is advancing new medical technologies and biomedical discoveries. Atrium Health is also a leading-edge innovator in virtual care and mobile medicine, providing care close to home and in the home. Ranked nationally among U.S. News & World Report's Best Hospitals in eight pediatric specialties and for rehabilitation, Atrium Health has also received the American Hospital Association's Quest for Quality Prize and its 2021 Carolyn Boone Lewis Equity of Care Award, as well as the 2020 Centers for Medicare & Medicaid Services Health Equity Award for its efforts to reduce racial and ethnic disparities in care. With a commitment to every community it serves, Atrium Health seeks to improve health, elevate hope and advance healing – for all, providing $2.46 billion last year in free and uncompensated care and other community benefits.