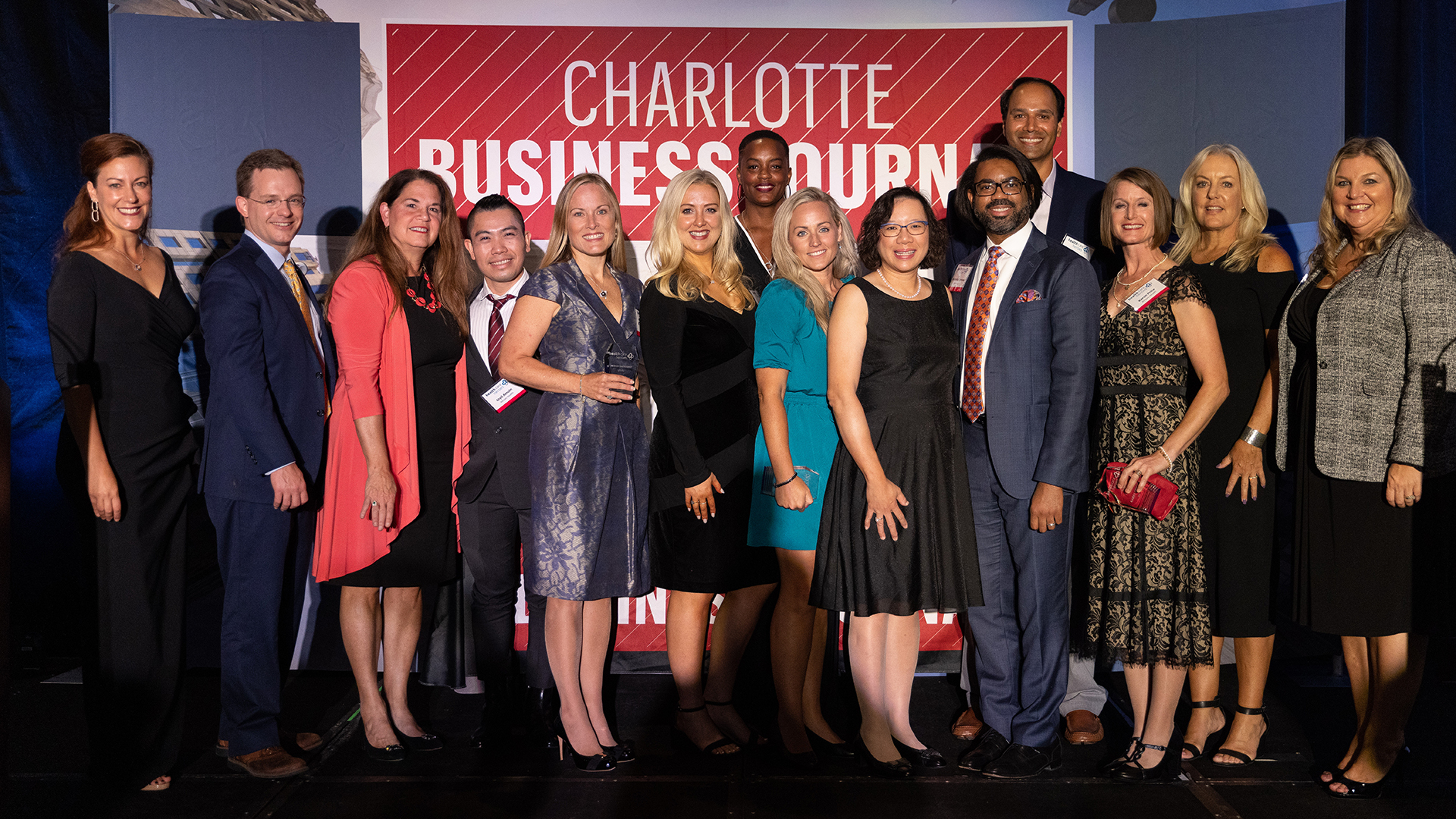 Atrium Health Recognized at Charlotte Business Journal Health Care Heroes Awards
09.28.2022
Atrium Health News
Fifteen teams and teammate finalists recognized across nine categories
CHARLOTTE, N.C., Sept. 28, 2022 – Atrium Health teammates were recognized last week at the Charlotte Business Journal Health Care Heroes Awards. The awards were presented at a ceremony on Thursday, Sept. 22. Atrium Health had 15 finalists across nine categories.
"Our teammates have worked with passion, purpose and determination to improve health, elevate hope and advance healing for all," said Dr. Jennifer Sullivan, enterprise senior vice president of strategic operations for Atrium Health, who spoke at the event. "This is our moral imperative as health care providers and as a society. In health care settings across the region, our health care heroes have bravely and boldly risen to the challenge of caring for the communities we are privileged to serve in ways we previously couldn't have imagined. Their dedication has strengthened our community, giving us all the care and support needed to bounce back from the obstacles of the last three years, together, and better than ever."
Of the 15 outstanding finalists and teams, Atrium Health had winners in five categories, including:
Community Outreach: Dr. Nikita Lindsay,

Atrium Health Rock Hill Pediatrics

–

Lindsay is a pediatrician who works to make sure children from underrepresented minority groups know they, too, can become doctors. Although African Americans make up 13% of the U.S. population, fewer than 4% of physicians are Black. Hispanic and Native Americans make up an even smaller percentage. During the pandemic, Lindsay launched "Kid Doc Summer Camp" to introduce physician careers to children from minority backgrounds early in their educational careers. Lindsay joins with other Black physicians, including cardiologists, trauma surgeons and dermatologists, to show how they started their careers. This year the camp drew 44 campers.

Nurse

:

Karen Price

, Atrium Health Levine Cancer Institute

–

The mark of a great oncology nurse is their ability to help patients through some of the most difficult times of their lives. Price embodies that ideal with an unrivaled passion for and commitment to her patients. Price completed the Oncology Nursing Society's Radiation Oncology and Chemotherapy Immunotherapy certificate programs and championed a new radiopharmaceutical that offers patients a new treatment option. The program has been successful, largely due to her commitment to learning and perfecting the process from start to finish.

Physician/Physician Practice Groups: Dr. Kathryn Mileham

, Atrium Health Levine Cancer Institute

– Mileham is a leader caring for patients with lung cancer. She is chief of thoracic medical oncology and associate professor at Atrium Health's Levine Cancer Institute. In addition to being a published author and presenter on the topic of thoracic medical oncology, Mileham serves as the principal investigator for clinical research trials. She is the immediate past chair of the American Society of Clinical Oncology Cancer Research Committee.

Rising Star

:

Dr.

Roshan Prabhu,

Atrium Health Levine Cancer Institute

– During Prabhu's tenure as the medical director of radiation oncology research at Atrium Health Levine Cancer Institute, his team has become the first department in the region to offer a newly approved FDA drug for patients with advanced neuroendocrine disease and a radioactive pharmaceutical medication for prostate cancer. Prabhu is leading a registry of patients treated with pre-operative radiosurgery, a process pioneered at Levine Cancer Institute several years ago. The registry demonstrates that radiation before surgery is a safe and effective treatment. Prabhu treats many pediatric patients and has made treatments less toxic and less scary for his patients.

Support Services Executive/Organization

:

Tiffany Burton,

Atrium Health

–

Burton is a nurse manager in clinical resources staffing for Atrium Health. Burton stepped forward to help Atrium Health through multiple waves of the COVID-19 pandemic. During the first wave, Burton was tasked with hiring dedicated testing teammates who would then transition to vaccine teammates. She hired 84 people in a matter of months. Once the testing and vaccine work was dismantled, Burton worked with each of those teammates to transition them smoothly to other Atrium Health positions within the system. Remarkably, she retained all but two teammates in that work.
Charlotte Business Journal's Health Care Heroes Awards program, now in its second year, seeks to highlight the local individuals and organizations that are putting innovation and compassion to work to improve the human condition.
Other Atrium Health Healthcare Hero finalists included:
Dr. Benjamin Simmons – Atrium Health
Health Care Innovator/Researcher:
Meredith Dean – Atrium Health Levine Children's Hospital

Atrium Health's Sanger Heart & Vascular Institute, Implantable Fish-Skin Graft

Atrium Health Virtual Nursing Observation Care
Dr. Earle Burgess – Atrium Health Levine Cancer Institute

Dr. Antionette Tan – Atrium Health Levine Cancer Institute
Medical Professionals (non-physician):
Ashley Blanton – Atrium Health
Heather Brown – Atrium Health Carolinas Medical Center
Cyril Amoin – Atrium Health Carolinas Medical Center
Jamie Davies – Atrium Health Levine Children's Hospital
"These are the individuals who are on the front line, day in and day out. They truly put their patients first and that is what makes them heroes," said T.J. McCollough, president and publisher of the Charlotte Business Journal. "Today we honor these companies and individuals. Thank you for putting others before yourself. Thank you for the countless hours worked and thank you for continuing to care for our region."
About Atrium Health
Atrium Health is a nationally recognized leader in shaping health outcomes through innovative research, education and compassionate patient care. Based in Charlotte, North Carolina, Atrium Health is an integrated, nonprofit health system with more than 70,000 teammates serving patients at 40 hospitals and more than 1,400 care locations. It provides care under the Atrium Health Wake Forest Baptist name in the Winston-Salem, North Carolina, region, as well as Atrium Health Navicent and Atrium Health Floyd in Georgia and Alabama. Atrium Health is renowned for its top-ranked pediatric, cancer and heart care, as well as organ transplants, burn treatments and specialized musculoskeletal programs. A recognized leader in experiential medical education and groundbreaking research, Wake Forest University School of Medicine is the academic core of the enterprise, including Wake Forest Innovations, which is advancing new medical technologies and biomedical discoveries. Atrium Health is also a leading-edge innovator in virtual care and mobile medicine, providing care close to home and in the home. Ranked nationally among U.S. News & World Report's Best Hospitals in eight pediatric specialties and for rehabilitation, Atrium Health has also received the American Hospital Association's Quest for Quality Prize and its 2021 Carolyn Boone Lewis Equity of Care Award, as well as the 2020 Centers for Medicare & Medicaid Services Health Equity Award for its efforts to reduce racial and ethnic disparities in care. With a commitment to every community it serves, Atrium Health seeks to improve health, elevate hope and advance healing – for all, providing $2.46 billion last year in free and uncompensated care and other community benefits.