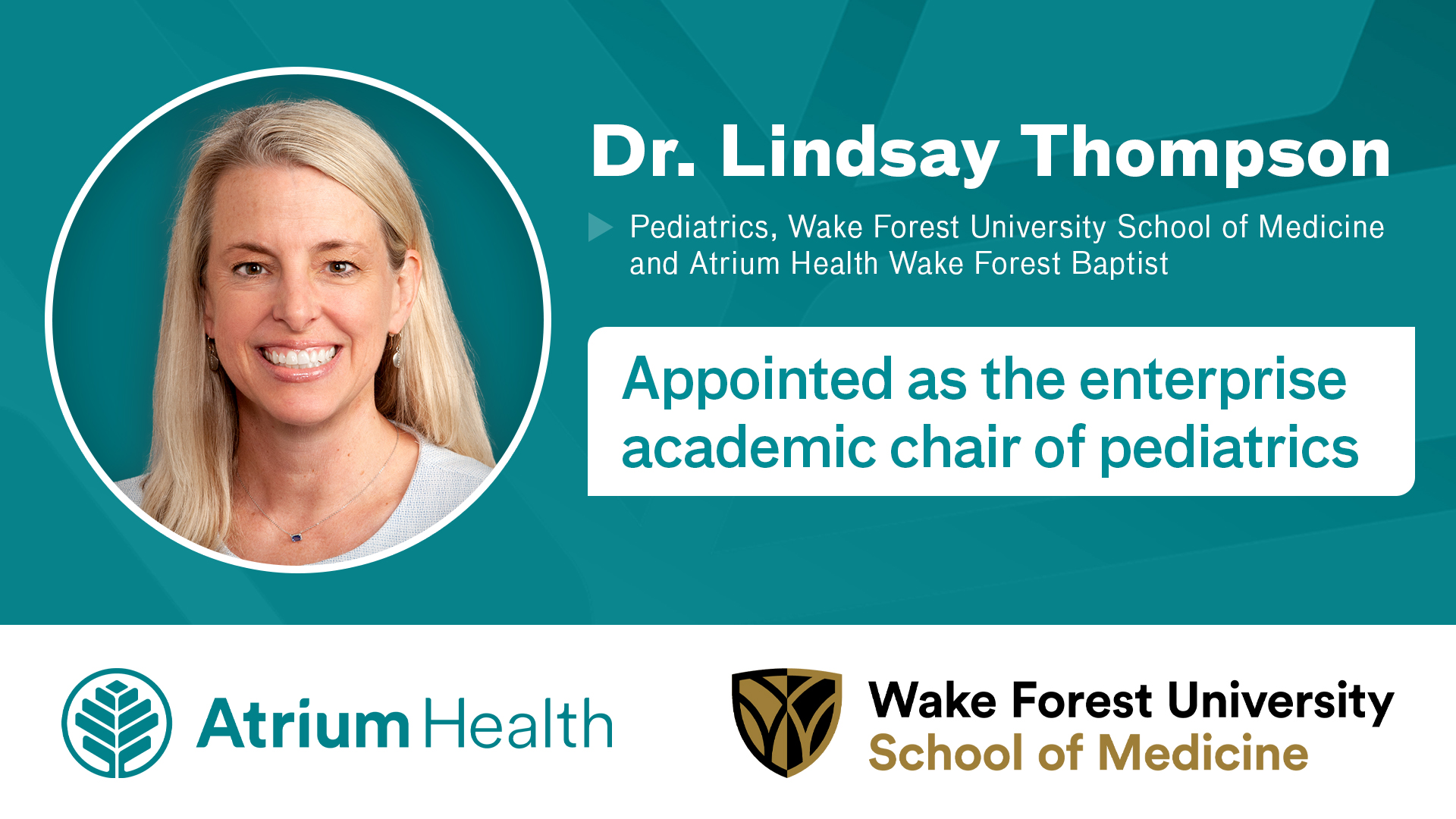 New Enterprise Academic Chair of Pediatrics Appointed
09.13.2022
Atrium Health News |
Levine Children's
Accomplished pediatrician, researcher and educator selected after extensive national search
CHARLOTTE, N.C. and WINSTON-SALEM, N.C., Sept. 12, 2022 – Dr. Lindsay Thompson has been appointed enterprise academic department chair of pediatrics at Wake Forest University School of Medicine and co-leader of pediatric health care for Atrium Health Wake Forest Baptist, working collaboratively with leaders at Atrium Health Wake Forest Baptist Brenner Children's Hospital, Atrium Health Levine Children's and Atrium Health Navicent Beverly Knight Olson Children's Hospital.
In this role, Thompson will provide leadership, vision and mentorship to faculty and staff, with goals of expanding the research portfolio and pediatric research activities across Atrium Health's growing pediatric academic enterprise and contributing to the system's national and international prominence. She will manage clinical pediatric operations in the parts of North Carolina served by Atrium Health Wake Forest Baptist and focus on excellence in clinical care, education and research while building productive partnerships across all regions in the Atrium Health enterprise.
"We are thrilled to welcome Dr. Thompson to our family and we know that her guidance to our faculty and staff will help us elevate pediatric care for all families served by our care teams," said Dr. Julie Ann Freischlag, CEO of Atrium Health Wake Forest Baptist, dean of Wake Forest University School of Medicine and chief academic officer of Atrium Health.
Thompson most recently served as a professor of pediatrics and health outcomes and biomedical informatics at the University of Florida College of Medicine. While at Florida, she also served as vice chair of health outcomes and translational research in the department of pediatrics, assistant director to research for the Institute for Child Health Policy and associate division chief of general pediatrics. Her pediatric expertise has resulted in appointments at the national level, including her current role as section editor for Journal of the American Medical Association Pediatrics and Thompson has served on committees for the American Board of Pediatrics, the American Academy of Pediatrics and the Florida Chapter of the American Academy of Pediatrics.
"Dr. Thompson not only brings a wealth of knowledge and experience to Atrium Health Levine Children's, but her genuine love and compassion for children are front and center of all that she does," said Dr. H. Stacy Nicholson, enterprise leader of Atrium Health Children's Services. "I believe our vision of an integrated pediatric health system, focused on clinical programs, education, research and advocacy, will soar under her leadership."
In addition to her clinical leadership, Thompson is heavily involved in research with many active and completed national grants, resulting in more than 130 published peer-reviewed journal articles, abstracts and book chapters. She has served as a grant reviewer for the Patient-Centered Outcomes Research Institute (PCORI), the Health Resources & Services Administration and the Agency for Healthcare Research and Quality. Her areas of research interest include the delivery of pediatric primary care, disparities in care, social media and health, professionalism, assessments of children with special health care needs, neonatal outcomes and palliative care services.
Thompson received her bachelor's degree from Brown University, her master's degree in Evaluative Clinical Services from Dartmouth Medical School and her M.D. from Columbia University. She completed her pediatric residency, a national research service award research fellowship and the Tiffany Blake fellowship in research from Dartmouth Hitchcock Medical Center.
About Atrium Health
Atrium Health is a nationally recognized leader in shaping health outcomes through innovative research, education and compassionate patient care. Based in Charlotte, North Carolina, Atrium Health is an integrated, nonprofit health system with more than 70,000 teammates serving patients at 40 hospitals and more than 1,400 care locations. It provides care under the Atrium Health Wake Forest Baptist name in the Winston-Salem, North Carolina, region, as well as Atrium Health Navicent and Atrium Health Floyd in Georgia and Alabama. Atrium Health is renowned for its top-ranked pediatric, cancer and heart care, as well as organ transplants, burn treatments and specialized musculoskeletal programs. A recognized leader in experiential medical education and groundbreaking research, Wake Forest University School of Medicine is the academic core of the enterprise, including Wake Forest Innovations, which is advancing new medical technologies and biomedical discoveries. Atrium Health is also a leading-edge innovator in virtual care and mobile medicine, providing care close to home and in the home. Ranked nationally among U.S. News & World Report's Best Hospitals in eight pediatric specialties and for rehabilitation, Atrium Health has also received the American Hospital Association's Quest for Quality Prize and its 2021 Carolyn Boone Lewis Equity of Care Award, as well as the 2020 Centers for Medicare & Medicaid Services Health Equity Award for its efforts to reduce racial and ethnic disparities in care. With a commitment to every community it serves, Atrium Health seeks to improve health, elevate hope and advance healing – for all, providing $2.46 billion last year in free and uncompensated care and other community benefits.