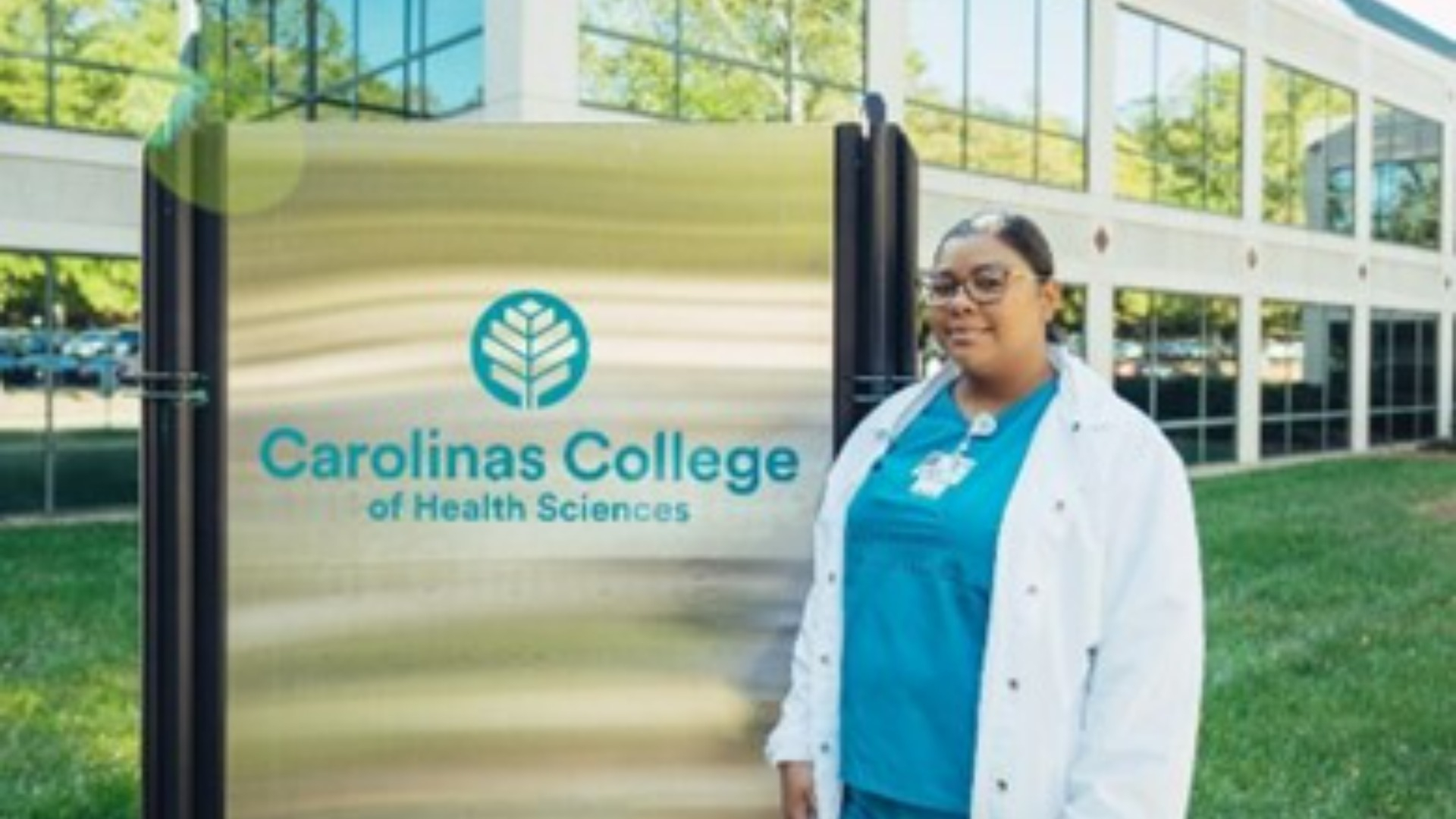 Ally Charitable Foundation Invests in Atrium Health's Workforce Development Pathways with $5 Million Gift
11.14.2022
Atrium Health News |
Carolinas College of Health Sciences
CHARLOTTE, N.C., Nov. 14, 2022 – Atrium Health announced today a $5 million gift from Ally Charitable Foundation to support equitable opportunities for individuals to pursue careers in healthcare. The gift establishes the Ally Charitable Foundation Workforce Development Center of Excellence as well as the Ally Charitable Foundation Workforce Development Scholarship Fund.
Through the Ally Charitable Foundation Workforce Development Center of Excellence, individuals from historically marginalized or diverse populations will have access to a variety of career development pathways to seek their education. Existing programs – currently serving more than 1,400 students, 66% of whom are diverse participants – include entry points ranging from high school students, to Title I high school graduates, to current entry level Atrium Health teammates. The Ally Charitable Foundation's gift will expand the Atrium Health Foundation's current professional development programming and target individuals who need additional skills to enter a variety of high-paying careers in healthcare.
"Because of this partnership, I'm excited that the students who participate will be the next generation of amazing doctors, nurses and allied health professionals who will walk the hallways of Atrium Health," said Eugene A. Woods, president and CEO of Atrium Health. "Atrium Health is proud to help model for the nation how health systems, businesses and schools can collaborate to transform our historically underserved communities, provide career pipeline opportunities and fuel economic mobility."
The Ally Charitable Foundation Workforce Development Scholarship Fund, established with $1 million of the gift, will provide $50,000 per year for scholarships to Carolinas College of Health Sciences (CCHS). Workforce development program participants and graduates, as well as graduates of Johnson C. Smith University, will qualify for the scholarships and have access to many of Atrium Health's and CCHS's classes, certification courses and post-graduate degree programs.
WATCH: Students reflect on the impact of Atrium Health's workforce scholarships and educational programming.
"Driving upward economic mobility in the Charlotte region and across the state has been a strategic focus for our foundation," said Ali Summerville, head of the Ally Charitable Foundation. "By investing in established workforce development programs and providing scholarship funding, we can make a measurable impact for under-represented communities – training and skill building leads to higher-paying jobs, more career pathways, and a stronger talent pipeline. We are proud to support Atrium Health as the organization continues to expand its educational initiatives."
Students from all backgrounds come to CCHS to study in a variety of healthcare fields, such as clinical laboratory science, diagnostic and imaging science and nursing. Shauntine' Rouse, a recipient of a recent scholarship, is a few weeks away from receiving her phlebotomy certification through CCHS.
"I wanted to find something that I could connect with to get back into the field," said Rouse, who's been out of the workforce for the past six years, raising her family. "I hope that my kids will look at what I'm doing and be inspired to do whatever they want [with their careers] on their own timeline."
The college serves as a talent development engine, preparing graduates to work at Atrium Health and in other evolving healthcare environments. It serves as an example of how investment in diverse talent and partnerships between non-profits can change the trajectory of a community.
---
About Atrium Health Foundation
Founded in 1959, Atrium Health Foundation is one of the largest charitable foundations in Charlotte. As the point of contact for all contributions benefiting Atrium Health in the Charlotte region, the Foundation inspires transformational giving to improve health, elevate hope, and advance healing – for ALL. Through its current Giving Hope Campaign, Atrium Health Foundation is supporting Atrium Health's efforts to create the learning health system of the future by building healthy communities, outstanding education programs, preeminent research, and exemplary facilities.
About Atrium Health
Atrium Health is a nationally recognized leader in shaping health outcomes through innovative research, education and compassionate patient care. Based in Charlotte, North Carolina, Atrium Health is an integrated, nonprofit health system with more than 70,000 teammates serving patients at 40 hospitals and more than 1,400 care locations. It provides care under the Atrium Health Wake Forest Baptist name in the Winston-Salem, North Carolina, region, as well as Atrium Health Navicent and Atrium Health Floyd in Georgia and Alabama. Atrium Health is renowned for its top-ranked pediatric, cancer and heart care, as well as organ transplants, burn treatments and specialized musculoskeletal programs. A recognized leader in experiential medical education and groundbreaking research, Wake Forest University School of Medicine is the academic core of the enterprise, including Wake Forest Innovations, which is advancing new medical technologies and biomedical discoveries. Atrium Health is also a leading-edge innovator in virtual care and mobile medicine, providing care close to home and in the home. Ranked nationally among U.S. News & World Report's Best Hospitals in eight pediatric specialties and for rehabilitation, Atrium Health has also received the American Hospital Association's Quest for Quality Prize and its 2021 Carolyn Boone Lewis Equity of Care Award, as well as the 2020 Centers for Medicare & Medicaid Services Health Equity Award for its efforts to reduce racial and ethnic disparities in care. With a commitment to every community it serves, Atrium Health seeks to improve health, elevate hope, and advance healing – for all, providing $2.46 billion last year in free and uncompensated care and other community benefits.
###