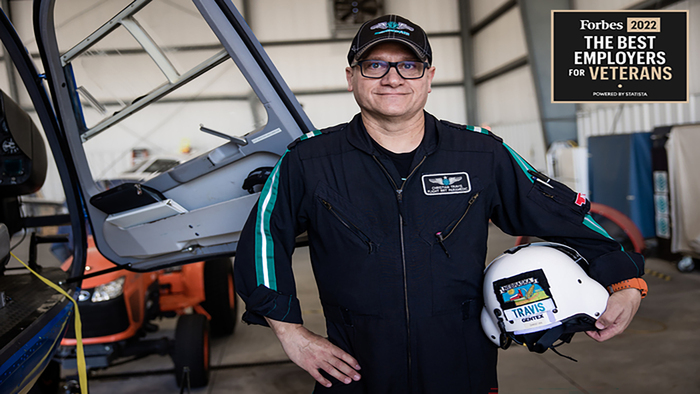 Atrium Health Recognized as a Best Employer for Veterans by Forbes
11.11.2022
Atrium Health News
Atrium Health one of just three companies named to the list from North Carolina
CHARLOTTE, N.C., Nov. 11, 2022 – Atrium Health has been recognized on the Forbes list of Best Employers for Veterans 2022 at No. 53. This is the second consecutive year Atrium Health has been named to this distinguished list of 200 companies, which this year also included NASA, Google and Ford Motor Company.
To determine the Best Employers for Veterans list, around 7,000 U.S. veterans working for companies employing at least 1,000 people within the U.S. were surveyed. Participants were asked to give their opinions on a series of statements related to general topics regarding their own employer, for example: atmosphere and development, image, working conditions, salary and wages, workplace and diversity, as well as a set of topics related specifically to the interests of veterans in the workplace.
"Atrium Health is honored to again be named among the best employers in the nation for veterans," said Jim Dunn, executive vice president and chief people and culture officer for Atrium Health. "Our veteran and military teammates make extraordinary impacts to Atrium Health every day, and we greatly value the innovative leadership and professional expertise they provide to our patients, their families and the communities we serve."
Atrium Health has taken a leading role in recruiting and retaining military veterans, which total more than 1,500 teammates throughout the health provider across four states. Atrium Health also supports the Veteran & Military System Resource Group, a group of veteran and active-duty military teammates and their families, to support military-affiliated teammates and promote the unique characteristics of those who are serving, have served or have a loved one who has served.
Atrium Health is also proud to have participated in the 2022 Charlotte Veterans Day parade last week and, later today, will host a virtual ceremony for all teammates to honor Atrium Health Veterans who have bravely served our country.
---
About Atrium Health
Atrium Health is a nationally recognized leader in shaping health outcomes through innovative research, education, and compassionate patient care. Based in Charlotte, North Carolina, Atrium Health is an integrated, nonprofit health system with more than 70,000 teammates serving patients at 40 hospitals and more than 1,400 care locations. It provides care under the Atrium Health Wake Forest Baptist name in the Winston-Salem, North Carolina, region, as well as Atrium Health Navicent and Atrium Health Floyd in Georgia and Alabama. Atrium Health is renowned for its top-ranked pediatric, cancer and heart care, as well as organ transplants, burn treatments and specialized musculoskeletal programs. A recognized leader in experiential medical education and groundbreaking research, Wake Forest University School of Medicine is the academic core of the enterprise, including Wake Forest Innovations, which is advancing new medical technologies and biomedical discoveries. Atrium Health is also a leading-edge innovator in virtual care and mobile medicine, providing care close to home and in the home. Ranked nationally among U.S. News & World Report's Best Hospitals in eight pediatric specialties and for rehabilitation, Atrium Health has also received the American Hospital Association's Quest for Quality Prize and its 2021 Carolyn Boone Lewis Equity of Care Award, as well as the 2020 Centers for Medicare & Medicaid Services Health Equity Award for its efforts to reduce racial and ethnic disparities in care. With a commitment to every community it serves, Atrium Health seeks to improve health, elevate hope and advance healing – for all, providing $2.46 billion last year in free and uncompensated care and other community benefits.
###