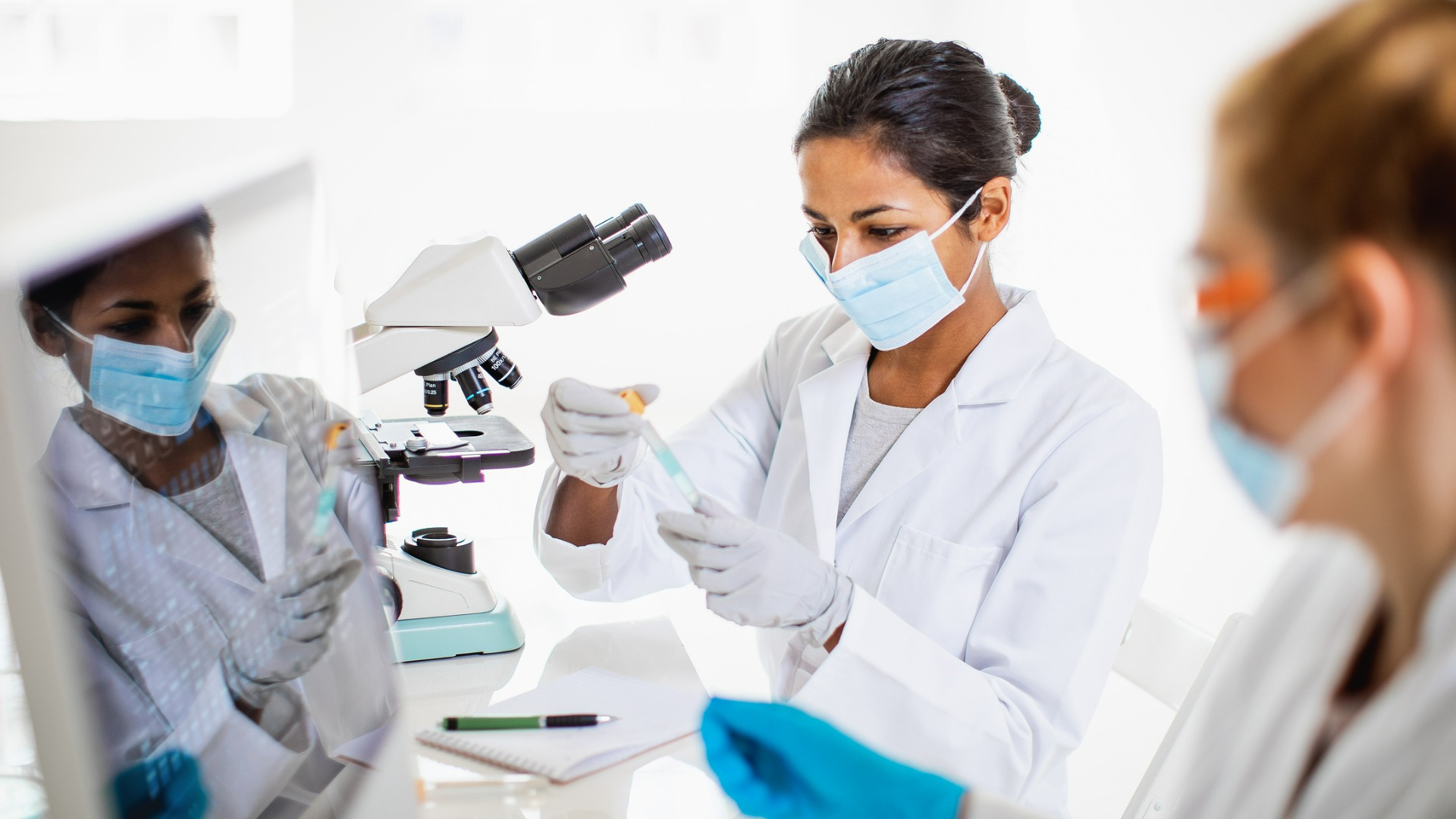 Atrium Health's Cancer Research in the Spotlight at National Event
12.06.2022
Atrium Health News |
Levine Cancer Institute
Levine Cancer Institute chosen to present record-breaking number of studies
CHARLOTTE, N.C., Dec. 6, 2022 – Research by investigators from Atrium Health Levine Cancer Institute (LCI) will be prominently featured at the American Society of Hematology (ASH) Annual Meeting in New Orleans. The annual meeting of hematologists in the U.S. is the largest of its kind and runs from Saturday, Dec.10, through Tuesday, Dec. 13. Atrium Health LCI researchers led or contributed to 56 studies that will be highlighted at the conference, including three oral presentations and 10 poster presentations.
"We are excited to build on Atrium Health Levine Cancer Institute's longtime collaboration with ASH and proud to have such a large presence at this year's meeting," said Dr. Nilanjan Ghosh, chair of Atrium Health Levine Cancer Institute's department of hematologic oncology and blood disorders. "We have played a leading role in providing the best care to cancer patients on several fronts, including offering participation in clinical trials of novel medicines, combination treatments and improving the understanding of how therapies are performing in real-world settings. Our presentations at the ASH conference reaffirm Levine Cancer Institute's commitment to patients with hematological cancers."
In addition to its numerous studies, Atrium Health Levine Cancer Institute is leading the way in demonstrating similar outcomes between minorities and Caucasians in patients with hematologic malignancies. Ghosh will present data on the effectiveness of CAR T-cell therapy vs. chemotherapy in lymphoma and the comparison of novel therapies vs. chemotherapy in chronic lymphocytic leukemia. Ghosh will also moderate a session at the ASH annual meeting.
Among the highlights will be an oral presentation by Dr. Steven Park, vice chair for research in the department of hematologic oncology and blood disorders and professor at Atrium Health LCI, who led a multi-center national study on an abbreviated chemotherapy regimen, followed by treatment with the immunotherapy drug nivolumab (Opdivo), in patients with previously untreated limited-stage Hodgkin lymphoma. In an oral presentation, Park will present data showing that after three cycles of chemotherapy, 97% of participants were clear of disease, and 100% did not show disease progression after finishing the nivolumab treatment. This treatment regimen could decrease the risk of long-term complications of chemotherapy and radiation, including cardiovascular disease and secondary cancers, the Atrium Health LCI-led team is reporting. The oral presentation will take place on Monday, Dec. 12.
In another oral presentation, Dr. Bei Hu, assistant professor in the department of hematologic oncology and blood disorders at Atrium Health LCI, will report data from a multi-center study she led on the CCR4-targeting antibody mogamulizumab (Poteligeo) in patients with cutaneous T cell lymphoma (CTCL). Data from the study showed that complete remissions were more common among patients who develop a rash while on the drug than it was among those who did not have the side effect. What's more, 40% of patients who experienced rash and discontinued the drug because of it still had ongoing positive responses, without needing further drug treatments, Hu will report the results at an oral presentation on Sunday, Dec. 11.
Dr. Ryan Jacobs, clinical director of the lymphoma division at Atrium Health LCI, will present a study comparing real-world outcomes of treatment with the BTK inhibitors ibrutinib (Imbruvica) and acalabrutinib (Calquence) in patients with chronic lymphocytic leukemia (CLL). With a median follow up of 15 months, 94.6% of patients treated with ibrutinib as a first line treatment did not require a second line of therapy compared to 88.3% of acalabrutinib patients. Jacobs will discuss the findings in an oral presentation taking place Sunday, Dec. 11.
ASH also recently announced that Dr. Belinda Avalos, professor of medicine and a senior advisor to the president of Atrium Health LCI, will serve as the next vice president of ASH. As a distinguished physician-scientist, Avalos has made significant research contributions in the areas of leukemogenesis, congenital neutropenia, transplantation, and cellular therapy, while also championing minority recruitment and retention in the practice of hematology. Avalos has served for nearly 30 years of service on a range of ASH committees and working groups, including the Health Equity Task Force.
---
About Atrium Health
Atrium Health is a nationally recognized leader in shaping health outcomes through innovative research, education and compassionate patient care. Based in Charlotte, North Carolina, Atrium Health is an integrated, nonprofit health system with more than 70,000 teammates serving patients at 40 hospitals and more than 1,400 care locations. Atrium Health is part of Advocate Health, the fifth-largest nonprofit health system in the United States, which was created from the combination with Advocate Aurora Health. It provides care under the Atrium Health Wake Forest Baptist name in the Winston-Salem, North Carolina, region, as well as Atrium Health Navicent and Wake Forest University School of Medicine is the academic core of the enterprise, including Wake Forest Innovations, which is advancing new medical technologies and biomedical discoveries. Atrium Health is also a leading-edge innovator in virtual care and mobile medicine, providing care close to home and in the home. Ranked nationally among U.S. News & World Report's Best Hospitals in eight pediatric specialties and for rehabilitation, Atrium Health has also received the American Hospital Association's Quest for Quality Prize and its 2021 Carolyn Boone Lewis Equity of Care Award, as well as the 2020 Centers for Medicare & Medicaid Services Health Equity Award for its efforts to reduce racial and ethnic disparities in care. With a commitment to every community it serves, Atrium Health seeks to improve health, elevate hope and advance healing – for all, providing $2.46 billion last year in free and uncompensated care and other community benefits.