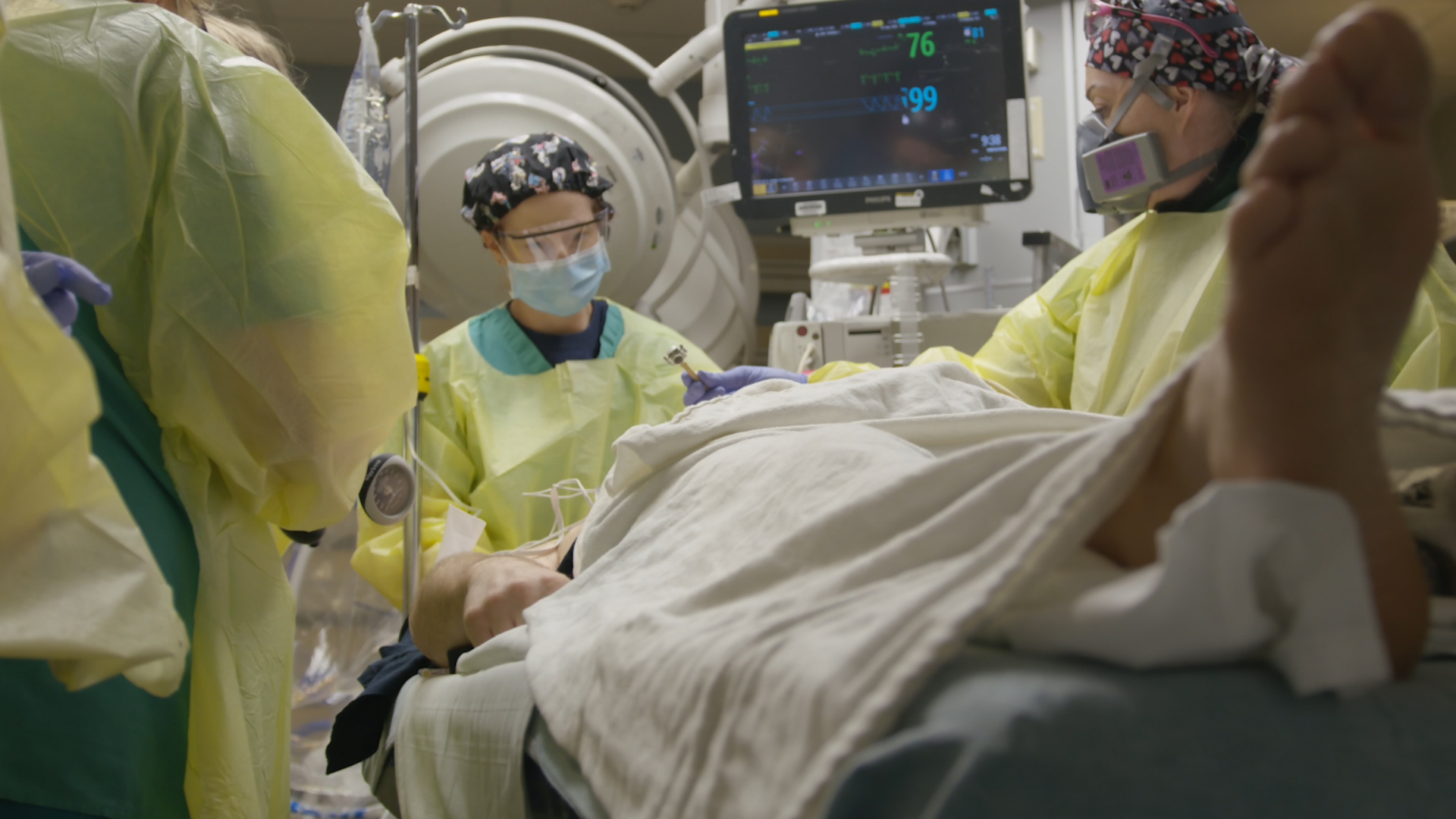 Atrium Health Details Effects of Firearm Injuries on Hospitals and Patients
02.08.2023
Atrium Health News
New white paper examines emotional and financial impacts
CHARLOTTE, N.C., Feb. 8, 2023 – It seems as though every day brings news of a new instance of someone being shot, whether that is an individual or part of a mass shooting. The levels of violence being demonstrated are changing the world around us causing fear, grief and outrage. As the public discourse over the appropriate role of firearms in society continues, Atrium Health has commissioned a first-ever look at the effects of gun violence on what takes place inside the walls of a hospital.
In advance of a meeting with top state and local health officials discussing ways to prevent violence, Atrium Health unveiled its new white paper, entitled "A Public Health Approach to Addressing Gun Violence," which reviews the short- and long-term effects of gun violence on the physical and mental health of patients, physicians and caregivers, as well as the financial impact on both patients and health systems. It also describes the development and implementation of the violence intervention program at Atrium Health and expected long-term results based on national trends.
The rates of hospitalizations related to firearm injuries in North Carolina consistently exceeds the national average and, in Charlotte, firearm assaults have risen by 25% over five years, with increasing concerns about high rates of gun violence among juveniles.
"Many people think gang violence is the problem in Charlotte, but that's not what we are seeing at our trauma center," said Dr. David Jacobs, medical director of Atrium Health's hospital-based violence intervention program. "What we're seeing is that someone steps on someone else's foot at a party or pushes them on the basketball court and then guns are being used to settle arguments."
People who are treated for violence-related injuries are frequently found to be in a pattern of similar injuries. Atrium Health's research has found that among patients treated in the emergency room for non-accidental gunshot wounds, stab wounds or blunt assault-related injuries, 25% were readmitted for violence-related injuries within 21 to 31 months. Researchers also found that nearly 14% of readmissions were due to suicide attempts or suicidal ideations – highlighting not only the negative psychological effects of violence, but also the potential value of screening patients for mental health disorders prior to discharge.
The financial impact of gun violence is a large and growing problem across the country too. The U.S. Government Accountability Office (GAO) has estimated that the total initial cost of treating patients with gun injuries is at least $1 billion a year, with Medicaid and other public coverage sources bearing more than 60% of the cost burden. One year of hospital data examined by the GAO revealed that nearly $300 million in charges for inpatient hospital stays were incurred by patients injured by gun violence who had no insurance coverage – a significant burden for hospitals, which are forced to absorb most of the cost of uncompensated care.
With the goal of stemming gun violence in the community, Atrium Health implemented a violence-intervention program in partnership with the City of Charlotte. It involves assessing patients in the hospital for social determinants of health that contribute to violence and matching them with community resources to help address those issues. Atrium Health clinical leaders believe the program's interdisciplinary approach to violence intervention could be a model for other hospital systems to follow.
"You have to look at it from a societal standpoint and treat it as a much bigger issue than guns," said Dr. A. Britton Christmas, medical director of trauma for Atrium Health. "By investing in their communities, hospitals can help to show people the way out of violent lifestyles."
The white paper was researched and written by the strategic communications firm APCO Worldwide.
About Atrium Health
Atrium Health is a nationally recognized leader in shaping health outcomes through innovative research, education and compassionate patient care. Based in Charlotte, North Carolina, Atrium Health is an integrated, nonprofit health system with more than 70,000 teammates serving patients at 40 hospitals and more than 1,400 care locations. Atrium Health is part of Advocate Health, the fifth-largest nonprofit health system in the United States, which was created from the combination with Advocate Aurora Health. It provides care under the Atrium Health Wake Forest Baptist name in the Winston-Salem, North Carolina, region, as well as Atrium Health Navicent and Atrium Health Floyd in Georgia and Alabama. Atrium Health is renowned for its top-ranked pediatric, cancer and heart care, as well as organ transplants, burn treatments and specialized musculoskeletal programs. A recognized leader in experiential medical education and groundbreaking research, Wake Forest University School of Medicine is the academic core of the system, including Wake Forest Innovations, which is advancing new medical technologies and biomedical discoveries. Atrium Health is also a leading-edge innovator in virtual care and mobile medicine, providing care close to home and in the home. Ranked nationally among U.S. News & World Report's Best Hospitals in eight pediatric specialties and for rehabilitation, Atrium Health has also received the American Hospital Association's Quest for Quality Prize and its 2021 Carolyn Boone Lewis Equity of Care Award, as well as the 2020 Centers for Medicare & Medicaid Services Health Equity Award for its efforts to reduce racial and ethnic disparities in care. With a commitment to every community it serves, Atrium Health seeks to improve health, elevate hope and advance healing – for all, providing $2.46 billion last year in free and uncompensated care and other community benefits.