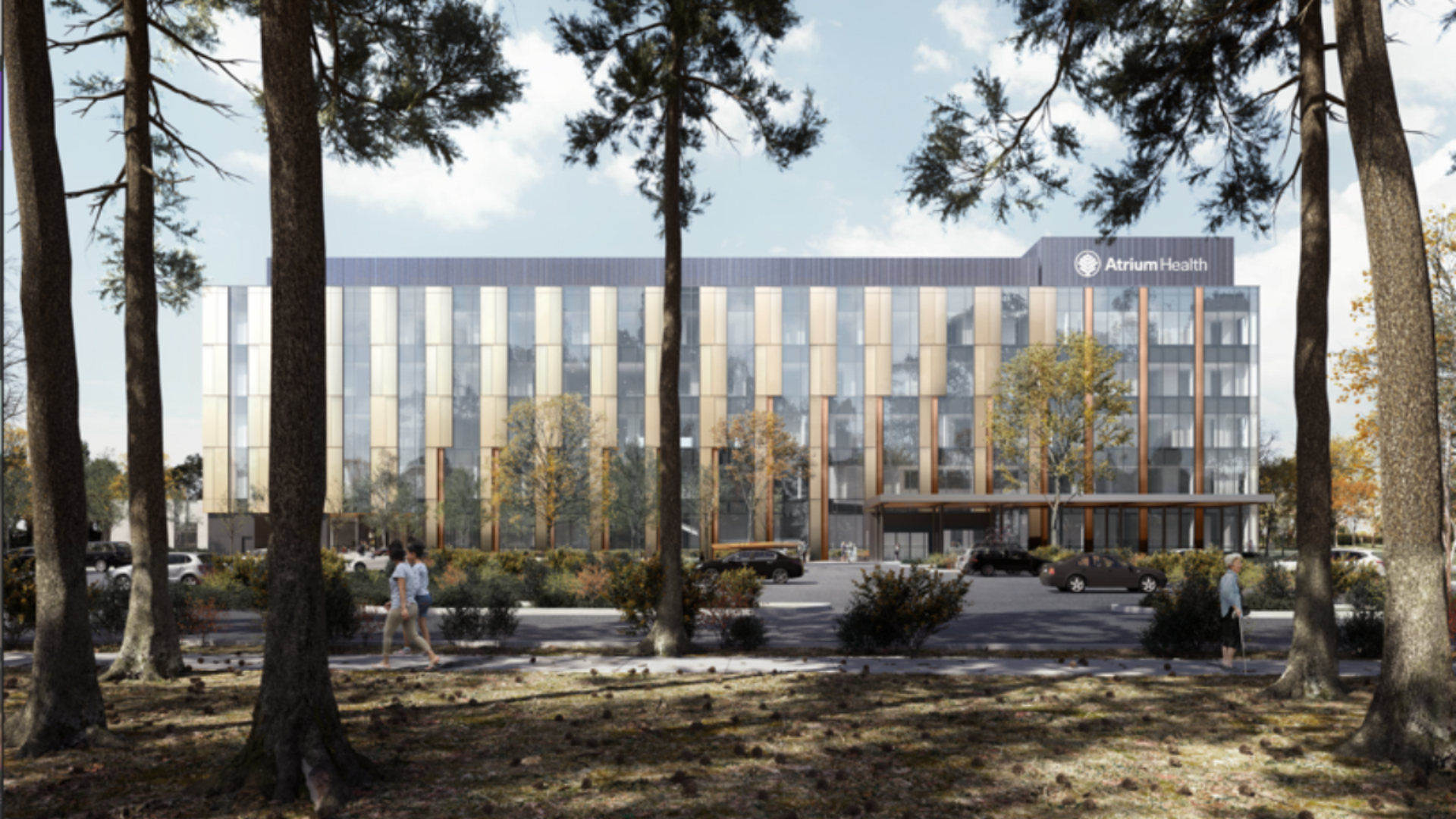 Atrium Health Breaks Ground on Hospital that will Provide Critical Care to North Mecklenburg County
05.31.2023
Atrium Health News
Atrium Health Lake Norman will be newest hospital for the health care system
CHARLOTTE, N.C., May 31, 2023 – Atrium Health broke ground Wednesday on its newest hospital, Atrium Health Lake Norman. The 170,000 square-foot facility located in Cornelius, N.C., will bring access to high-quality health care with state-of-the-art-technology to a growing area which is in need of this level of care. The new hospital is expected to open its doors to patients in 2025 with approximately 280 new jobs.
Atrium Health recognizes there is a need for emergency, primary and specialty care due to the tremendous population growth of the area. The communities in North Mecklenburg County deserve close-to-home access to quality care without having to travel into Charlotte to meet their care needs. Atrium Health Lake Norman offers residents in the area that much-needed solution.
"Since first opening our doors in 1940 as Charlotte Memorial Hospital, we have been proud to be the first and best choice for care in this region," said Ken Haynes, president of Advocate Health's Southeast region, of which Atrium Health is a part. "We are thrilled to begin building this new state-of-the-art hospital, in order to provide the highest quality care to residents in the Lake Norman area, ensuring we are even better poised to have a profound impact on the community by providing care for all who need it."
The new hospital will be located at the southwest corner of the intersections of Westmoreland Road and State Highway 21, in Cornelius, and will have 30 beds, maternity suites and services, an intensive care unit with four ICU beds, two operating rooms – plus a cesarean-section operating room. The emergency department, open 24 hours a day, seven days a week, will have eight treatment rooms and a helipad available on site.
Services at Atrium Health Lake Norman will include mobile magnetic resonance imaging (MRI), computerized tomography (CT), digital radiography, fluoroscopy, two mobile x-ray units and ultrasound. In addition, there will be onsite laboratory and pharmacy services.
"Atrium Health Lake Norman, when completed in 2025, will be poised to be the health care provider of choice for the residents and those who work in the surrounding communities," said Roy Hawkins Jr., senior vice president for Atrium Health and president of its North Area. "People seeking care need and want it to be convenient, close-to-home and for it to be of the highest possible quality. This hospital will provide that care, and as we are proud to say, it will be here for all."
The construction of Atrium Health Lake Norman, which will include nearly 30% women, minority, or veteran owned construction partners and most are local, is one part of the Atrium Health growth plan, which includes more than $1 billion in capital expenditure investment announced in 2018. In recent months, the health care system has opened the Palmetto Tower at Atrium Health Pineville, the new Atrium Health Union West hospital and medical office building and the new Atrium Health Mountain Island free-standing emergency department, as well as the new David L. Conlan Center at Atrium Health Carolinas Rehabilitation on the campus of Atrium Health Carolinas Medical Center.
---
About Atrium Health
Atrium Health is a nationally recognized leader in shaping health outcomes through innovative research, education and compassionate patient care. Based in Charlotte, North Carolina, Atrium Health is part of Advocate Health, the fifth-largest nonprofit health system in the United States, which was created from the combination with Advocate Aurora Health. A recognized leader in experiential medical education and groundbreaking research, Wake Forest University School of Medicine is its academic core. Atrium Health is renowned for its top-ranked pediatric, cancer and heart care, as well as organ transplants, burn treatments and specialized musculoskeletal programs Atrium Health is also a leading-edge innovator in virtual care and mobile medicine, providing care close to home and in the home. Ranked nationally among U.S. News & World Report's Best Hospitals in eight pediatric specialties and for rehabilitation, Atrium Health has also received the American Hospital Association's Quest for Quality Prize and its 2021 Carolyn Boone Lewis Equity of Care Award, as well as the 2020 Centers for Medicare & Medicaid Services Health Equity Award for its efforts to reduce racial and ethnic disparities in care. With a commitment to every community it serves, Atrium Health seeks to improve health, elevate hope and advance healing – for all, providing $2.46 billion last year in free and uncompensated care and other community benefits.
About Advocate Health
Advocate Health is the fifth-largest nonprofit integrated health system in the United States – created from the combination of Advocate Aurora Health and Atrium Health. Providing care under the names Advocate Health Care in Illinois, Atrium Health in the Carolinas, Georgia and Alabama, and Aurora Health Care in Wisconsin, Advocate Health is a national leader in clinical innovation, health outcomes, consumer experience and value-based care, with Wake Forest University School of Medicine serving as the academic core of the enterprise. Headquartered in Charlotte, North Carolina, Advocate Health serves nearly 6 million patients and is engaged in hundreds of clinical trials and research studies. It is nationally recognized for its expertise in cardiology, neurosciences, oncology, pediatrics and rehabilitation, as well as organ transplants, burn treatments and specialized musculoskeletal programs. Advocate Health employs nearly 150,000 team members across 67 hospitals and over 1,000 care locations and offers one of the nation's largest graduate medical education programs with over 2,000 residents and fellows across more than 200 programs. Committed to equitable care for all, Advocate Health provides nearly $5 billion in annual community benefits.
###