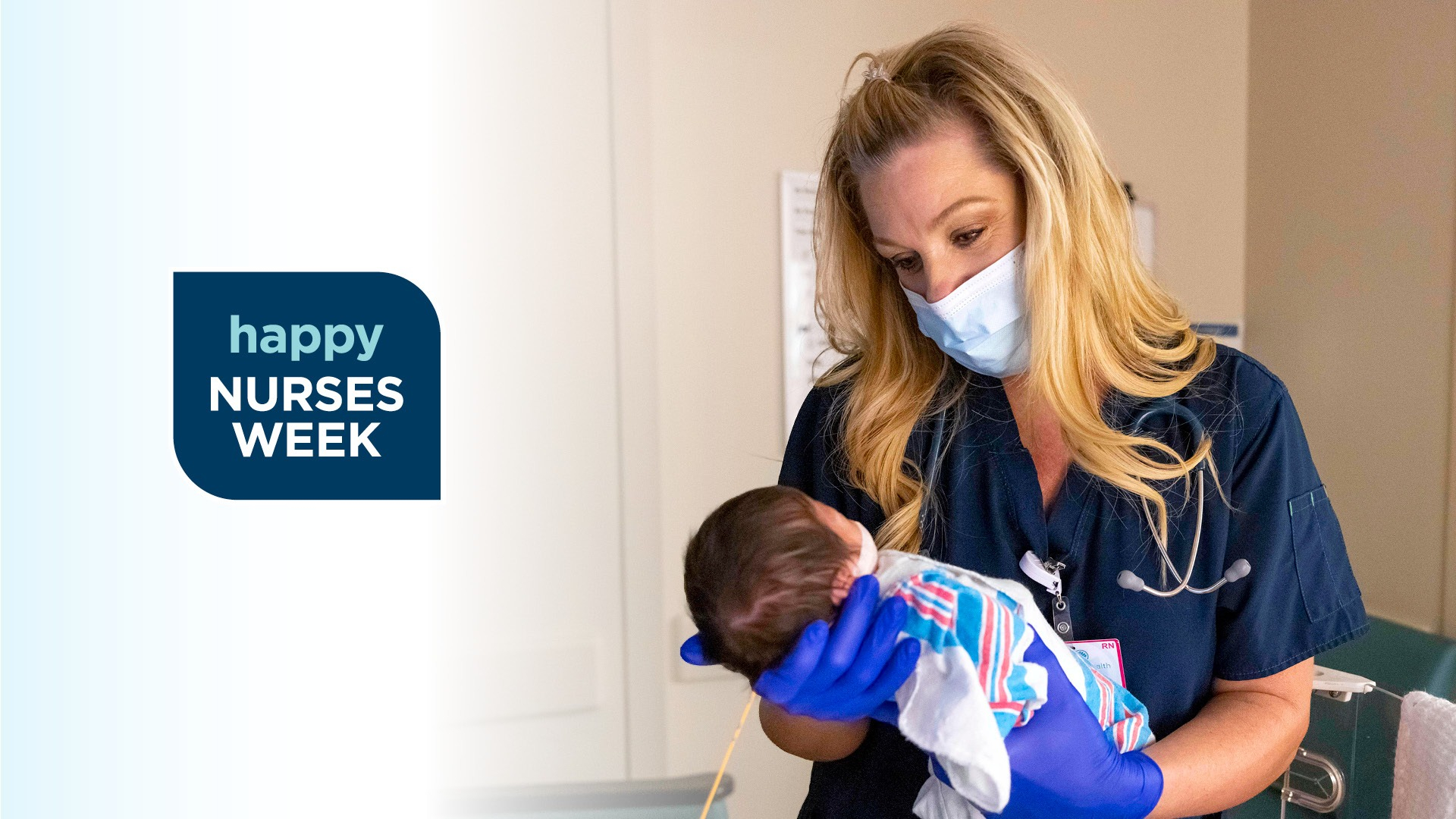 Atrium Health Nurses to be Honored During National Nurses Week
05.05.2023
Atrium Health News
Celebrations and recognitions planned for nurses' unsurpassed dedication
CHARLOTTE, N.C., May 5, 2023 – Atrium Health and its more than 70,000 teammates are recognizing the dedication nurses have to their profession during National Nurses Week. Nurses provide an indelible, positive experience for the health system's patients, whether in a hospital, an urgent care or a medical office. In addition to the expert and compassionate care they provide to the patients, nurses also keep lines of communication open with the patient's family to ensure they are informed and involved in the recovery process. While health care services have changed in the past few years out of necessity, nurses have continued to be at the forefront of providing the highest quality care to patients in their hour of need.
"The nearly 18,000 nurses at Atrium Health provide care with unsurpassed dedication to patients and their families that is truly inspiring," said Mary Beth Kingston, executive vice president, chief nursing officer of Advocate Health, of which Atrium Health is a part. "National Nurses Week is special, in that it is a nationally recognized celebration, but it is important that we celebrate nurses every day, all year long. I am proud to represent and serve alongside Atrium Health nurses who consistently demonstrate their dedication to the nursing profession by elevating nursing and improving care with evidence-based practice, expertise and a true passion for patient care. I encourage everyone to thank a nurse this week!"
The week-long Nurses Week celebration begins Saturday, May 6, and ends May 12 – the birthday of Florence Nightingale. She is affectionately known as the founder of modern nursing and who helped revolutionize the field. Nightingale once said, "I attribute my success to this – I never gave or took an excuse."
Atrium Health has several events planned to thank and help nurses recharge during Nurses Week. Each facility has planned its own special celebrations with events including meal deliveries, treat baskets, self-care – such as chair massages – award banquets and educational sessions for career advancement opportunities.
On behalf of Atrium Health nurses serving in the Greater Charlotte market, Atrium Health Foundation has established the Atrium Health Nursing Fund and "Nursing Stars" recognition program, both of which support nurses year-round. Charitable gifts made to the fund help advance the nursing profession at Atrium Health through enhanced medical technology, educational resources and professional development opportunities. Donations made at specified levels may be designated to honor individual Atrium Health nurses or nursing teams with special star-shaped pins, which signify nurses' dedication to patient care and professionalism.
---
About Atrium Health
Atrium Health is a nationally recognized leader in shaping health outcomes through innovative research, education and compassionate patient care. Based in Charlotte, North Carolina, Atrium Health is part of Advocate Health, the fifth-largest nonprofit health system in the United States, which was created from the combination with Advocate Aurora Health. A recognized leader in experiential medical education and groundbreaking research, Wake Forest University School of Medicine is its academic core. Atrium Health is renowned for its top-ranked pediatric, cancer and heart care, as well as organ transplants, burn treatments and specialized musculoskeletal programs Atrium Health is also a leading-edge innovator in virtual care and mobile medicine, providing care close to home and in the home. Ranked nationally among U.S. News & World Report's Best Hospitals in eight pediatric specialties and for rehabilitation, Atrium Health has also received the American Hospital Association's Quest for Quality Prize and its 2021 Carolyn Boone Lewis Equity of Care Award, as well as the 2020 Centers for Medicare & Medicaid Services Health Equity Award for its efforts to reduce racial and ethnic disparities in care. With a commitment to every community it serves, Atrium Health seeks to improve health, elevate hope and advance healing – for all, providing $2.46 billion last year in free and uncompensated care and other community benefits.
About Advocate Health
Advocate Health is the fifth-largest nonprofit integrated health system in the United States – created from the combination of Advocate Aurora Health and Atrium Health. Providing care under the names Advocate Health Care in Illinois, Atrium Health in the Carolinas, Georgia and Alabama, and Aurora Health Care in Wisconsin, Advocate Health is a national leader in clinical innovation, health outcomes, consumer experience and value-based care, with Wake Forest University School of Medicine serving as the academic core of the enterprise. Headquartered in Charlotte, North Carolina, Advocate Health serves nearly 6 million patients and is engaged in hundreds of clinical trials and research studies. It is nationally recognized for its expertise in cardiology, neurosciences, oncology, pediatrics and rehabilitation, as well as organ transplants, burn treatments and specialized musculoskeletal programs. Advocate Health employs nearly 150,000 team members across 67 hospitals and over 1,000 care locations and offers one of the nation's largest graduate medical education programs with over 2,000 residents and fellows across more than 200 programs. Committed to equitable care for all, Advocate Health provides nearly $5 billion in annual community benefits.
###