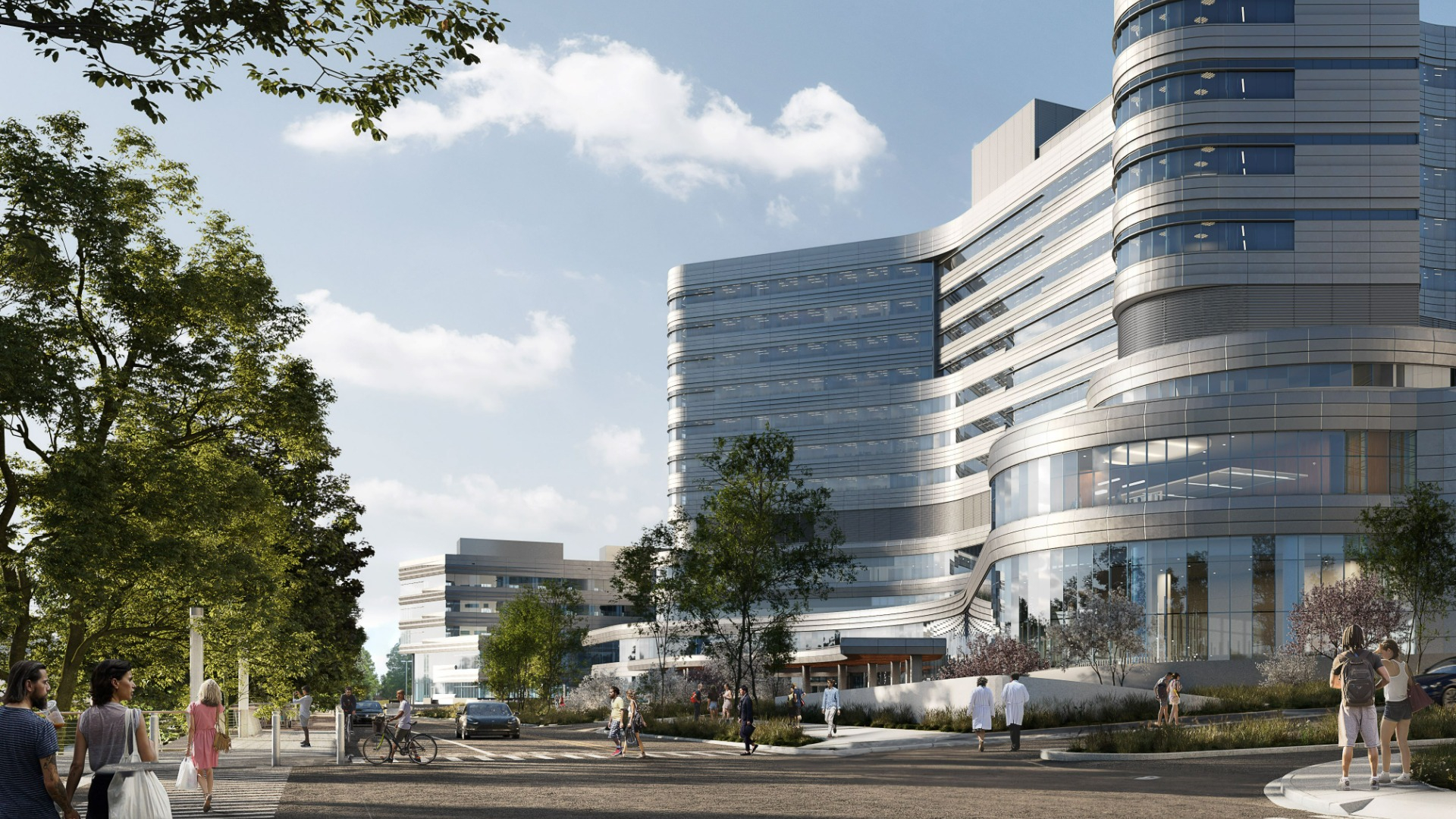 Atrium Health Carolinas Medical Center Campus Expansion Breaks Ground
07.12.2023
Atrium Health News
New state-of-the-art facility will augment care with advanced technology and amenities
CHARLOTTE, N.C., July 12, 2023 – Atrium Health broke ground Wednesday on a new, 12-story, state-of-the-art, advanced care facility at its flagship campus, Atrium Health Carolinas Medical Center. The 1.1 million square-foot facility on Blythe Road, near uptown Charlotte, is scheduled to open in 2027 as the marquee project in an ongoing re-design and upgrade of Atrium Health's facilities and capabilities at the site.
"This state-of-the-art medical facility will not only add to the Queen City skyline as the largest structure on our campus, but it will serve as a 'beacon of hope' for so many patients and community members and provide the quaternary care needs of the future in order to accommodate the incredible growth of Charlotte and beyond," said Ken Haynes, president of the Southeast Region for Advocate Health, which Atrium Health is a part. "With acute care beds, operating rooms and an emergency department within its walls, a first-time mother will give birth to a healthy baby girl, a grandfather will undergo cutting-edge surgery and a neighbor will receive emergency care at a moment's notice. I'm sure our founders of Carolinas Medical Center would be very proud to see all that we have accomplished in fulfilling their dream of providing the highest level of care for all in the greater Charlotte community."
Carolinas Medical Center first opened its doors in 1940 as Charlotte Memorial Hospital. It has evolved with many different additions and is now the largest hospital in the region – and the best hospital in Charlotte, according to rankings published by U.S. News & World Report. It serves as the region's only Level I trauma center.
The groundbreaking took place on the campus grounds, adjacent to the hospital's current primary bed tower – the Rush S. Dickson Tower – where the former Carolinas Rehabilitation facility and Blythe Road parking deck once stood. When completed, the new facility will connect with both the Dickson tower and the David L. Conlan Center at Atrium Health Carolinas Rehabilitation – which opened in January 2023, replacing the previous rehabilitation location.
"This new expansion to Atrium Health Carolinas Medical Center will tremendously improve both the patient and caregiver experience inside its walls," said Dr. Dan Handel, vice president and chief medical officer for Atrium Health's central area. "Equipped with the latest, state-of-the-art technology, patients and providers will re-discover why Atrium Health is the best place to give and to receive high-quality care for years to come."
Following a trend established with recent Atrium Health construction projects, input from Atrium Health teammates who work in its hospitals have helped shape new innovation. This input has helped designers maximize flexibility and adaptability within the existing floor space, enabling staff to optimize their work, including ease of access to medical equipment in patient areas. Patient room layout will place a premium on outside views with additional space within the room designed for patient and visitor comfort.
New surgical suites will provide space for medical teams to maneuver and support a range of specialized procedures and technology integration. A new emergency department design will increase the speed of care with an optimized flow.
At full occupancy, the new facility is expected to offer:
448 patient rooms, which will include built-in capability to adapt to future technology
38 operating rooms
16 procedure rooms
A pod-style emergency department with 62 exam rooms
A new helipad
An open core model for the nursing units on inpatient floors, designed to facilitate collaboration between teammates and maximize visibility and access into patient rooms
Dedicated space on each floor for teammate health and well-being
The construction of the new, state-of-the-art facility has a goal of over 30% of the project's capital spending being directed towards women, minority or veteran-owned construction partners.
The Carolinas Medical Center expansion is one component of Atrium Health's master plan for local-area growth. In 2018, Atrium Health announced plans for more than $1 billion in capital expenditure investment. In recent months, the health care system has broken ground on Atrium Health Lake Norman hospital, in Cornelius, and opened the Palmetto Tower at Atrium Health Pineville, Atrium Health Union West hospital and an adjacent medical office building, the Atrium Health Mountain Island free-standing emergency department and the David L. Conlan Center at Atrium Health Carolinas Rehabilitation.
###