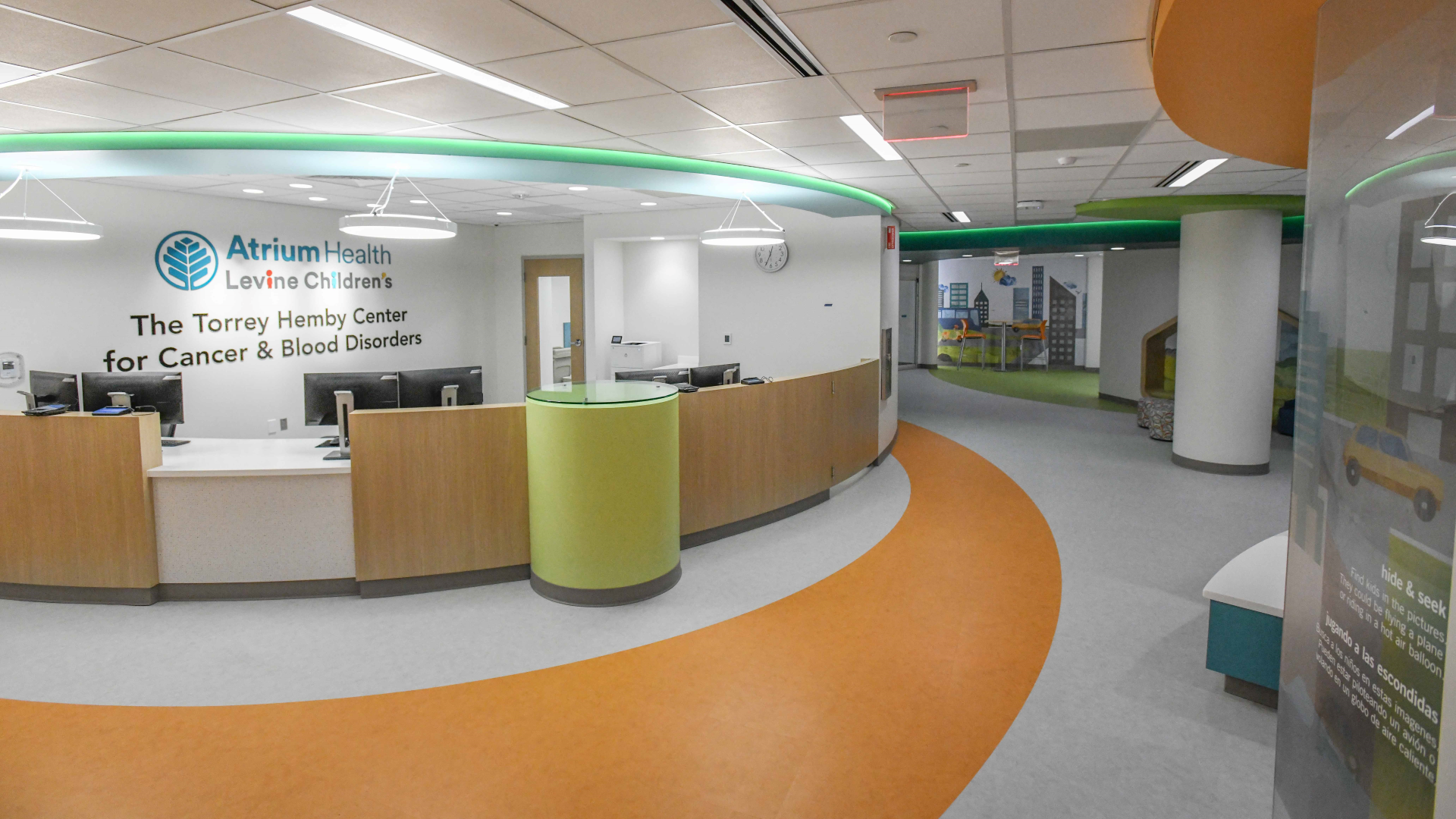 Atrium Health Levine Children's Expands Commitment to Leading Pediatric Care with New Outpatient Cancer and Blood Disorders Center
07.10.2023
Atrium Health News |
Levine Children's
Center to make Charlotte a destination for pediatric cancer, blood disorders and cellular therapies care
CHARLOTTE, N.C., July 10, 2023 – Atrium Health Levine Children's is expanding its commitment to deliver leading-edge oncology, hematology and cellular therapies care to patients across the region, the United States and the world with the opening of its completely reimagined outpatient center on July 17. The Torrey Hemby Center for Cancer and Blood Disorders, which is located inside of Atrium Health Medical Center Plaza, will provide pediatric patients with access to the latest treatment options, patient programs and medical technology.
"Offering these best-in-the-country technologies and treatment options is affirmation of our commitment that no family should ever have to leave Charlotte for oncology and hematology care, but it also solidifies Atrium Health Levine Children's as a true destination for pediatric specialty care," said Dr. Javier Oesterheld, vice chair of clinical affairs and division chief of cancer and blood disorders at Levine Children's. "In addition to the great programs and clinical trials our patients already have access to, we will now be able to make advancements in cellular therapy treatments to help even more children with immunodeficiencies and be a leading site for lifesaving work, like seeking a cure for sickle cell disease."
Every inch of the 20,000-square-foot space was designed with kids in mind, from nausea-reducing paint colors and lights to a play area with space to enjoy art, games and music, and interactive features like dry-erase walls and special graphics to help distract patients during treatment.
The center, supported by the Alex Hemby Foundation, is a dream turned reality, thanks to many dedicated and philanthropic community partners, including those who supported the following spaces:
Specifically, the center will feature an on-site pharmacy and 48 patient care rooms, including exam and consultation rooms, infusion bays, a procedure room and recovery areas for post-procedure care. The pharmacy allows chemotherapy medicine to be made on-site, minimizing the wait time to receive treatment.
Consultation rooms have virtual visit-enabled technology, allowing providers to offer consultations to patients all over the world.
The infusion suite will be open 12 hours a day, seven days a week, to serve patients with convenient care across all pediatric subspecialties, not just oncology and hematology.
The procedure room and recovery areas will allow patients to receive outpatient procedures like bone marrow aspirates and biopsies, lumbar puncture and a multitude of other sedated procedures.
"Bringing top, innovative care options is an important part of our commitment to help each patient survive," said Oesterheld. "What is an added benefit of our care at Atrium Health Levine Children's is the emphasis on programming to ensure each child thrives in a way that makes them feel like a kid. This center is home to technology that promotes the highest level of streamlined care, while also housing new, special, supportive therapies, like massage and dance, and providing play areas with fun, child-like details to create a welcoming environment, making it more than a place for clinical treatment."
Levine Childrens' dedication to creating a place specifically for children to thrive has helped establish Atrium Health as a nationally recognized place for survivorship programming. The supportive medicine program, led by the region's only board-certified integrative oncologist, Dr. Jennifer Pope, brings together an array of therapies (dance, art, massage, pet and others) and support groups that identify a child's health risks and takes steps to prevent or manage them. Knowing cancer and its treatments have lifelong effects, even after a child is in remission, the supportive medicine program is built to help all children in need of this important care, including patients at other hospitals elsewhere.
The opening of the center is the latest phase of renovations to turn Atrium Health Medical Center Plaza into a fully dedicated children's outpatient building. The next phase is currently being planned, with construction set to start within a year. This continued commitment to creating a haven of pediatric care in Charlotte also adds jobs to the region, including advanced practice practitioners, nurses, health care techs and massage and dance therapists, among others.
To learn more about the nationally ranked pediatric care at Atrium Health Levine Children's, visit levinechildrens.org/best.
###