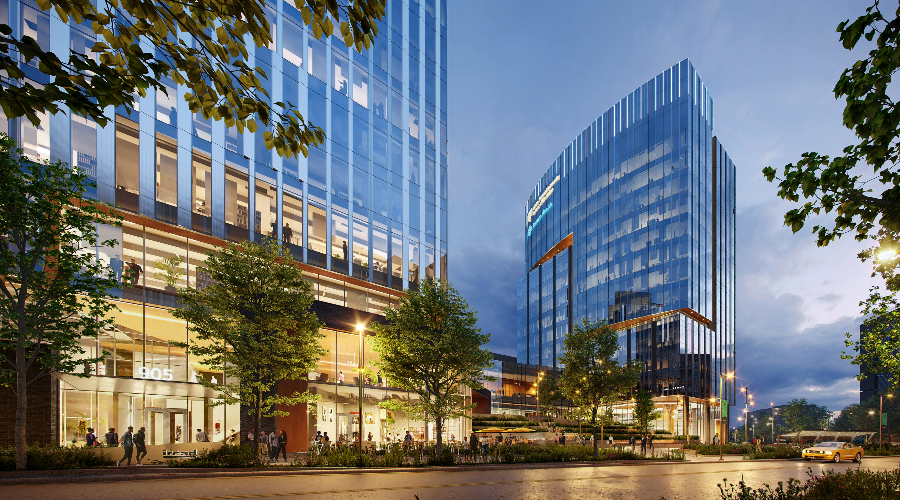 IRCAD North America Appoints Leader
08.31.2023
Atrium Health News
Atrium Health's Dr. Dionisios Vrochides will serve as organization's executive director
CHARLOTTE, N.C., Aug. 31, 2023 – IRCAD North America (IRCAD NA), a wholly owned subsidiary of Atrium Health and a major anchor of "The Pearl" innovation district, announced today it has appointed Dr. Dionisios Vrochides executive director of IRCAD NA. Vrochides is a clinical professor of surgical sciences at Wake Forest University School of Medicine.
"Dr. Vrochides is an extraordinary clinical leader who understands how the intersection between education and innovation can lead to new discoveries," said Eugene A. Woods, chief executive officer of Advocate Health, of which Atrium Health is a part. "He played an instrumental role in bringing IRCAD North America's headquarters to Charlotte and I'm confident that, under his leadership, IRCAD will be the destination in the United States for surgical education, robotics and the development of new techniques."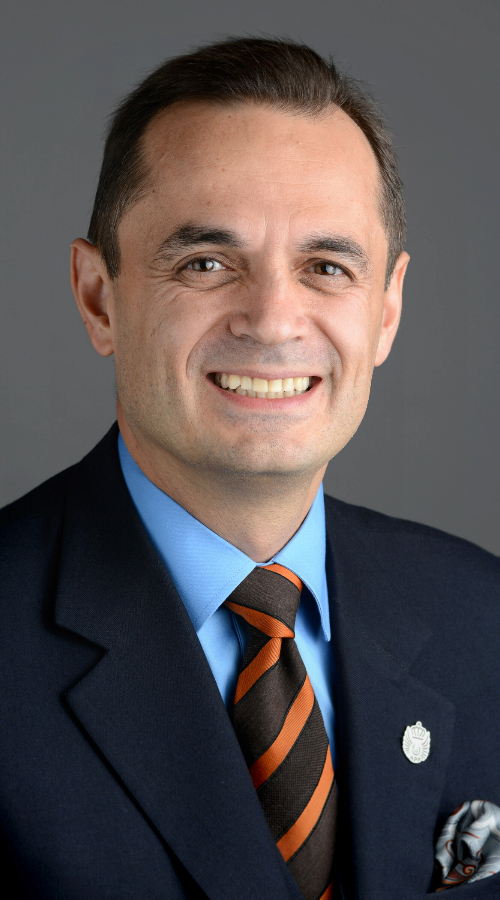 The leadership structure for IRCAD NA is designed for the executive director to manage the experiential training and rapid-cycle research and development center in partnership with a business and operations structure which will serve to grow and establish IRCAD NA.
IRCAD specializes in educating physicians from around the world in minimally invasive surgery and image-guided surgery techniques. It also features translational research laboratories and research and development units in computer science and robotics that design and develop tools for diagnosis, surgical planning and simulation aimed at improving and making surgical procedures safer. In addition to general surgery, IRCAD NA's training curriculum will include the latest techniques in cardiovascular, neuro- and orthopedic surgeries, among others.
Founded in 1994, IRCAD opened on the grounds of the University Hospital of Strasbourg, France, and currently has training centers in six countries: Brazil; China; France; Lebanon; Rwanda; and Taiwan.
In 2022, Atrium Health announced plans to locate IRCAD's North American headquarters in The Pearl, Charlotte's new innovation district currently under construction at the intersection of Baxter and McDowell streets in midtown Charlotte. The Pearl's first two buildings are slated to open in the spring of 2025. IRCAD NA will anchor The Pearl's Research Building 1, taking up approximately 100,000 square feet, and will be immediately adjacent to the Howard R. Levine Center for Education, home to the Charlotte campus of Wake Forest University School of Medicine.
"Dr. Vrochides has a long-standing history and well-established relationships with IRCAD and its global leadership," said Dr. Rasu Shrestha, executive vice president and chief innovation and commercialization officer for Advocate Health. "Together with Advocate Health, Atrium Health and IRCAD leadership, he has already set a unique vision for IRCAD NA, which expands the education and training model beyond general surgery to offer education sessions and labs in the fields of cardiology, neurosciences and orthopedics."
IRCAD NA has already begun to attract innovative medical device technology and imaging companies from around the world, with multiple commitments in place. Additional partners are expected to join in the coming months. This type of business development activity is intricately aligned with the intent of The Pearl and the commitments that the innovation district's leadership has made to the Charlotte community to diversify the local and regional economy, attract new businesses and drive new job creation.
"We anticipate IRCAD NA will attract thousands of top surgeons and their teams to Charlotte each year to train with top subject matter experts from all over the world and experience the latest surgical technologies and platforms, including advanced laparoscopy, robotics, image-guided procedures and, through the use of artificial intelligence, augmented surgical reality," said Vrochides. "We also see tremendous potential, both independently and together with our partners, to drive innovation and rapid-cycle research and development activities, which will improve surgical outcomes and help deliver better patient care. The Pearl's collaborative, innovation-focused environment will magnify IRCAD's potential to incubate new processes and technologies and swiftly advance them for the benefit of medicine everywhere and for all. I am deeply honored to have been selected to lead this remarkable program."
Vrochides received both a medical doctorate and a doctorate of philosophy from The Aristotle University of Thessaloniki, the largest university in Greece. He served his surgical residency at Brown University Program in Medicine, in Providence, Rhode Island, and completed his transplant and HPB surgery fellowship at McGill University, in Montreal, Canada. He also obtained a master's degree in business administration at Queens University, in Charlotte, North Carolina.
Vrochides joined Atrium Health in 2015 and serves as chief of the system's transplant oncology section and vice chair of the department of surgery.
Vrochides has won multiple educational awards, including the Humanism and Excellence in Teaching Award from the Arnold P. Gold Foundation. He previously served as president of Enhanced Recovery After Surgery (ERAS) Society's USA Chapter and spearheaded Atrium Health Carolinas Medical Center's accreditation as the first ERAS Center of Excellence in the U.S.
"The entire IRCAD France team would like to congratulate Dr. Vrochides, who has been appointed as the organization's executive director, said Professor Jacques Marescaux, a surgeon and the president and founder of IRCAD. "He was indeed the first person to contact me personally and to participate in the development of this magnificent project, bringing the United States of America into the IRCAD family."
"I am truly excited to have an accomplished and visionary surgeon like Dr. Vrochides boldly lead IRCAD NA forward into the future," said Dr. Julie Ann Freischlag, chief academic officer of Advocate Health, CEO of Atrium Health Wake Forest Baptist and executive vice president of health affairs at Wake Forest University. "As a surgeon myself and a member of IRCAD's executive committee, I look forward to working together with Dr. Vrochides to connect our learners at Wake Forest University School of Medicine with innovative and unparalleled training opportunities."
Freischlag is also a past president of the American College of Surgeons and chair-elect of the Association of American Medical Colleges.
###