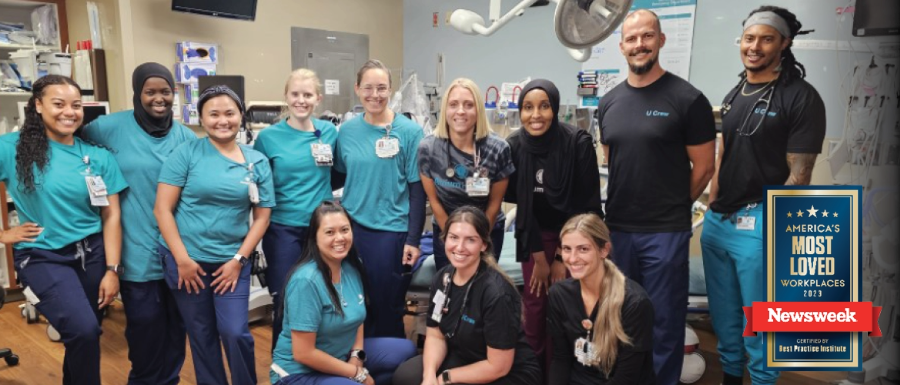 Advocate Health Named to Newsweek's 'Top 100 Most Loved Workplaces' for 2023
09.26.2023
Atrium Health News
Outstanding employee sentiment, satisfaction and engagement key to selection
CHARLOTTE, N.C., September 26, 2023 – Advocate Health has earned a spot in Newsweek's annual Top 100 "Most Loved Workplaces®" rankings, one of only five health providers, nationwide, to be named to the prestigious list.
Advocate Health, which was created from the combination of Advocate Aurora Health and Atrium Health, is the third-largest nonprofit integrated health system in the United States. Last year, Atrium Health was ranked No. 67 on the Most Loved Workplaces list and had previously been a "Certified Most Loved Workplace" prior to achieving a Top 100 ranking.
Advocate Health was formed to do more, be better and go faster – helping people live fully in the communities it serves. Together, Advocate Health's 150,000 teammates across 67 hospitals and over 1,000 care locations deliver the best health outcomes and are working to improve health equity, while making care more accessible and affordable for all. Headquartered in Charlotte, Advocate Health has a combined footprint across six states – Alabama, Georgia, Illinois, North Carolina, South Carolina and Wisconsin. It still delivers care under the Atrium Health name in the Carolinas, Georgia and Alabama.
"Advocate Health is honored to have achieved this certification," said Jim Dunn, executive vice president and chief people and culture officer for Advocate Health. "We are working to build a world-class organization that serves all patients, and where our commitment to our shared culture creates an environment where our teammates love to come to work each day."
The 2023 Top 100 Most Loved Workplaces list is the result of a collaboration with the Best Practice Institute, a leadership development and benchmark research company. The results were determined after surveying more than 1.4 million employees from businesses with workforces varying in size from 50 to more than 10,000. The list recognizes companies that have created a workplace where employees feel respected, inspired and appreciated and are at the center of the business model. How engaged employees are, how positive they feel about their workplace and how committed they are to the organization's success were all identified and analyzed to identify the Top 100 Most Loved Workplaces.
"With the dynamic workforce and competition for top talent, more companies are recognizing the importance of employee engagement and commitment," said Nancy Cooper, global editor in chief for Newsweek. "The workplaces that have demonstrated a commitment to their employees in 2023 are more likely to attract top talent and deliver strong business outcomes."
Recently, Advocate Aurora Health and Atrium Health were named among "Best Employers" in Georgia, Illinois, North Carolina, South Carolina and Wisconsin by Forbes.
For the full Newsweek list of 2023's Most Loved Workplaces, please visit www.newsweek.com/rankings/most-loved-workplaces-america-2023.