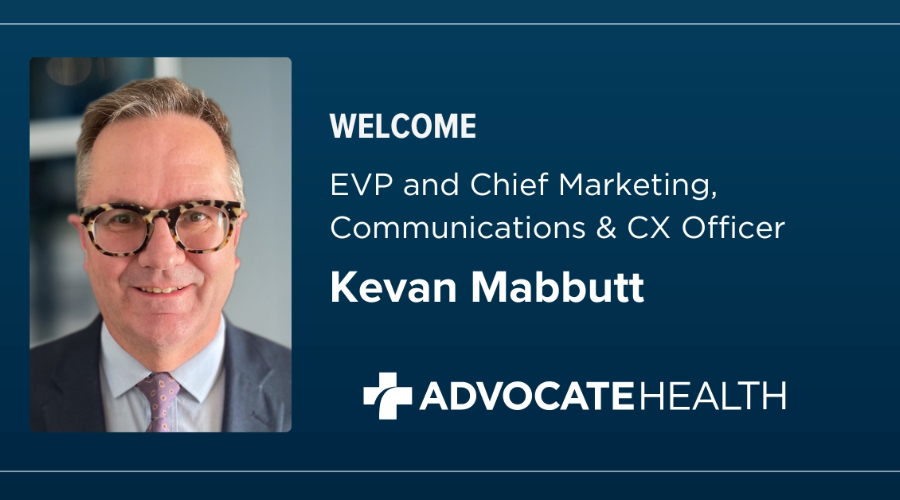 Advocate Health Selects New Chief Marketing, Communications and Consumer Experience Officer
09.27.2023
Atrium Health News
Industry leader Kevan Mabbutt set to define health system's brand identity; better engage consumers
CHARLOTTE, N.C., Sept. 27, 2023 – After an extensive and competitive nationwide search, Kevan Mabbutt has been selected as Advocate Health's new executive vice president and chief marketing, communications and consumer experience officer. Mabbutt will lead enterprise marketing, communications, consumer experience, brand strategy and execution – both internally and externally – across all geographical markets. Charlotte-based Advocate Health is an academic health system with 67 hospitals in six states and features Wake Forest University School of Medicine as its academic core. It is the nation's third-largest nonprofit health system.
Mabbutt is a dynamic and visionary leader with more than 25 years of experience building and transforming the consumer and patient experience. He has served as a strategic advisor to health care leaders and organizations to identify digital transformation and growth opportunities. His first day will be Monday, Oct. 2. He will join the executive leadership team and report directly to Advocate Health co-CEOs Eugene A. Woods and Jim Skogsbergh.
"As the entire health care sector enters an era of digital and AI transformation, Advocate Health is committed to implementing industry-leading, consumer-centric technology platforms and approaches," said Woods. "That is why we are excited to have Kevan take the helm of our marketing, communications and consumer experience division. The depth of his expertise and experience in multiple sectors will help propel us forward in our goal to connect with the nearly 6 million patients we serve in new ways that will make access to the best care as convenient as possible."
Mabbutt most recently served as chief consumer, marketing and communications officer at Salt Lake City-based Intermountain Health. Like Advocate Health, Intermountain Health is a leading system widely regarded for its clinical excellence and innovation. At Intermountain Health, Mabbutt spent five years leading marketing, communications, consumer experience and cultural integration through multiple strategic partnerships, mergers and acquisitions. His focus on transforming how people deliver and experience health care included developing and deploying Intermountain Health's digital front door. This gained rapid patient adoption by addressing some of health care's biggest pain points – finding and accessing the right care, navigating complex care journeys, managing health and bringing transparency to the payment process.
"Kevan has a demonstrated ability to lead through collaboration," said Skogsbergh. "We have an extremely talented team of marketers, communicators and consumer experience practitioners. As he shares his vision with them and draws energy and new ideas from their collective experiences within our organization, it's exciting to think about just how high we can raise the bar, improving and reshaping how we interact with consumers to help them live fully."
"When I first learned of this opportunity, I was immediately drawn to it," said Mabbutt. "I've long admired the community impact and rich histories of Atrium Health and Advocate Aurora Health. Together as Advocate Health, they are such a force for good within our industry – whether that is eradicating disparities in care, investing into academic research and innovation to solve the greatest challenges in medicine, or simply being the people you trust most to provide care for your own family. I am honored and excited to join this extraordinary organization, bringing my experience inside and outside of health care to help write the script for its future and share the many ways its patients – and our wider communities and nation – can benefit from Advocate Health and its incredible mission."
Prior to Intermountain Health, Mabbutt was the global head of consumer insight for The Walt Disney Company. There he led consumer experience development and transformation for Disney's theme parks, cruise line and resorts in the U.S., Europe and Asia. He was instrumental in creating the guest experience at Disney's first theme park in mainland China, Shanghai Disney Resort, and bringing MagicBands to Walt Disney Resort in Florida. Mabbutt also helped bring new Disney, Pixar, Marvel and Star Wars experiences to Disney's parks around the world. Other leadership experience includes time with Discovery Channel and the BBC, as well as Deloitte's consumer consulting practice.
Mabbutt attended Cambridge University, in England, where he received his bachelor's and master's degrees.
Mabbutt succeeds Kelly Jo Golson in the role at Advocate Health. Golson announced her resignation to pursue other interests earlier this year.