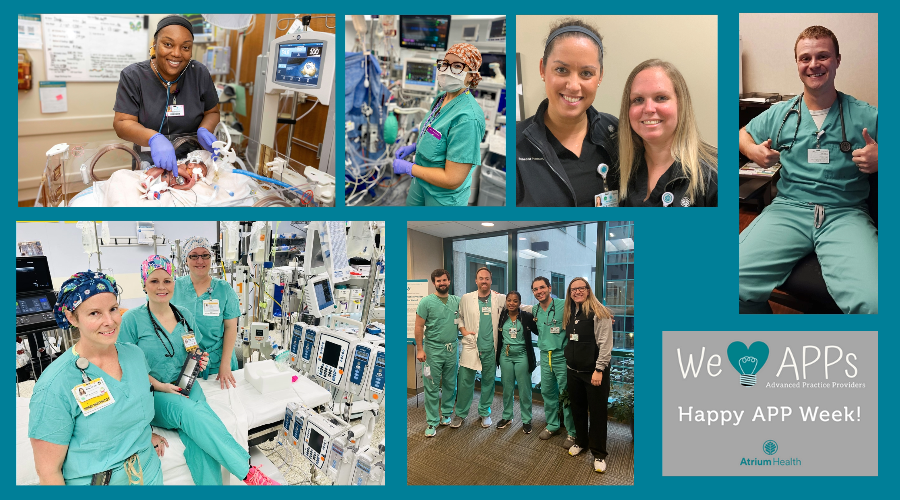 Atrium Health Center for Advanced Practice Celebrates 10 Years
09.25.2023
Atrium Health News
Center Helps Triple the Number of Advanced Practice Providers at Atrium Health
CHARLOTTE, N.C., Sept. 25, 2023 – Many patients may not realize it, but chances are they have at some point been seen and been treated by an advanced practice provider (APP). This would include nurse practitioners, physician assistants, certified registered nurse anesthetists, clinical nurse specialists and nurse midwives. Together, they make up 38% of all care providers within the greater Charlotte market for Atrium Health and are essential to increasing access to high-quality care for our growing population. Meeting growing demand for health care requires a robust program to educate and support APPs.
Atrium Health's Center for Advanced Practice (CAP), an innovative program that coordinates, educates and places APPs, is celebrating its 10th anniversary. Now one of the largest programs in the country, the center is helping recruit and retain medical professionals when much of the country is experiencing a provider shortage.
This follows a national trend, in which the number of APPs has increased, growing by 25% between 2018 and 2021 in North Carolina alone, according to Sheps Health Workforce NC at the University of North Carolina-Chapel Hill. APPs are now frequently providing care at urgent cares, surgery follow-up appointments, specialty visits, well-checks and more. In fact, nurse practitioners are the fastest growing profession, and physicians assistants are in the top 20, demonstrating the importance of programs that continue to train and support APPs once they complete their initial schooling.
"At the Center for Advanced Practice, we help support advanced practice operations from policies to procedures to advocacy," said Britney Broyhill, the chief advanced practice executive for the Atrium Health Center for Advanced Practice. "APPs have a tremendous impact on the entire care team and bring an immeasurable benefit to our patients as well."
Founded in Charlotte, CAP has one of the largest fellowship programs in the country, offering 22 different tracks to help APPs continue to refine their knowledge and skills. The center also serves as a feeder system. Once an APP fellow graduates from the Atrium Health program, they are often offered a position within the hospital system. The center has retained close to 70% of APP fellows to work with Atrium Health and its affiliated practices.
"We are especially grateful for the Center for Advanced Practice because of the value it has brought to women's services at Atrium Health, including our midwives' program," said Dr. Suzanna Fox, senior vice president and deputy chief physician executive for women's health at Atrium Health. "We have seen the number of midwives within our system grow tremendously – at one time only about two dozen, and now we're approaching nearly 100. This would not have been possible without the resource of the center in our backyard."
The CAP will celebrate 10 years during advanced practice providers week, which is celebrated annually Sept. 25-29. In addition to using data to tell the story of the evolution of the center over the past 10 years and map the next decade, Atrium Health will recognize APPs throughout the week with different celebrations, including delivering special treats, additional rewards on the teammate reward platform and special shoutouts on Atrium Health social channels.
To learn more about Atrium Health's Center for Advanced Practice, please visit our website.