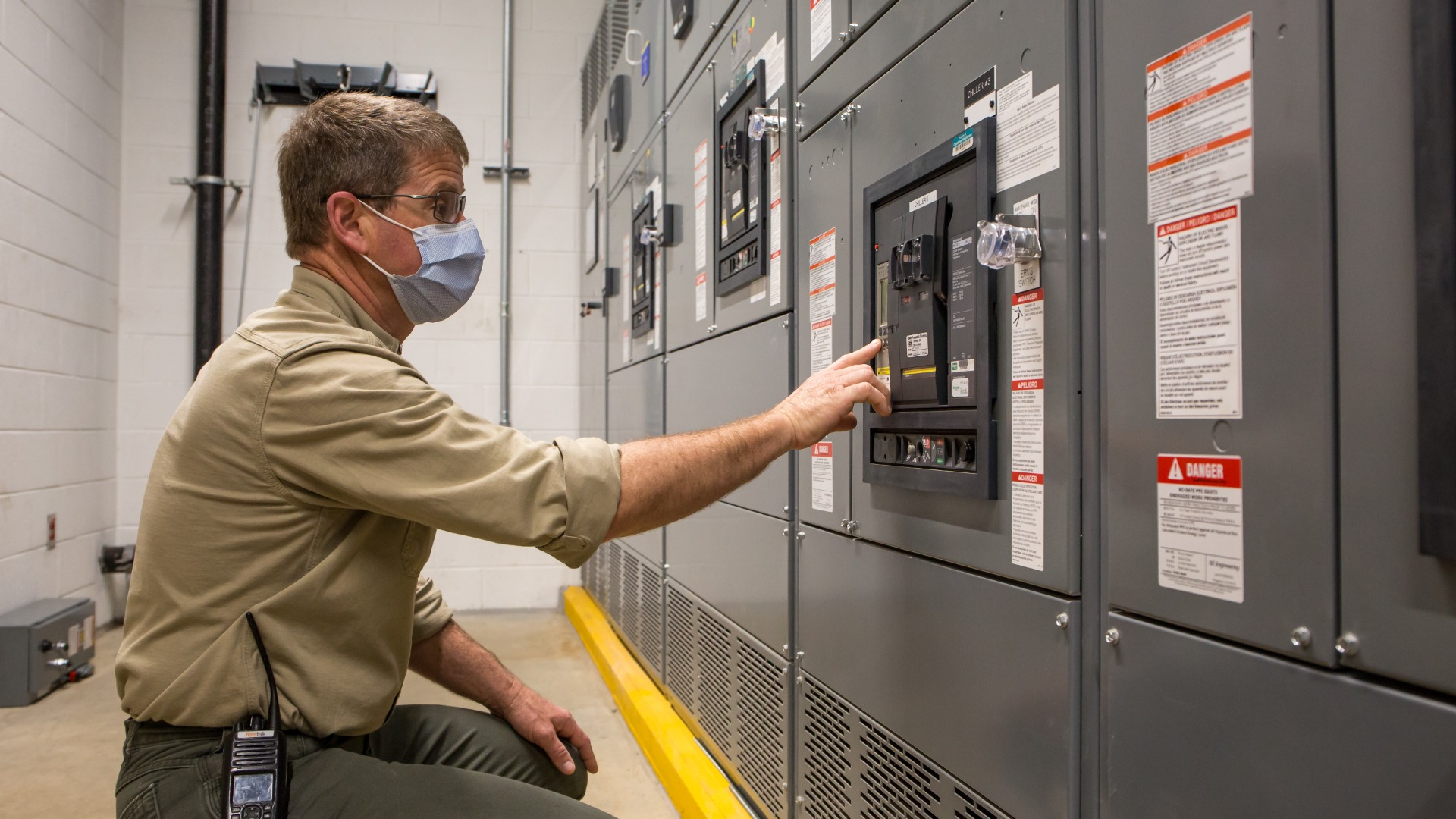 Atrium Health Hospitals Recognized for Advancing Sustainability Measures
08.02.2023
Atrium Health News
System features 3 of 10 hospitals nationally for awarded for energy conservation
CHARLOTTE, N.C., Aug. 2, 2023 – Three Atrium Health hospitals are among just 10, nationwide, being recognized with the 2023 Sustainability Champion Award, presented by the American Society for Health Care Engineering (ASHE), which is part of the American Hospital Association. Atrium Health Lincoln, Atrium Health Mercy and Atrium Health Union will be honored at the organization's annual conference in San Antonio next month. As part of a program called "Energy to Care," the award recognizes hospitals that demonstrate strong leadership in becoming more sustainable facilities, using saved resources to support patient care.
These three hospitals, as well as nine other Atrium Health hospitals, are among 31 hospitals that will receive the ASHE's Sustained Performance Award. Those include Atrium Health Cabarrus, Atrium Health Cleveland, Atrium Health Kings Mountain, Atrium Health Pineville and Atrium Health Stanly in the areas in and around Charlotte; Atrium Health Wake Forest Baptist Medical Center and Atrium Health Wake Forest Baptist Wilkes Medical Center in Northwest North Carolina; and Atrium Health Floyd Medical Center and Atrium Health Floyd Polk Medical Center, in Georgia.
"Sustainability is a core component of who we are as an organization at Atrium Health," said Michael Roberts, director of energy services for Atrium Health. "We take great pride in making sure our conservation efforts are meaningful for the environment but, more importantly, also for our patients. We are constantly looking for ways to improve the way we deliver care and, at the same time, reduce the cost of doing so. By putting a focus on saving energy, we're doing that. We're honored to receive this type of recognition for the talented teammates who give us their all each day to help fulfill our mission."
The Energy to Care awards celebrate facilities accomplishing sustainability goals that will pave the way for environmental stewardship, social equity and fiduciary responsibility in their health care organizations to support healthy, equitable and resilient environments and communities maintained over time. Criteria to become a Sustainability Champion Award winner includes: tracking energy, water and greenhouse gas emissions in the Energy to Care dashboard; must have an ENERGY STAR score of 75 or above – which designates them as performing in the top 25% efficient hospital benchmarked nationally – and be an ENERGY STAR Certified Hospital within the past six years; have a published sustainability statement; have a designated "green team;" and the facility or system must have a designated "sustainability champion" or lead on staff.
In recent years, Atrium Health has pursued campus-wide energy reduction efforts, such as installing airflow setbacks in operating rooms during unoccupied periods, upgrading outdated pneumatic HVAC controls with energy-efficient direct digital controls, retro-commissioning different building automation systems and optimizing chilled water systems. These award-winning sites have especially benefitted from a system-wide "sustain the gains" initiative, including an operator training program called "Energy Connect" that empowers mechanics to take ownership of energy opportunities and has resulted in a culture of energy efficiency at the sites. Atrium Health's green teams further promote sustainability education and action through internal platforms and events, such as plastic elimination and waste reduction initiatives.
Atrium Health has a long history of achievements within the ENERGY STAR program. It was recently recognized for the sixth consecutive year as an "ENERGY STAR Partner of the Year" with the Sustained Excellence Award for the health system's energy management. The recognition comes from the U.S. Environmental Protection Agency and the U.S. Department of Energy. Atrium Health is one of only two health systems in the nation to receive ENERGY STAR award recognition this year.
Atrium Health recently became part of Charlotte-based Advocate Health, the third-largest nonprofit health system in the U.S. One of the system's hospitals, Aurora Medical Center, in Oshkosh, Wisconsin also received the Sustainability Champion Award. It and five other Aurora Health Care hospitals, which are also part of Advocate Health, received the Sustained Performance Award. In total, 18 of the 31 hospitals recognized nationally with the awards are part of Advocate Health.