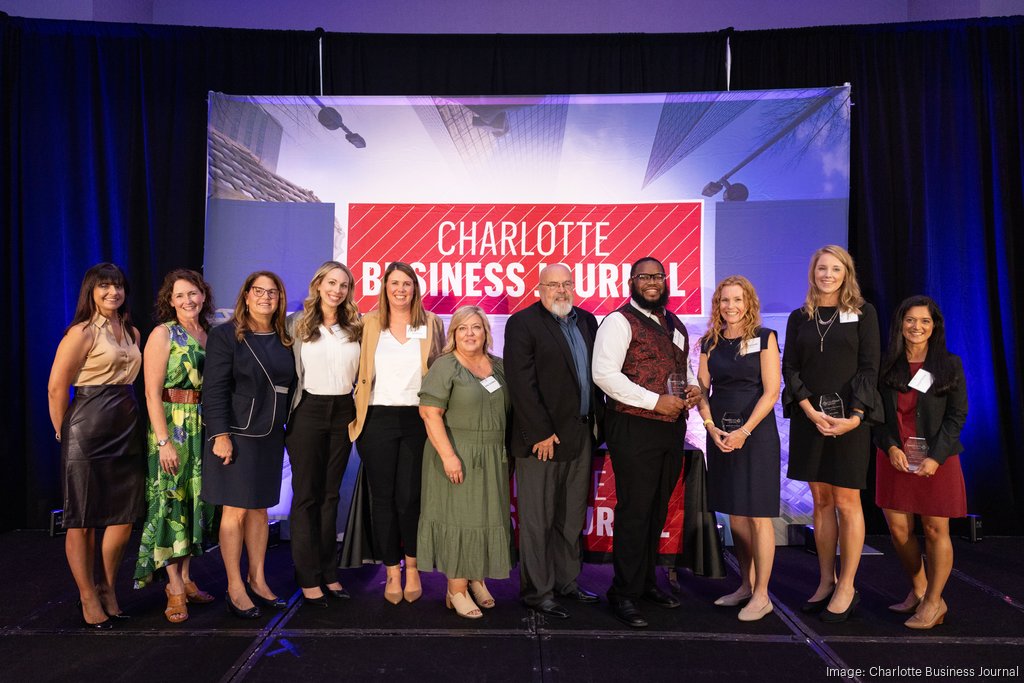 Atrium Health Recognized at Charlotte Business Journal Health Care Heroes Awards
09.28.2023
Atrium Health News
Atrium Health Recognized at Charlotte Business Journal Health Care Heroes Awards
Twenty teams and teammate finalists recognized across nine categories
CHARLOTTE, N.C., Sept. 26, 2023 – Atrium Health teammates were recognized as Charlotte Business Journal "Health Care Heroes" at an awards ceremony Wednesday, Sept. 20. Atrium Health had 20 award finalists across nine categories.
"Our teammates have worked with passion, purpose and determination to improve health, elevate hope and advance healing for all," said Chris Bowe, senior vice president and chief operating officer for Atrium Health's greater Charlotte market. Addressing attendees at the ceremony, he noted "Those of you here this evening – and the countless others you represent – are some of the brightest and bravest among us. The care you have provided has saved lives and brightened futures. Together, we've lived through one of the toughest challenges I think most of us could have imagined, and we all owe you a continuous debt of gratitude. Your dedication strengthens our community and what you have accomplished over the past three-and-a-half years is not only remarkable, but truly inspiring."
Charlotte Business Journal's Health Care Heroes Awards program, now in its third year, seeks to highlight the local individuals and organizations that are putting innovation and compassion to work to improve the human condition. Two Atrium Health leaders were singled out for special recognition:
Patricia Mook, senior vice president and of enterprise nursing operations and professional development for Advocate Health was honored with a Lifetime Achievement award for her work as a nurse and nurse leader over the last four decades. Among her many accomplishments, Mook led a small team of nurses to create the first virtual nursing program at Atrium Health during the COVID-19 pandemic. What began with baby monitors and iPads on rolling carts has become a formalized virtual nursing program at three Atrium Health hospitals and created a model program for hospitals nationally to follow.
Jonathan Zygowiec was honored posthumously with an award for bravery and embodying what a true health care hero is. Dr. Zygowiec, affectionately known as JZ to most, was an exceptional emergency room physician who lost his battle with Stage IV colon cancer in June 2023. Zygowiec was loved by his patients and all who worked with him. He was a critical leader in the Atrium Health Pineville emergency department during the COVID-19 pandemic, bringing positivity to every shift he covered. He had the gift of making each person he encountered and treated feel seen. It was also his great honor to serve the country as a major in the U.S. Air Force Reserve with the 916th Air Refueling Wing.
Of the 20 outstanding finalists and teams, Atrium Health had winners in five categories, including:
Health Care Innovation: Atrium Health Meaningful Medicine – Atrium Health established "Meaningful Medicine," a program uniting the best innovations within health care, social impact and workforce development to directly target health equity and economic mobility goals within Charlotte, thanks to a $10 million gift from Bank of America. In partnership with Charlotte-Mecklenburg Schools (CMS), Mecklenburg County, Central Piedmont Community College and YMCA of Greater Charlotte, Atrium Health's Meaningful Medicine program includes support for CMS students at Title I schools with school-based virtual care and expands opportunities for economically underprivileged CMS graduates to attain health care careers.
Support Services Executive/Organization: Megan Cody – Cody is an administrative director at Atrium Health Levine Children's Hospital and was an integral part of the foundation of Meaningful Medicine. Thanks to this school-based virtual health program, students who are not feeling well can have a health assessment at school with a virtual provider, rather than needing to call a parent to have the child leave school early, missing key educational time. The program drastically cuts down on hours missed from school and eases stress for both the child and the parent.
Healthcare Ambassador: Julia Reynolds – As education manager for life support education for Atrium Health, Reynolds supports CPR education for 19 hospitals and 660 medical group facilities. Reynolds also recognized the need for CPR training in community settings and formed a partnership with local police and fire departments to provide compression-only CPR and defibrillator training, as prompt delivery of bystander CPR more than doubles the probability of survival from sudden cardiac arrest.
Medical Professional, Non-physician: Hakeem Sanders – While working as a health care technician in the emergency department, Sanders encountered a patient with young children who came into the emergency department in serious condition. When the patient was admitted, the children were left without a caretaker and the patient had no local family. When a social worker was called to find housing for children, Sanders himself -- who had already been a registered foster parent for three years and fostered 16 children – volunteered to care for the children himself. Because Sanders was already a registered foster parent with the state, the offer was processed quickly and Sanders took the children home with him, ensuring the siblings stayed together.
Rising Star: Mackenzie McArthur – McArthur has distinguished herself at Atrium Health by interacting very effectively with some of the more vulnerable patient populations, including children with autism spectrum or neuromotility disorders, as well as patients being treated for conditions like cerebral palsy, spinal cord injury, Parkinson's disease or multiple sclerosis. McArthur is a dedicated researcher in her field and has served as the principal investigator on a national study of devices being developed to assist spinal cord injury patients.
Other Atrium Health Healthcare Hero finalists included:
Allied Health Professional:
Community Outreach:

Logan Breakfield
Tagny Diaz

Health Care Innovator/Researcher:

Atrium Health Virtual Nursing Observation Program

Health Care Ambassador:
Medical Professionals (non-physician):

Anna Freeman
Calvin Harvel
Michelle Kerr

Nurse:

Shawanna Burnette
Mandy Singleton

Physician

Suzanna Fox
Jessica Salzman

Rising Star:

Landon Brown
Lindsey Chadoin

Support Services Executive:
"These are the individuals who are on the front line, day in and day out. They truly put their patients first and that is what makes them heroes," said Robert Morris, editor of the Charlotte Business Journal. "Today we honor these companies and individuals. Thank you for putting others before yourself. Thank you for the countless hours worked and thank you for continuing to care for our region."
###