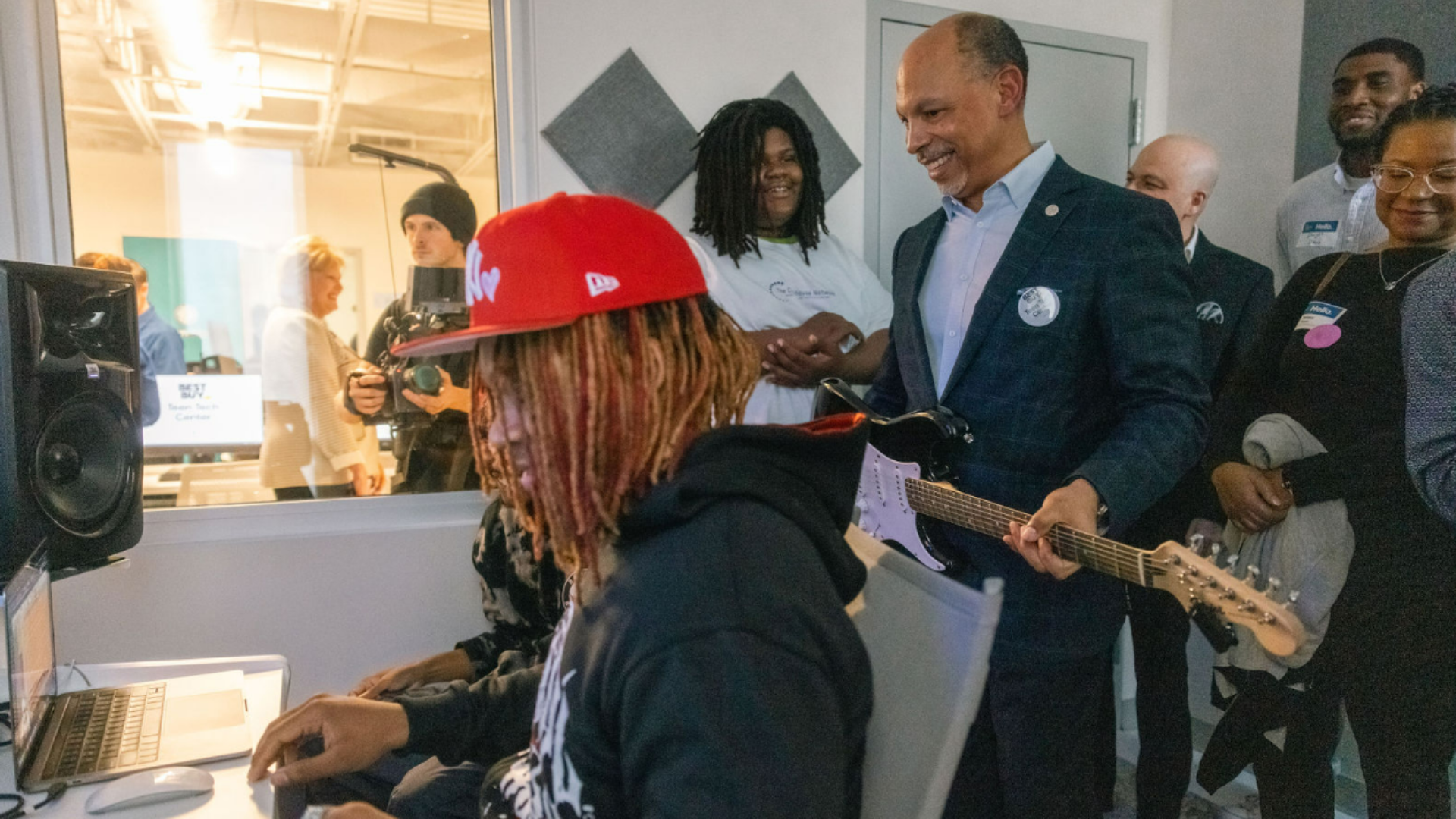 Atrium Health Sponsors Best Buy Teen Tech Center at McCrorey Family YMCA
02.08.2023
Atrium Health News
CHARLOTTE, N.C. – Feb. 7, 2023 – As the YMCA of Greater Charlotte continues to invest in the city's identified Corridors of Opportunity, today it announced the grand opening of its brand-new, state-of-the-art Best Buy Teen Tech Center®, powered by Atrium Health, at its McCrorey Family YMCA on Beatties Ford Road.
The center is a program of the Best Buy Foundation and is designed to support community teens with college and career readiness. This year marks the 10th year anniversary of the Teen Tech Center program and Charlotte will be the 52nd location joining the growing network across the country.
Featuring hands-on experiences that allow teenagers to explore interests like photography, augmented and virtual reality, 3D design and more, the center includes several activity stations geared for teens ages 13-18. Teens in the community are welcome to create and learn at the Best Buy Teen Tech Center at no cost.
Amenities include:
A music studio and adjoining engineer booth, which allows teens to play guitar and drums, alongside access to sound engineering software
"Maker Spaces" which include resin crafting, a button station, 3D printing, vinyl heat press, laser engraving and more
A podcasting station
Photography space with a green screen and both digital and fast-print cameras
Virtual reality headsets, which allow teens to exercise, create art and watch movies in 3D
Drawing tablets for animation
The Teen Tech Center occupies 1,600 square feet at the McCrorey Family YMCA and can accommodate up to 80 teens at one time.
"Partnerships are at the core of the most impactful work our Y is able to carry out within our community," said Stan Law, president and CEO of the YMCA of Greater Charlotte. "In teaming up with Best Buy and Atrium Health for this incredible technology center, we are able to offer teens who haven't had access to these types of opportunities and experiences a new way to look at their futures."
"We are excited to open the first Teen Tech Center in North Carolina and bring a space to the Charlotte community where young people can create, learn and experience the endless possibilities of technology," said Andrea Wood, Best Buy's vice president of social impact. "With the support of partners like the YMCA and Atrium Health, we are inspiring the next generation of youth and supporting them with resources to pursue their dreams."
"The opening of the Best Buy Teen Tech Center at McCrorey YMCA will allow more of our young people to pursue their dreams, nurture their passions and explore career paths that would have otherwise been out of reach," said Eugene A. Woods, chief executive officer of Advocate Health, of which Atrium Health is a part. "I am proud of the role that Atrium Health is playing in this initiative, which will enrich the lives of Charlotte's youth through hands-on mentorship and skill-based training using cutting-edge technology."
Atrium Health also recently opened its second YMCA-based virtual health clinic space, through its Meaningful Medicine program, at the McCrorey Family YMCA.
To learn more about the Best Buy Teen Tech Center, including registration information, go to https://www.ymcacharlotte.org/branches/mccrorey/best-buy-teen-tech-center.