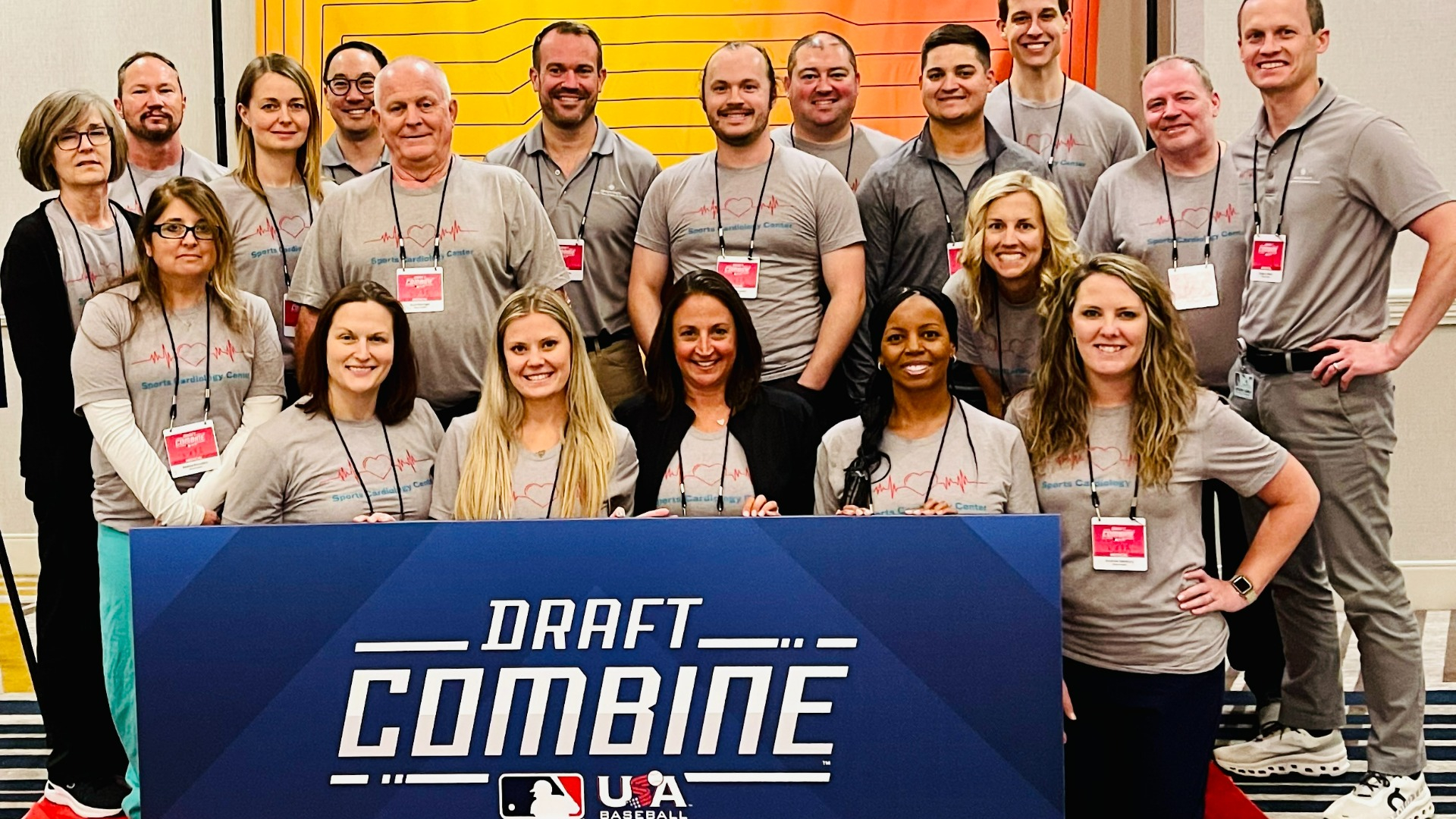 Atrium Health to Provide Screenings to Athletes Pursuing Careers in Major League Baseball
06.30.2023
Atrium Health News
Cardiac screening event is an opportunity for players to participate in medical and performance assessments
CHARLOTTE, N.C., June 30, 2023 – Top athletes hoping to pursue their dreams of playing Major League Baseball were in Phoenix last week and Atrium Health Sanger Heart & Vascular Institute was on hand to help. Sports cardiologists from Sanger Health & Vascular provided pre-participation cardiovascular screenings for the athletes during the MLB Draft Combine, June 20-25, the athletes' last opportunity to make a final impression before this year's MLB First-Year Player Draft. Cardiologists from Sanger Heart & Vascular Institute evaluated the elite athletes' hearts using testing to assess both the electrics and the size and function of the heart, as part of their detailed screening.
"These tests are crucial in ensuring athletes are healthy to play their sport as they pursue a professional career," said Dr. Dermot Phelan, director of the Atrium Health Sanger Heart & Vascular Institute Sports Cardiology Center. "In the thousands of medical screenings we have provided through our sports cardiology center, we have been able to offer medical advice and guidance for these athletes, so they can perform at their best during training or competition."
The MLB Draft Combine allows players to participate in a series of medical and performance assessments and educational programming designed to prepare them for a career as professional athletes. All players had the opportunity to participate in a pro-style showcase that included strength and performance assessments. Additionally, high school players had the option to participate in games against other high school attendees.
"It's like we are taking elements of our sports cardiology center on the road," said Phelan. "This is a team effort, bringing together a variety of providers in a unique environment where we can make a difference in the lives of student-athletes and soon-to-be professional athletes; it's a win-win."
As director of the Atrium Health Sports Cardiology Center, Phelan runs a busy clinic for the cardiovascular care of local athletes in the Charlotte region. However, many elite athletes travel from all corners of the country to also be evaluated at the center. The sports cardiology center is the first and only of its kind, bringing together experts from Atrium Health Sanger Heart & Vascular and Atrium Health Musculoskeletal Institute for multidisciplinary care. It's where patients can see providers who specialize in diagnosing and managing heart health in athletes and where athletes can learn lifestyle and nutrition skills that can help them maintain optimal heart health needed to excel in their sports.
In addition to serving as a cardiology consultant for the MLB Draft Combine, Phelan is the team cardiologist for the Carolina Panthers and Charlotte Football Club and serves as the cardiology consultant for the National Football League. He is a member of the Cardiac Screening Advisory Committee for both the NFL and the NBA.
Learn more about Atrium Health Sanger Heart & Vascular Institute Sports Cardiology Center at AtriumHealth.org/SportsCardiology
---
About Atrium Health
Atrium Healthis a nationally recognized leader in shaping health outcomes through innovative research, education and compassionate patient care. Based in Charlotte, North Carolina, Atrium Health is part of Advocate Health, the third-largest nonprofit health system in the United States, which was created from the combination with Advocate Aurora Health. A recognized leader in experiential medical education and groundbreaking research, Wake Forest University School of Medicine is its academic core. Atrium Health is renowned for its top-ranked pediatric, cancer and heart care, as well as organ transplants, burn treatments and specialized musculoskeletal programs Atrium Health is also a leading-edge innovator in virtual care and mobile medicine, providing care close to home and in the home. Ranked nationally among U.S. News & World Report's Best Hospitals in eight pediatric specialties and for rehabilitation, Atrium Health has also received the American Hospital Association's Quest for Quality Prize and its 2021 Carolyn Boone Lewis Equity of Care Award, as well as the 2020 Centers for Medicare & Medicaid Services Health Equity Award for its efforts to reduce racial and ethnic disparities in care. With a commitment to every community it serves, Atrium Health seeks to improve health, elevate hope and advance healing – for all, providing $2.46 billion last year in free and uncompensated care and other community benefits.
About Advocate Health
Advocate Health is the third-largest nonprofit integrated health system in the United States – created from the combination of Advocate Aurora Health and Atrium Health. Providing care under the names Advocate Health Care in Illinois, Atrium Health in the Carolinas, Georgia and Alabama, and Aurora Health Care in Wisconsin, Advocate Health is a national leader in clinical innovation, health outcomes, consumer experience and value-based care, with Wake Forest University School of Medicine serving as the academic core of the enterprise. Headquartered in Charlotte, North Carolina, Advocate Health serves nearly 6 million patients and is engaged in hundreds of clinical trials and research studies. It is nationally recognized for its expertise in cardiology, neurosciences, oncology, pediatrics and rehabilitation, as well as organ transplants, burn treatments and specialized musculoskeletal programs. Advocate Health employs nearly 150,000 team members across 67 hospitals and over 1,000 care locations and offers one of the nation's largest graduate medical education programs with over 2,000 residents and fellows across more than 200 programs. Committed to equitable care for all, Advocate Health provides nearly $5 billion in annual community benefits.