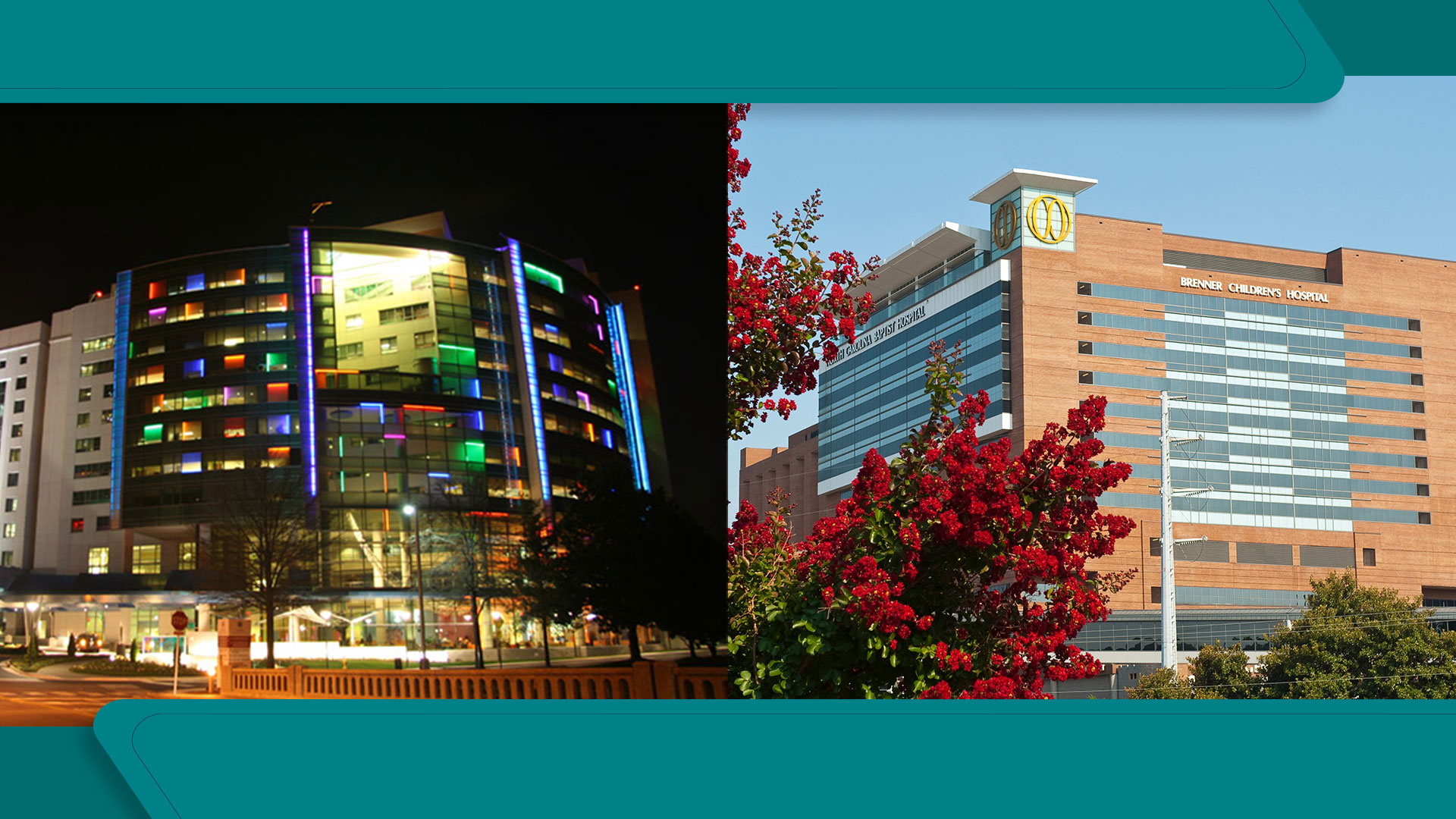 Atrium Health Levine Children's and Atrium Health Wake Forest Baptist Brenner Children's Unite Pediatric Heart Programs
02.11.2022
Atrium Health News |
Levine Children's
New program provides multidisciplinary, expert, pediatric heart care across the Carolinas
CHARLOTTE and WINSTON-SALEM, N.C., Feb. 11, 2022 – As Atrium Health and Atrium Health Wake Forest Baptist continue integrating their respective institutions, the enterprise has reached an exciting milestone with its pediatric heart program. With a goal of creating a best-in-class heart program for patients across the Carolinas and beyond, physicians and teammates specializing in pediatric heart care at Atrium Health Levine Children's and Atrium Health Wake Forest Baptist Brenner Children's are combining into one fully comprehensive team, working together to lead the region's strongest pediatric heart program.
This united program, with a presence in both Charlotte and Winston-Salem, is a natural next step in the combination between Atrium Health and Atrium Health Wake Forest Baptist, benefitting many pediatric heart patients and their families. Built upon the strengths and talents of each location, the new structure will allow for the seamless continuation of care for heart patients, their families and their support systems.
"As the integration between our two health systems moves forward, this provides a unique opportunity to reinvent and optimize our cardiac services for children," said Dr. Joseph Paolillo, division chief of pediatric cardiology and medical director of the Congenital Heart Center at Atrium Health Levine Children's. "This collaboration and growth for the congenital heart program ensures that no patient needs to travel outside of our region for heart care."
The comprehensive heart program will offer everything patients need at the most appropriate location, with the most complex patients having direct access to Atrium Health Levine Children's Hospital. Levine Children's is home to an experienced heart program that has been ranked by U.S. News & World Report as a "Best Children's Hospital" in cardiology and cardiovascular surgery for 12 consecutive years. The Charlotte-based hospital has a dedicated pediatric cardiac intensive care unit and a progressive care floor, serving as a "step-down" floor during recovery, with highly trained and dedicated teams.
The heart program at Brenner Children's promotes a collaborative and multidisciplinary environment across the entire spectrum of care. The team of pediatric specialists combines experience, nationally recognized expertise and dedicated pediatric cardiac care to provide families with state-of-the-art options.
"We have collaborated with the Levine Children's heart team for years and are now pleased to further combine our talents and expertise to provide leading-edge heart care to our young patients across our entire region," said Dr. Derek Williams, section head of pediatric cardiology at Atrium Health Wake Forest Baptist Brenner Children's. "We are fully committed to creating a unified and world-class pediatric heart program to deliver the best possible outcomes for children and their families."
As this combined pediatric heart program grows, additional specialists will be added to the team in Winston-Salem.
Offices in both regions are available for families who have questions about their child's individual care. To access information about your local office, please contact:
Charlotte:
704-373-1813
LevineChildrens.org/Heart
Winston-Salem:
336-713-4500
WakeHealth.edu/Pediatric-Cardiology
About Atrium Health
Atrium Health is a nationally recognized leader in shaping health outcomes through innovative research, education and compassionate patient care. Based in Charlotte, North Carolina, Atrium Health is an integrated, nonprofit health system with more than 70,000 teammates serving patients at 40 hospitals and more than 1,400 care locations. It provides care under the Atrium Health Wake Forest Baptist name in the Winston-Salem, North Carolina, region, as well as Atrium Health Navicent and Atrium Health Floyd in Georgia and Alabama. Atrium Health is renowned for its top-ranked pediatric, cancer and heart care, as well as organ transplants, burn treatments and specialized musculoskeletal programs. A recognized leader in experiential medical education and groundbreaking research, Wake Forest University School of Medicine is the academic core of the enterprise, including Wake Forest Innovations, which is advancing new medical technologies and biomedical discoveries. Atrium Health is also a leading-edge innovator in virtual care and mobile medicine, providing care close to home and in the home. Ranked nationally among U.S. News & World Report's Best Hospitals in eight pediatric specialties and for rehabilitation, Atrium Health has also received the American Hospital Association's Quest for Quality Prize and its 2021 Carolyn Boone Lewis Equity of Care Award, as well as the 2020 Centers for Medicare & Medicaid Services Health Equity Award for its efforts to reduce racial and ethnic disparities in care. With a commitment to every community it serves, Atrium Health seeks to improve health, elevate hope and advance healing – for all, providing more than $2 billion per year in free and uncompensated care and other community benefits.