On March 6, 2020, Steven Evans' name joined the waitlist for a heart transplant at Atrium Health Sanger Heart & Vascular Institute. That same day, on the other side of the country, 21 passengers on a cruise ship off the California coast tested positive for COVID-19.
The events set off two timelines – one personal, one global ­– that would converge in a hospital in Charlotte. The first timeline was that of Steven, a South Carolina pastor with heart failure who needed a life-saving surgery. The second was that of a virus, as contagious as it was mysterious, on its way from California to North Carolina.
While Steven waited for his heart, the world around him changed. On March 11, COVID was declared a pandemic. On March 13, it was declared a national emergency. On March 20, Steven got his new heart.
During a time when hospitals had to postpone as many non-emergent surgeries as possible, patients like Steven couldn't wait. Even amid a pandemic, Sanger has performed more heart transplants than usual this year, giving patients with advanced heart failure a chance at a new life. The team has performed 19 heart transplants already in 2020, compared to 14 transplants done by this time in 2019.
"We are committed to serving our patients, and we've continued heart transplants at a very steady pace," says Sanjeev Gulati, MD, FACC, chief of adult cardiology and medical director of Sanger's Heart Failure and Transplant Services. "We have grown our volumes year over year, and we have not slowed down in the midst of a pandemic, following all proper protocols."
Charlotte's Only Heart Transplant Center
Sanger is home to the only heart transplant center in Charlotte, and, as such, it couldn't pause life-saving surgeries during COVID-19. The team took new challenges in stride, quickly creating new policies. Social distancing meant that the team had to evaluate patients in new ways prior to their transplants. They employed virtual care when possible. Everyone involved was routinely tested for COVID-19, including patients, providers and donors.
"Safety is our primary mission," Dr. Gulati says. "The core value of healthcare is to protect and take care of our patients and to reduce suffering and risk."
Visitation policies changed, too. With COVID-19's effect on the cardiovascular system, Steven's extended family couldn't visit him in the hospital but instead relied on FaceTime. When policies changed during his stay, his wife could no longer stay with him overnight. During his surgery, his wife sat in the waiting room while nurses kept her updated constantly through calls and text messages.
"We thank God for technology and a nurse who sat at my feet who communicated with my wife play by play, step by step," Steven says.
Waiting for the Perfect Heart
The wait for Steven's heart took two weeks.
"Doctors actually turned down several hearts before they got the right one," Steven says. "This is one reason why we came to Charlotte. They have a great success rate, and it's probably because of this. They told me that they don't want to take any heart to get me a heart, but they wanted to find the right heart that was as close to a perfect match as possible."
While Steven waited in this hospital for the transplant, he needed the support of a mechanical device that would maintain proper blood and oxygen supply to his body. Steven was one of the first people in the country to have the newest version of a temporary ventricular assist device, more commonly known as a heart pump, inserted into the main chamber of the heart. The new technology gave providers real-time updates on the device's functioning and location in his heart.
The heart pump – which acted as a critical bridge to transplant – kept Steven's energy up. COVID-19 policies restricted his exercise to walks around the unit, so Steven calculated how many laps around the ICU it would take to walk a mile. He worked his way up to 16 laps to make his mile, then he increased his goal to 20 laps the next day.
"Without a heart pump, I'd have had to stay on my back while waiting for my transplant. Imagine how weak I would've been going into that transplant," Steven says. "It was a great opportunity to have a good quality of life while I waited in the hospital."
What put Steven most at ease, however, wasn't the technology. It was his faith and the people that he felt God entrusted to care for him. Spending weeks in a hospital waiting for a heart introduced him to people throughout the ICU.
"The entire team was great … It wasn't just a surgeon; it wasn't just a cardiologist. It was also the cleaning staff who – especially during COVID – kept everything sanitized. It was the dieticians, the pharmacists and the security guards who remembered my wife and assured her that she was safe," Steven says. "Everyone would have an encouraging word."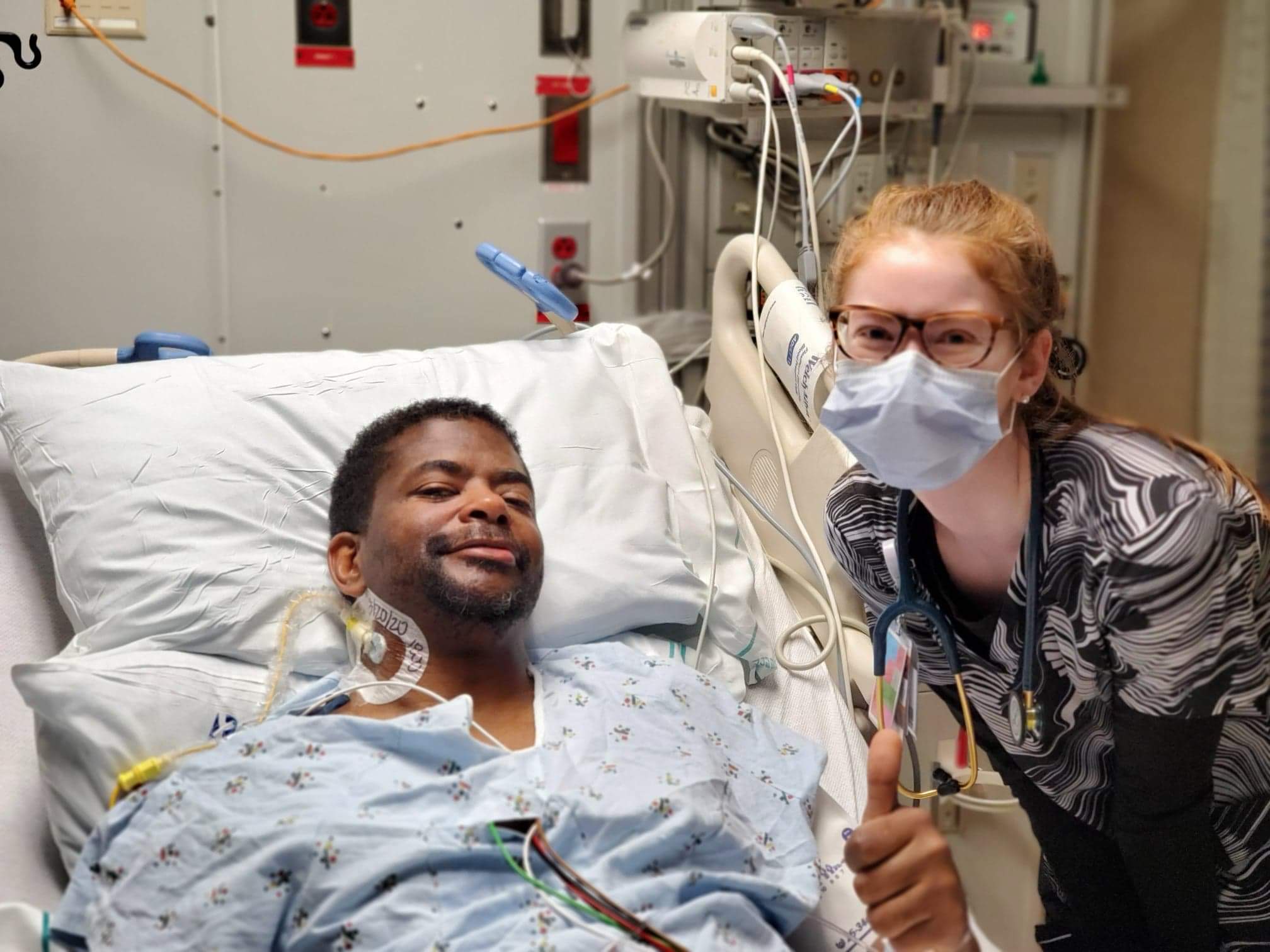 The Rush to Deliver a New Heart
On March 20, Steven and his wife received good news from Nicole Cyrille-Superville, MD: They found Steven's new heart.
A donor heart can only spend about four hours outside of the body, which makes the transportation timeline between hospitals a crucial one. Organs typically travel in a bucket of ice stored in a cooler, a method that hasn't changed much in the decades since transplants began. Steven's heart traveled via a new device that provides uniform cooling of the heart to a specific temperature, which allows more time for transportation and better care of the organ.
"This certainly puts Sanger at the forefront of transplant technology," says Joseph Mishkin, MD, a cardiologist at Sanger Heart & Vascular Institute who worked with Steven prior to and after his surgery.
'More Than Just Clinicians'
When Steven joined the transplant waiting list on March 6, COVID-19 was largely a threat that loomed off the west coast. When he went home to his four daughters with his new heart on March 28, schools and offices were empty, as were grocery store shelves. Mecklenburg County had begun stay-at-home orders. Everything seemed different in Charlotte, and everything seemed different for Steven. He said that within days, he felt like "a new man – I haven't felt this good in years."
At Sanger, the heart transplant team continued its work caring for patients who couldn't wait for COVID-19 to pass before receiving care, leveraging virtual technology to minimize patients' exposure risk when able. When nothing seemed the same outside the hospital, the pace only kept up within it. Even amid the pace, however, doctors still took the extra time to relate to patients as people first.
"Before the doctors talked about anything clinical, they'd ask about my family or we'd talk about sports. It put me at ease," Steven says. "They were more than just clinicians. I think they understood and respected their professions as a calling."
When Steven mentioned that one of his daughters aspires to become a doctor and go to Harvard, Dr. Cyrille-Superville offered a virtual chat to talk with her about medicine and tell her everything she knew about the program at Harvard.
Dr. Mishkin says this is how the team always operates.
"Our heart transplant program always thinks of patients and their families like they're part of our families," he says. "We treat them how we would want our families treated, offering the best quality of care, the best outcomes. We're not just a numbers organization."
The team stresses that this life-saving transplant care cannot – and will not – stop for COVID-19.
"We want to make sure people recognize this is one of the safest places you can be," Dr. Gulati says. "What we don't want is for patients to underestimate their heart disease, to wait too long to come in to get help."
---
Learn more about the Heart Failure and Transplant Care at Sanger Heart & Vascular Institute, the region's only heart transplant program.
Did you know that just one organ donor can save eight lives? Right now, more than 100,000 people are on the waiting list for a life-saving organ transplant. Sign up to be an organ donor.