Emergency departments can treat children of all ages, but at Atrium Health Levine Children's Hospital, we have a location dedicated just to caring for kids. We know nothing is more important than the health and safety of your child, which is why Levine Children's is dedicated to providing an expert level of emergency care in the Charlotte area, in a kid-friendly, kid-focused setting backed by our team of specialists nationally recognized by U.S. News & World Report.
Levine Children's Hospital took care to the next level by expanding and renovating its pediatric emergency department. It has everything imaginable to make emergency room visits less stressful for children -- and their parents.
"All emergency departments are capable of caring for children," says Chad Scarboro, MD, medical director of pediatric emergency medicine at Atrium Health Levine Children's Hospital. "But a dedicated pediatric emergency department gives you a little bit more. Visits to the emergency room can be a stressful and scary time in a child's life, and this facility helps the clinical team in caring for the patient and the family."
Levine Children's new emergency department can treat any and all serious or life-threatening illnesses, injuries and conditions. No matter the reason for a visit to Levine Children's emergency department – the Charlotte area's only Level 1 pediatric trauma center – children and their families will receive treatment that other places can't match.
More Than Meets the Eye
Repeat visitors will notice some changes right away. The colors are brighter and more aesthetically pleasing. The walls contain more kid-friendly artwork, including digital art. Floors and cabinets have been redone, and the place has a more kid-friendly feel with child-sized equipment and furniture.
But that's not all. Capacity and staffing have also been increased. There are four more beds, four additional pediatric emergency medicine providers, and two expanded spaces for triage with a range of monitors. Additionally, there are two rooms where all of the medical equipment is stored behind doors, which allows for safe care of patients with behavioral health needs. A procedural room – for conditions such as treating broken bones– has been enlarged and stocked with more equipment to handle more special procedures.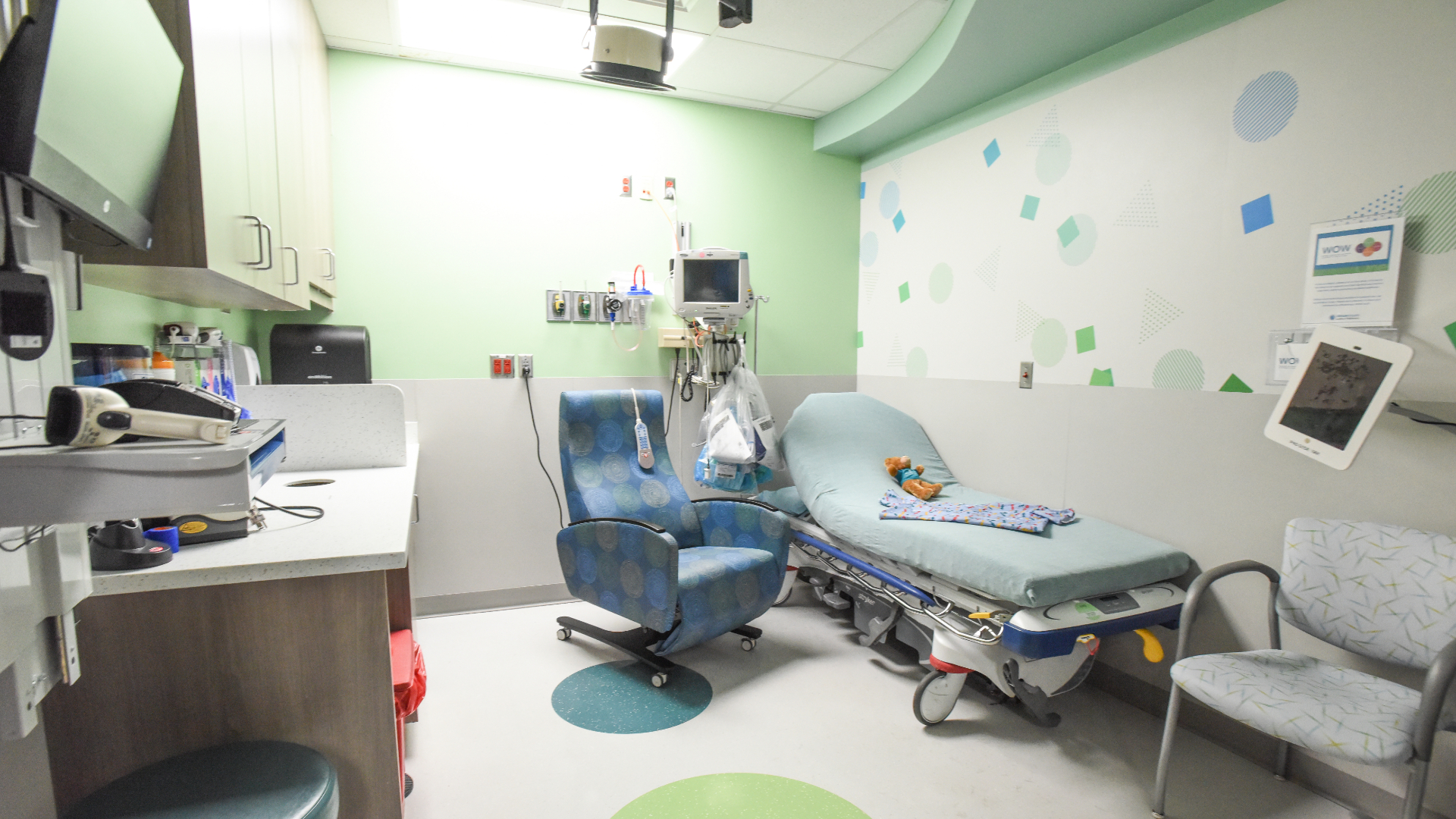 "At our peak we see 150 kids a day," Dr. Scarboro says. "The combination of expansion and added coverage from additional providers gives us a lot more capacity to see more patients."
Considering the pandemic, the thought of more people occupying an indoor space can make people uneasy. But Atrium Health's COVID-Safe measures are in full effect at Levine Children's pediatric emergency department. One example is direct bedding, where patients can go from the front door to their own room, limiting intermingling with other patients and families.
"We try to provide as much care as we can in patients' individual rooms," Dr. Scarboro says, adding providers change their personal protective equipment (PPE) before entering. "There's an understanding that sometimes we have to transport patients to other areas for specialized services, like CAT scans. And if the family wants to go to the restroom or cafeteria, we offer them gloves, require face coverings in all areas, and encourage hand washing."
Children Receive Special Treatment
Adults often wish they were young again, and they can list another reason after visiting Levine Children's emergency department. Members of the Child Life team are just as vital as the doctors and nurses in providing exceptional care to patients and their families.
Dr. Scarboro says Child Life teammates are masterful at quickly earning children's trust. They provide emotional support via a hand squeeze or providing comforting words such as, "You're doing a great job." When doctors are providing care to really sick children, a Child Life specialist might sit in the room with the family and describe what's happening."
He explains further, the Child Life specialists are there for the kids to get them through a difficult situation. "Everything they do is focused on children," says Dr. Scarboro. That makes it easier to not only clinically care for the child but support them emotionally and psychologically when they're entering a new environment."
Providing COVID-Safe Emergency Care throughout the Greater Charlotte area
When it comes to children, emergency departments and new environments, Levine Children's emergency care is unmatched. Levine Children's extends its emergency care services to the only pediatric emergency room in the Lake Norman area – inside the Atrium Health Huntersville Emergency Department, a facility of Atrium Health University City – with trained specialists that are fully backed by Levine Children's Hospital, which has been nationally ranked as a best children's hospital for 13 consecutive years. Levine Children's remains committed to COVID-Safe emergency care standards at all Charlotte-area emergency care locations to ensure patients and their families receive the highest quality care in the safest environment possible.
The emergency department has been able to easily provide people with immediate care when they need it the most due to the convenient location near many Lake Norman neighborhoods and its proximity off of the highway. In the event in which additional care is needed, immediate contact is coordinated through Atrium Health's MedCenter Air. MedCenter Air has a dedicated neonatal and pediatric team available for all modes of transportation; including ambulances, helicopters and jets. The highly experienced and specialized transport teammates have some of the most advanced training in the nation and are well equipped to care for the smallest and sickest patients needing life-saving support.
---
Learn more about our newly expanded and renovated pediatric emergency department at Levine Children's Hospital and our pediatric emergency care services.