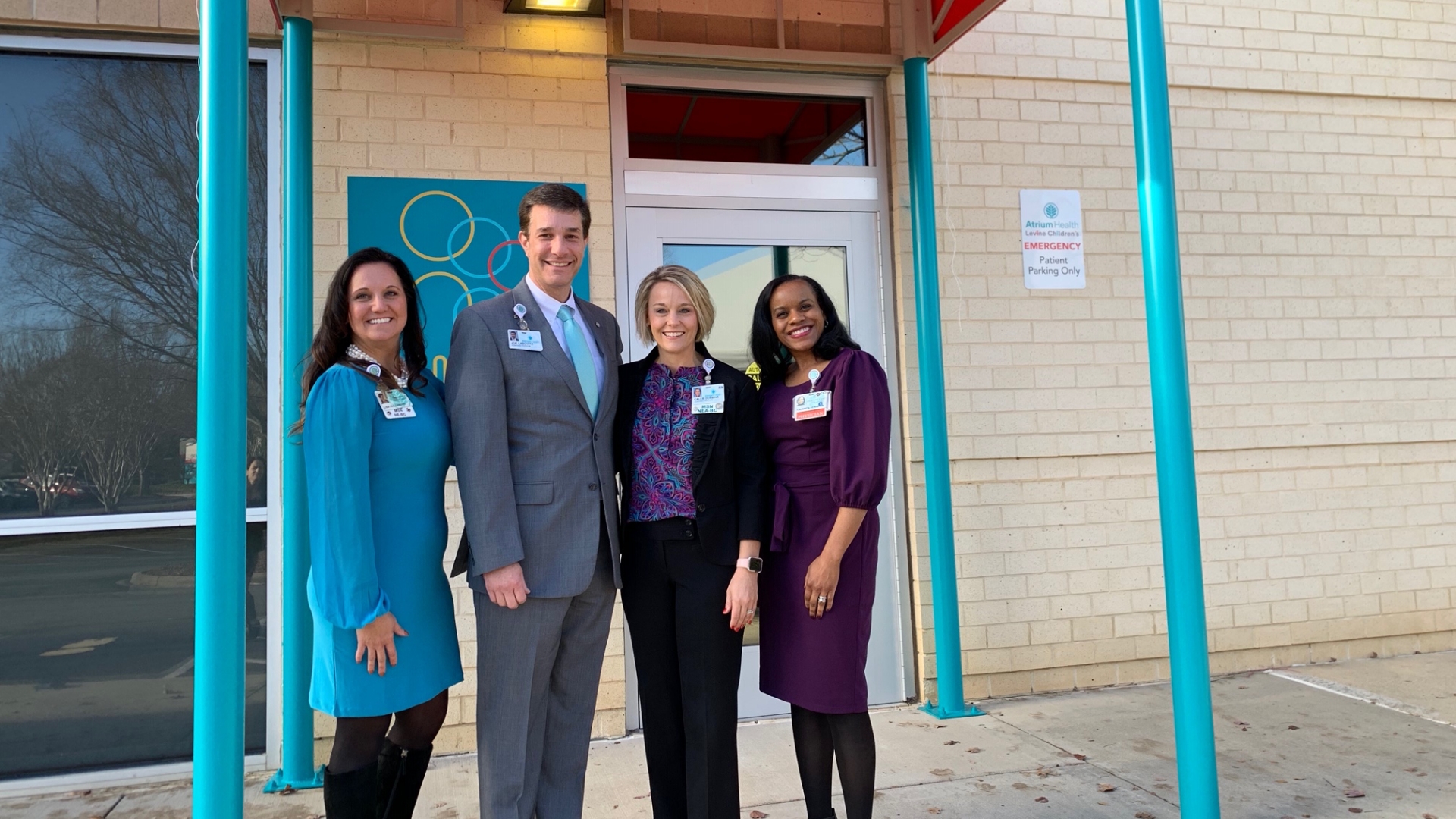 Atrium Health Levine Children's Opens Pediatric Emergency Room in Lake Norman
12.05.2019
Atrium Health News |
Levine Children's
Huntersville, N.C., December 5, 2019 – Atrium Health Levine Children's Emergency Room is now open and serving families with children in need of emergency care treatment. Located inside the Atrium Health Huntersville Emergency Department, a facility of Atrium Health University City, the space comes with all the expert emergency care children need to get better, in a kid-focused environment. This is the only pediatric emergency care location in Lake Norman with trained specialists that are fully supported and backed by Levine Children's Hospital, which has been nationally ranked as a best children's hospital for each of the 12 years it has been open.
In addition to traditional emergency medicine services, the facility comes with:
24/7 healthcare providers, who are specially trained in caring for kids
Separate entrance and waiting room, plus a colorful, kid-friendly setting
Reserved parking spots, just for pediatric patients and their families
Child-sized equipment to better and more comfortably treat little ones
Child life specialists, who help your child stay positive and brave during their visit
Video games and activities for a fun, soothing distraction
"The opening of this new pediatric emergency care location in Lake Norman dedicated to serving children reinforces our commitment to the community and to our mission of making life better for all children and their families," said Callie Dobbins, Levine Children's Hospital facility executive. "We are bringing our history of dedicated service and exceptional care to an area that needs it and to those who will greatly benefit from having access to life-saving care, closer to home."
The emergency care team at Levine Children's Emergency Room in Huntersville is trained to bring patients back to health from illness and injury, while making them feel comfortable and safe. They can treat a full range of serious or life-threatening illnesses, injuries and conditions, including asthma attacks, broken bones, fevers, dehydration, flu, poisoning, swallowed objects, sprains, strains and more. Innovative telehealth technology enables the care team in Huntersville to instantly consult with experts across the Levine Children's footprint to discuss images and lab results and capture vital assessment information in real time.
In the event in which additional care is needed, immediate contact to Levine Children's Hospital or Jeff Gordon's Children's Center is coordinated through MedCenter Air. MedCenter Air has a dedicated neonatal and pediatric team available for all modes of transportation; including ambulances, helicopters and jets. The highly experienced and specialized transport team members have some of the most advanced training in the nation and are well equipped to care for the smallest and sickest patients needing life-saving support.
Atrium Health Huntersville Emergency Department, a freestanding emergency department, has grown in popularity over the past few years. As a facility that is not attached or connected to a hospital, the emergency department has been able to easily provide people with immediate care when they need it the most due to the convenient location near many Lake Norman neighborhoods and its proximity off of exit 25 on I-77.
This freestanding model has several documented advantages for patients, including:
One-hour shorter wait times
Dedicated supplementary support; including labs, imaging and an on-site pharmacy
Easy access from I-77 and desirable location on Statesville Road
Best door to doctor times in the region (less than 15 minutes)
Experienced nurses and clinicians (no less than two years of experience)
Convenient parking close to front door
"We've identified that the emergency department setting can offer both a unique and crucial opportunity to address specific healthcare needs of children," said Joe Labovitz, vice president of operations, Atrium Health University City. "This newly dedicated pediatric space will enable us to provide better care and reduce unnecessary travel, wait times, and expenses for families in Lake Norman."
To meet the expected increase in patients at the new emergency care location, Levine Children's has invested in new clinical staff employees, including respiratory therapists, pediatric-trained nurses and a child life specialist – all who have extensive pediatric training and advanced life support designations.
For more information, visit online here.
Atrium Health (formerly Carolinas HealthCare System), one of the nation's leading and most innovative healthcare organizations, provides a full spectrum of healthcare and wellness programs throughout North and South Carolina. Its diverse network of care locations includes academic medical centers, hospitals, freestanding emergency departments, physician practices, surgical and rehabilitation centers, home health agencies, nursing homes and behavioral health centers, as well as hospice and palliative care services. Atrium Health works to enhance the overall health and wellbeing of its communities through high quality patient care, education and research programs, and numerous collaborative partnerships and initiatives.
###