A kite rises against the wind – not with it.
Atrium Health President and CEO Eugene A. Woods used a message inspired by the words of Martin Luther King, Jr. to empower his teammates at the beginning of 2022, as the omicron surge raged through our communities. And, at the final Atrium Health Board of Commissioners meeting of the year, on Monday, Nov. 21, he invoked them once again to describe the ways Atrium Health has risen against the wind in 2022 – not with it. Just like a kite.
"We certainly have experienced our share of headwinds this year," Woods explained. "We saw the largest number of COVID cases since the beginning of the pandemic at the start of 2022 and, right now, we're dealing with a dramatic increase in RSV and flu cases," referencing the intense demands the system is experiencing.
With those alarming numbers of respiratory syncytial virus (RSV) leading to an increase in children hospitalized around the country, as well as flu cases hitting our community hard, Vicki Block, senior vice president and central market president for Atrium Health, told the board that the organization is rising against the wind again. It is bringing Atrium Health MED-1 to Atrium Health Carolinas Medical Center and Atrium Health Levine Children's Hospital to serve as an extension of their emergency rooms. With so many people suffering from serious respiratory viruses right now and needing immediate care, the mobile hospital on wheels will help treat people with minor illness and injury, freeing up space in the emergency rooms to give Atrium Health greater capacity to care for more people. Block explained that Atrium Health MED-1 will be operational starting on Wednesday, Nov. 23, and will remain on site as long as needed.
"We're blessed to have this asset," said Ken D. Haynes, enterprise executive vice president and president of the Greater Charlotte Region and incoming president of the Board of Commissioners for the Charlotte-Mecklenburg Hospital Authority, "and it's really going to allow us to take care of our children and adult patients."
Like many health systems, Atrium Health faced other challenges in 2022, including higher expenses as well as significant staffing shortages. Time and time again, Atrium Health continued to rise, to innovate and to lead the way, Woods told the board.
Flying High
It's this kind of innovation that sets Atrium Health apart from other health systems. Woods detailed an extensive list of highlights from 2022, including the opening of Atrium Health Union West – the system's first new hospital in 30 years, its newest community care practice, Atrium Health Community Care Primary Care Archdale Family Medicine and other clinics serving medical deserts in Charlotte. He also noted Atrium Health's continued growth with the groundbreaking for the new care tower at Atrium Health Wake Forest Baptist.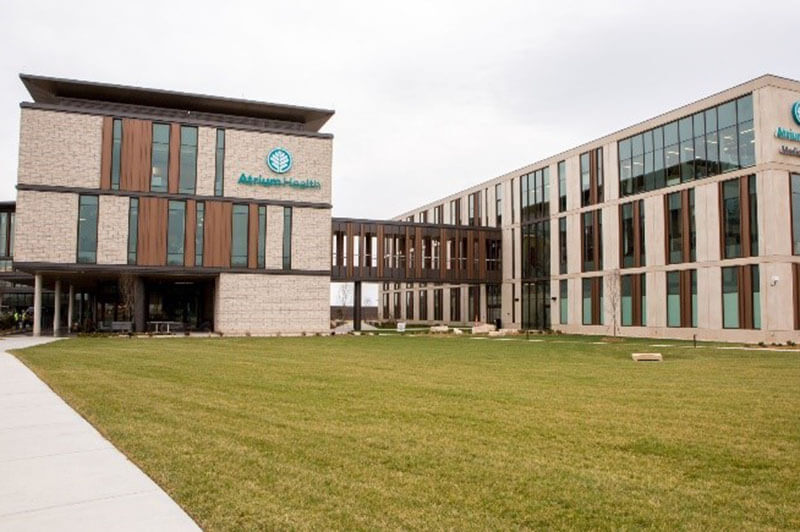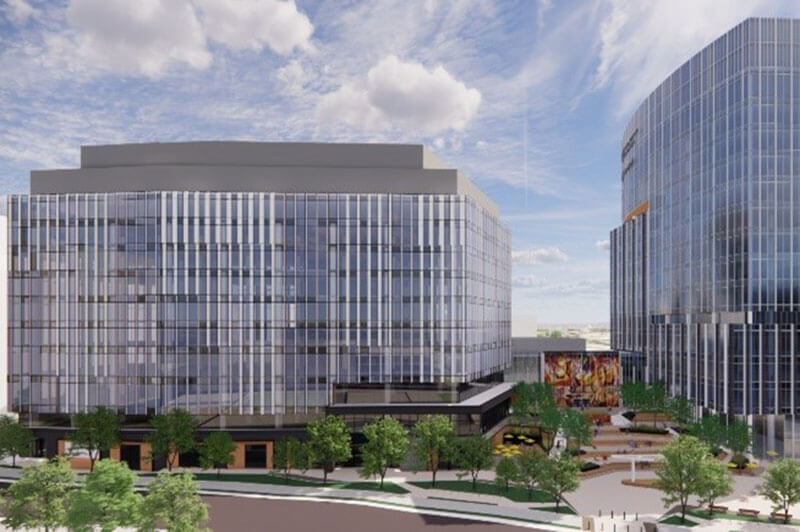 Woods also highlighted the official naming of Charlotte's innovation district, The Pearl, which is expected to break ground early next year and will ultimately be a multi-phased, mixed-use development featuring office, lab, retail and residential, including affordable housing, community gathering and academic spaces. The first phase of the district includes construction of Charlotte's first four-year medical school, Wake Forest University School of Medicine Charlotte.
"We have established new partnerships with Johnson C. Smith [University], Bank of America, Queens [University], [Charlotte-Mecklenburg Schools] and others to really create an academic pipeline with respect to staffing," Woods said. "I'm very proud of that."
Haynes also explained how a $10 million gift from Bank of America helped establish the "Meaningful Medicine" program, that includes Levine Children's Hospital school-based virtual care.
"It's a really powerful tool that we're really proud of. Today we're currently in 28 [Charlotte-Mecklenburg Schools] on our way to 50," Haynes said.
Much to Celebrate
Haynes touted even more reasons to celebrate – just since the board's last meeting in August – including a plethora of awards, as well as the incredibly popular Atrium Health Has Talent Grand Finale.
Those awards include 15 Atrium Health teams and teammates being honored as finalists (in nine categories) in Charlotte Business Journal's Health Care Heroes awards, a program that highlights local heroes who make our community a better place. Atrium Health was also honored with the American Cancer Society (ACS)'s Inaugural Health System/Patient Support Team of the Year award. Haynes explained that it is a national honor presented for the many successful efforts Atrium Health has implemented to improve the lives of cancer patients and their families.
Haynes also told the board that Atrium Health was named, once again, as one of America's Best Employers for Veterans 2022, by Forbes. Haynes also shared that Woods, himself, was named #1 on Charlotte Business Journal's Power 100 List this year.
"It's been a good year in spite of all the challenges of the pandemic and I'm so proud of our teammates," Haynes said.
Oh, and apparently, the Atrium Health Has Talent Grand Finale is must-see-tv. Haynes said it's had more than 12,000 views on YouTube.
"So, when you come to Atrium Health seeking care, these are the amazing folks who will be there for you, ready to answer the call," Haynes said while referencing this year's Atrium Health Has Talent finalists. 
Flying high indeed.
Setting the Record Straight
In late October, the North Carolina State Treasurer released an error-laden report that claimed North Carolina hospital systems, including Atrium Health, reaped millions of dollars in profits from treating Medicare patients. Anthony DeFurio, EVP and chief financial officer for Atrium Health, shared in detail how, in fact, the opposite is true.
DeFurio shared how the latest attack against health care systems is based on a flawed and incomplete analysis, resulting in invalid conclusions. Atrium Health completed a detailed review of the information supplied in the report commissioned by the Treasurer's office, and it is clear the analysis did not follow the fundamental and basic accounting principle of matching revenue and associated expenses.
Atrium Health's certified 2019 Medicare cost reports, submitted to the Centers for Medicare & Medicaid Services (CMS), shows Atrium Health incurred unfunded costs of $99 million for care provided at our hospital facilities in North Carolina. When taking into account the full care it provided to Medicare patients in North Carolina across all care locations, including care provided within our doctor's offices, Atrium Health incurred unfunded Medicare costs of approximately $920 million in 2019.
DeFurio finished refuting the faulty report by sharing how the Medicare Payment Advisory Commission, an independent congressional agency whose membership includes leading academic and business leaders, has consistently reported to Congress that Medicare payments do not cover the cost of care provided by most hospitals, like Atrium Health.
DeFurio concluded his remarks by noting that in the first nine months of 2022, the Greater Charlotte Region of Atrium Health has posted, in total, a $101.8 million operating loss.
Bright Days Ahead
Meanwhile, Atrium Health is showing no signs of slowing down.
Woods said he expects the regulatory review process for the previously announced combination with Advocate Aurora Health to be completed soon. With the much-anticipated integration, the two health systems are expected to weather storms and continue to lead and innovate, delivering care even better and faster to the patients and doing more within the communities the combined organization is privileged to serve.
"We're very excited about entering into this next chapter," Woods said. "Advocate Aurora Health is an organization, as we've said before, that is very committed to equity, very committed to innovation, and we're excited that they'll be part of our expanded academic core."
There's even more to celebrate in the coming weeks. In December, Atrium Health Levine Children's Hospital will celebrate its 15th birthday.
Truly a remarkable achievement and an incredible milestone for Levine Children's Hospital, which has earned the title of a U.S. News and World Report "Best Children's Hospital" every single year since it opened. The celebration will include a "Lights for Levine" event on Dec. 2, resuming an annual event featuring lighted luminaries and supporters shining flashlights towards the patients in the hospital, as they shine lights back.
There will be an in-person birthday celebration for the children's hospital that week.
Haynes also celebrated an incredible year of philanthropy, thanks to Atrium Health's patrons and their gifts. That includes a total of four different investitures this year alone, which honor endowed or distinguished chairs/professors.
Haynes thanked donor families for their commitment to Atrium Health and explained how these gifts would help Atrium Health recruit the brightest talent and to provide the very best educational and research opportunities for the enterprise.
Which brings us back to Woods and the kite. Rising ever higher, despite whatever challenges may come. Woods's overall message to the board was that Atrium Health's future is bright, and its mission to improve health, elevate hope and advance healing – FOR ALL – will continue … no matter what the weather.