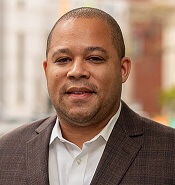 The Carolinas College of Health Sciences Board of Directors is thrilled to announce the election of its newest member, Rod Garvin.
Mr. Garvin is a manager at Ernst & Young LLP in the Economic Development Advisory Services practice. He has nearly a decade of experience in economic and workforce development and more than 20 years of professional experience that spans the private and nonprofit sectors.
He is an established leader and advisor on equity, diversity and inclusion, and he is a passionate advocate for inclusive economic growth that fosters mobility for diverse talent across the socioeconomic spectrum, as well as the advancement of small businesses, including those owned by people of color and women.
Mr. Garvin had previous roles with the Charlotte Regional Business Alliance and served as executive director of the CLT Alliance Foundation. He also led strategy, program development and fundraising for the Alliance's philanthropic foundation, focused on expanding prosperity for all.
He earned a bachelor's degree from the University of North Carolina at Charlotte, a Master of Human Resource Development from Clemson University and a Master of Theological Studies from Hood Theological Seminary.
Born in Philadelphia and raised in Michigan, Mr. Garvin has called Charlotte home for more than 25 years. He's married to Akilah Garvin, a communications and corporate social responsibility leader, and is the proud father of Ayanna and Ruby Joy.
Additionally, with the retirement of longtime board chairperson C. Marcus Harris, Carolinas College alumna and former vice chairperson Ginger Walker (RAD '76) stepped into the role of chairperson. She has served on the board since 2007. Dr. Carole Isom-Barnes was elected as the vice chair. She has served on the board since 2017.