Skip Navigation
Visitor Guideline Update:
Due to respiratory virus season, children 12 and under are not permitted to visit patients in multiple settings. Additionally, everyone is required to mask in patient rooms and other designated areas.
Learn more
.
For more than 50 years, Sanger Heart & Vascular Institute has delivered nationally renowned care across a broad range of heart and vascular conditions. Today, that commitment to patients and the breakthroughs that help them live longer continues to thrive.

Renowned Experience Fuels Outstanding Care
From minimally invasive valve replacements to heart transplants to atrial fibrillation treatments, Sanger delivers patient outcomes ranking among the nation's best. With more than 110 physicians and 120 advanced practice providers, high patient volumes and expertise that can't be found elsewhere in the region, we'll help your patients access the right specialist for any type of cardiovascular condition.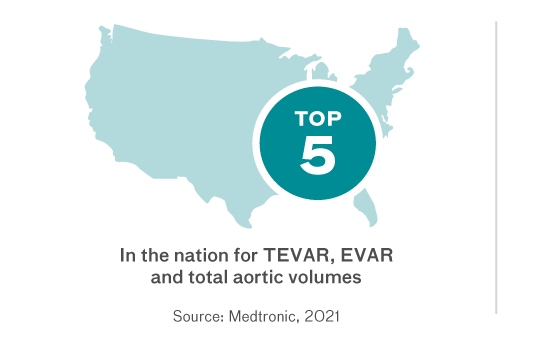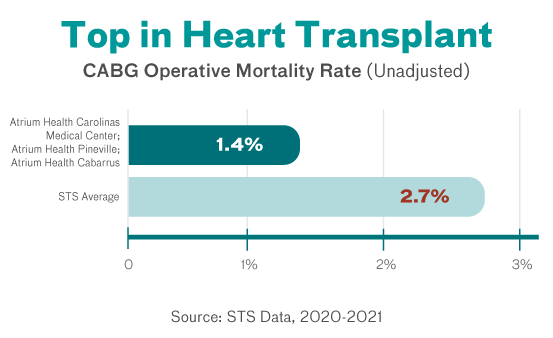 Top Outcomes and Breakthrough Innovations
Every year, we closely monitor volumes and treatment outcomes to stay abreast of our progress and identify opportunities to improve. In the Outcomes and Innovation Report, we explore our broad range of specialties, and showcase how our outcomes and clinical innovators place us among the nation's leaders. We publish our data annually across divisions, with a goal of serving as subject matter experts to external physicians.
In addition to achieving top outcomes across the broad spectrum of cardiovascular care, we are constantly spearheading innovations that set a new standard. This includes expanding the boundaries of cardiovascular telemedicine and using value-based care initiatives to increase access and reduce cost by providing Sanger's high-quality care to our patients where they live.

We're also expanding one of the Southeast's most comprehensive research programs, in part by establishing a multicenter lead extraction registry, participating in a first-in-human study of an innovative mitral valve repair system, evaluating novel artificial intelligence (AI) software in echocardiography and playing a leadership role in national device trials.
Coordinated and Collaborative Cardiovascular Care
When you refer patients to Sanger, they'll benefit from seamless, patient-centered care that's coordinated across disciplines and locations. This collaboration is mirrored in the way we work with referring physicians, keeping you involved throughout each patient's journey until we transition them back to you for ongoing care.

Call 877-999-7484 to speak with a referral coordinator. We'll help you find the right specialist at one of our 20+ locations in North and South Carolina. South Carolina.
Acute Coronary Syndrome
Cardiac Electrophysiology
Heart Failure & Transplant
Hypertrophic Cardiomyopathy
Cardiac Surgery
Valve & Structural Heart Disease
Aortic Disease
Vascular Disease
Thoracic Surgery
Adult Congenital Heart Disease
Cardiovascular Imaging
Cardiac Rehabilitation
Cardio-Oncology