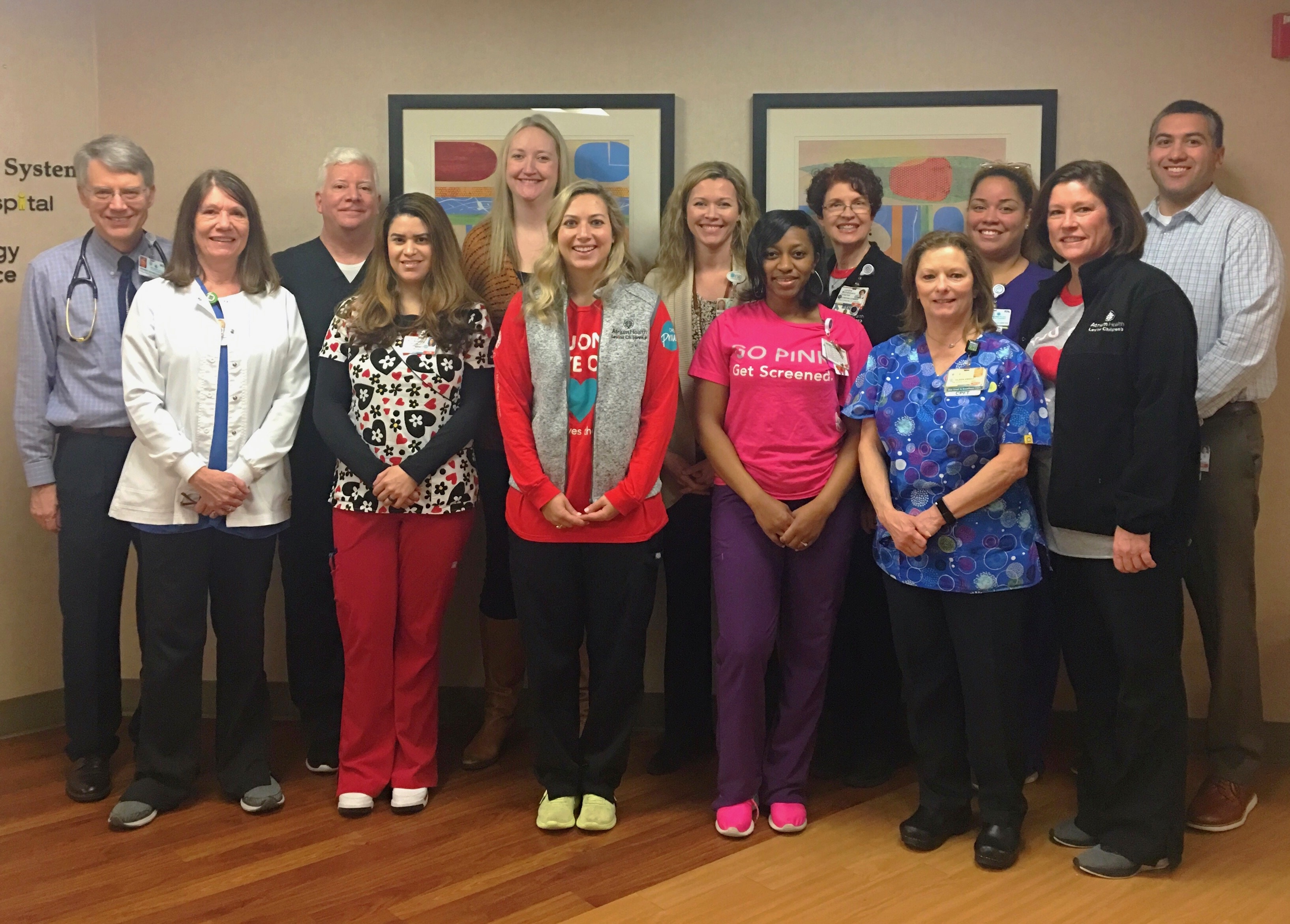 Atrium Health Receives Accreditation by the Cystic Fibrosis Foundation
04.03.2019
Atrium Health News |
Levine Children's
Charlotte, North Carolina, is now home to an officially accredited Cystic Fibrosis Center for children and adults, as recognized by the Cystic Fibrosis Foundation (CFF). An accreditation is recognition of a center that is proven to maintain the strict quality guidelines as identified by the CFF and dedicated to improving the lives of cystic fibrosis patients and families in the community it serves. Among the many criteria to receive this accreditation is a commitment by the care team to continuously strive to improve the care of a patient by giving them better physical, mental, and family health.
"To say accreditation has been a goal of mine would be an understatement," said Ashley Chadha, MD, specialty medical director, pediatric pulmonary and sleep medicine at Levine Children's. "It is why I came to Charlotte. Atrium Health needed a Cystic Fibrosis Center and the patients and families deserved it. I could not be prouder of the hard work and commitment of so many within our team and community to make this happen."
The impact for Levine Children's patients will be immediate and long-lasting as Dr. Chadha and his multidisciplinary team -- which includes a respiratory therapist, registered nurse, dietitian and social work support, along with Dennis Schellhase, MD, center director of the Atrium Health Cystic Fibrosis Program -- build world class clinical care, education and research to support patients with cystic fibrosis. Under the leadership of Daniel Howard, MD, and Ken Coggins, MD, adults with CF will also continue to receive this high level of care as guaranteed by the accreditation.
This nationwide network of more than 130 centers has dedicated healthcare professionals who partner with people living with cystic fibrosis and their families to provide expert cystic fibrosis care and specialized disease management so that people living with the disease can live longer, healthier, more productive lives.
The Cystic Fibrosis Foundation funds and accredits care centers located at teaching and community hospitals across the country. Care centers also participate in clinical research. To maintain this accreditation, each center undergoes a review every year and periodic re-accreditation peer site visits to make sure each care center provides a consistently high standard of care.
With the boost of this accreditation comes an even greater desire for Dr. Chadha to do all he can to help his patients at Levine Children's -- learning from them along the way.
"Cystic fibrosis patients teach us about resilience, dedication, commitment and fight," said Dr. Chadha. "Taking care of them reminds us all that our work is never done and our commitment has to be equally firm and strong to support and see our patients through this battle. I can only hope caring for them makes me a better doctor and person."
About Atrium Health
Atrium Health, previously Carolinas HealthCare System, one of the nation's leading and most innovative healthcare organizations, provides a full spectrum of healthcare and wellness programs throughout the Southeast region. Its diverse network of care locations includes academic medical centers, hospitals, freestanding emergency departments, physician practices, surgical and rehabilitation centers, home health agencies, nursing homes and behavioral health centers, as well as hospice and palliative care services. Atrium Health works to enhance the overall health and well-being of its communities through high-quality patient care, education and research programs, and numerous collaborative partnerships and initiatives.
###