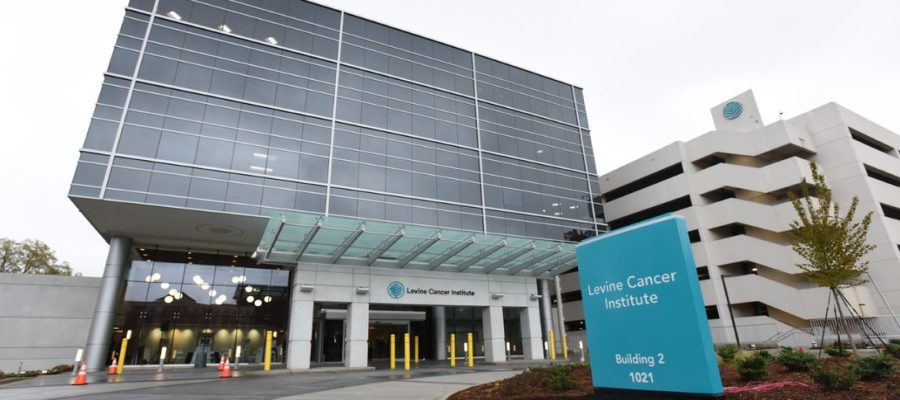 Levine Cancer Institute Expansion Increases Services for Region's Cancer Patients
04.22.2019
Atrium Health News |
Levine Cancer Institute
CHARLOTTE, N.C., April 22, 2019 – Atrium Health's Levine Cancer Institute opened the newest addition to the world-renowned cancer institute: Levine Cancer Institute II (LCI II). This new facility is an extension of the research and academic headquarters in Charlotte and will enhance cancer and hematologic services throughout communities in North Carolina and South Carolina.
The $125 million, 260,000 square-foot building will provide development in several areas of cancer care, including elevated research efforts around innovative treatments, survivorship support programs, palliative care and patient rehabilitation. Additional areas for support include expanded hematologic, thoracic, and gastrointestinal oncology capabilities, a larger pharmacy and infusion area.
By establishing its network on a unique combination of national and regional initiatives to remove obstacles to care, Levine Cancer Institute has become one of the largest cancer programs in the nation, serving more than 17,000 new patients at more than 25 care locations. Due to the institute's unique care model and innovative approaches including virtual tumor boards, proprietary electronically accessible pathways and focus on research and leading-edge treatment, patients in the region have unprecedented access to clinical trials and community-based care such as the nation's first mobile CT unit.
"When Levine Cancer Institute was established in 2010, our mission was to make world class cancer care available to all – no matter where they live," said Derek Raghavan, MD, PhD, president of Levine Cancer Institute. "Today, we are ensuring that many people, who before had little to no access to care, are getting the best possible treatment. With our newly expanded space, we can continue to build on our efforts to create the most advanced therapies and supportive services for patients and their families not just in Charlotte, but for all the communities we serve."
The expanded space allows for:
More research and innovation.

LCI II includes nearly 31,000 square feet dedicated to research which will allow for centralized oncology and hematology research as Levine Cancer Institute continues to invest in the development of clinical trials and other research to make it easier and more convenient for patients to access to groundbreaking therapies.

More efficient care.

With centralized and streamlined nurse and physician stations, Levine Cancer Institute has enhanced its collaborative, interdisciplinary approach to care.

More support.

With the new building comes the opportunity to expand the medical care teams, and

care providers across all disciplines are being added to the Levine Cancer Institute team, which already includes many national leaders in cancer treatment and care.

More capacity for patients.

Combined there will be more than 250 exam rooms and 30 procedure rooms, providing more space to accommodate those who need care. Levine Cancer Institute is now better-equipped than ever to meet the community's need for comprehensive cancer care.
As part of the design process, the Institute's Patient and Family Advisory Council was involved in many key decisions about the building's design and flow. Based on their feedback, LCI II prominently features a chapel as well as a centralized lab and registration process for the entire headquarters. Also, all the infusion isolation bays feature windows and views of the rooftop garden, allowing for natural light and a better patient experience, which aligns to LCI's achievement as the world's first cancer network designated as a Planetree Patient-Centered Organization.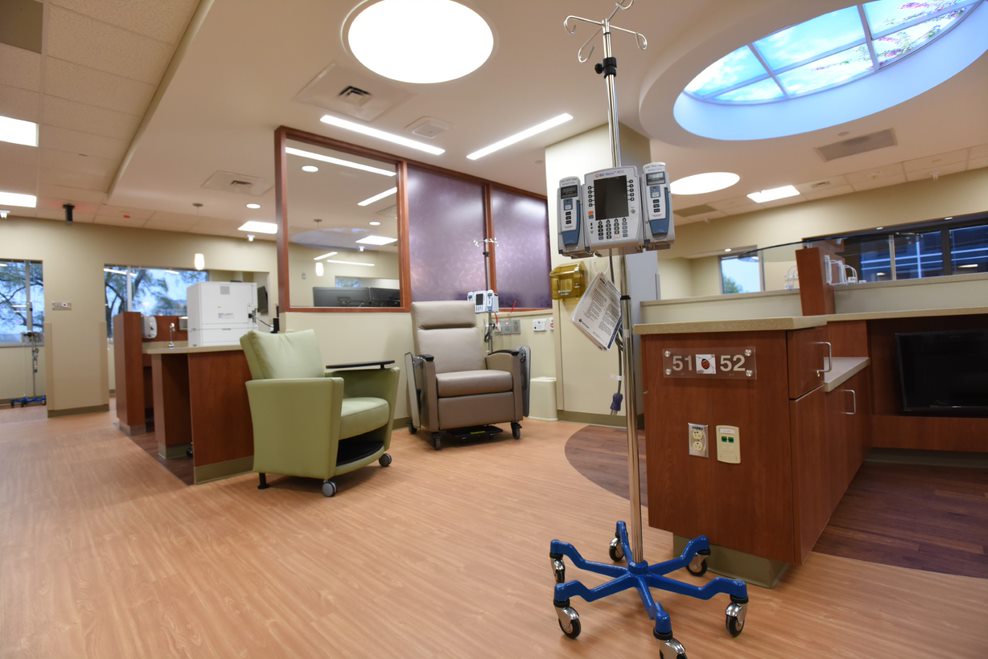 The creation of LCI II was supported by a $25 million commitment from the Leon Levine Foundation. Additional areas of support from the gift include:

$5 million

to enhance operations at LCI, including a 21,000-square-foot renovation.
$20 million

in inpatient renovations at Carolinas Medical Center, including a new 32-bed hematologic unit and renovations to an existing 32,000-square-foot space.

$125 million

to build LCI II, which adds 260,000 square feet to the flagship facility.
"We believe healthcare investments have the power to build thriving and successful communities for generations to come," said Tom Lawrence, Executive Director of The Leon Levine Foundation. "We're excited to celebrate the opening of LCI II, which will undoubtedly make a significant impact on the lives of so many."
Levine Cancer Institute and Levine Cancer Institute II share an address – 1021 Morehead Medical Drive, Charlotte, NC 28204 – and are connected by an above-ground walkway.
For more information, please visit www.levinecancerinstitute.org or email us at LevineCancerInstitute@AtriumHealth.org.
Follow us on social media:
Twitter: @LevineCancer
Facebook: @LevineCancerInstitute
Atrium Health
Atrium Health (formerly Carolinas HealthCare System), one of the nation's leading and most innovative healthcare organizations, provides a full spectrum of healthcare and wellness programs throughout North and South Carolina. Its diverse network of care locations includes academic medical centers, hospitals, freestanding emergency departments, physician practices, surgical and rehabilitation centers, home health agencies, nursing homes and behavioral health centers, as well as hospice and palliative care services. Atrium Health works to enhance the overall health and wellbeing of its communities through high quality patient care, education and research programs, and numerous collaborative partnerships and initiatives. www.atriumhealth.org