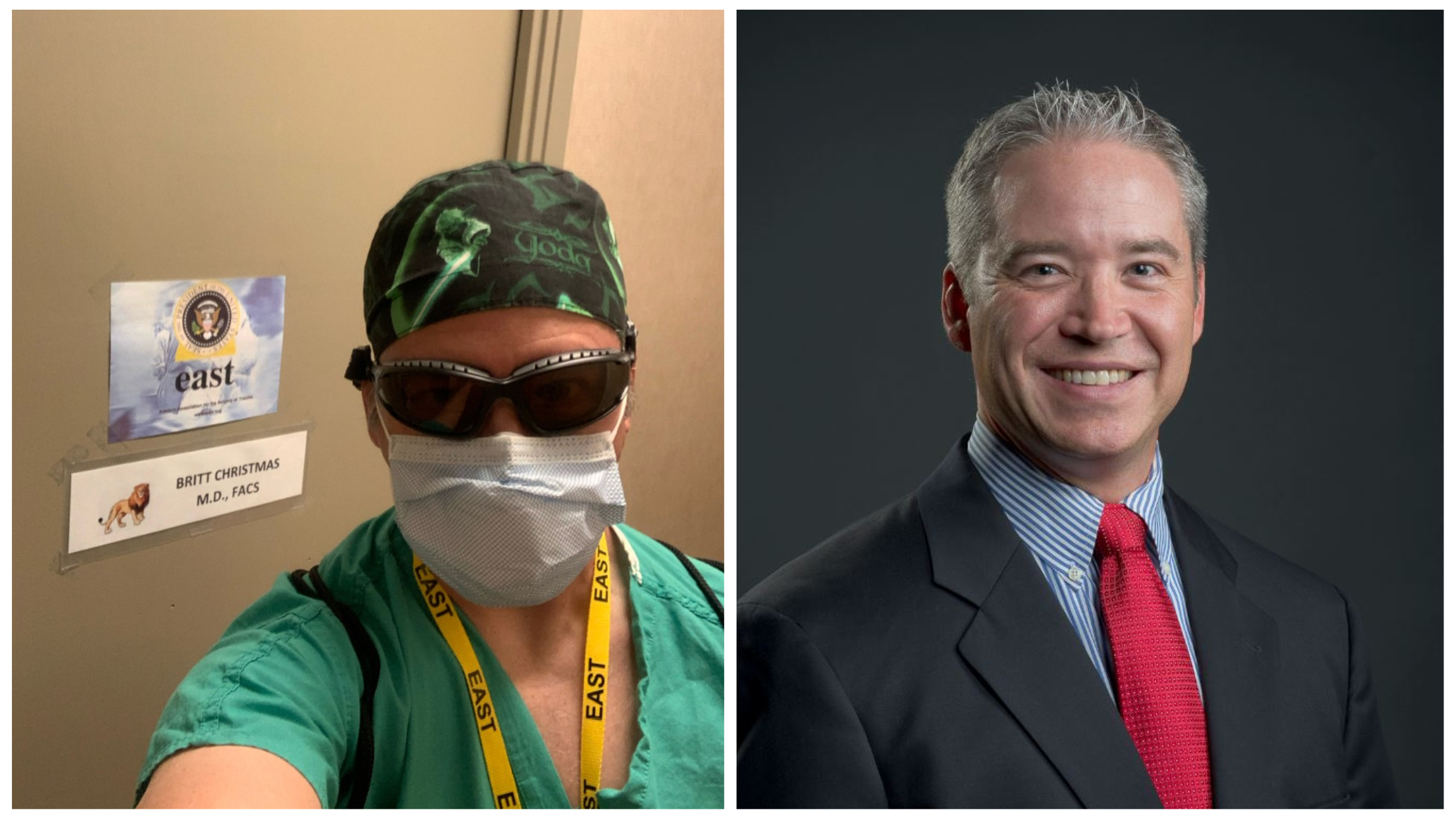 Atrium Health Announces Dr. A. Britton Christmas as Medical Director of Trauma
08.03.2020
Atrium Health News
Atrium Health's Department of Surgery has named Dr. A. Britton Christmas, as medical director of trauma for Atrium Health's Carolinas Medical Center F.H. "Sammy" Ross Jr. Trauma Center. Dr. Christmas brings decades of expertise in trauma and acute care surgery, previously serving as the associate medical director and vice chief of trauma, and co-medical director of pediatric trauma for Atrium Health. Christmas will succeed Dr. David Jacobs, who will retire as medical director and chief of trauma for Atrium Health, positions he has held since 2015. He will continue to serve as interim pediatric trauma co-medical director of Atrium Health Levine Children's Hospital Hemby Pediatric Trauma Center.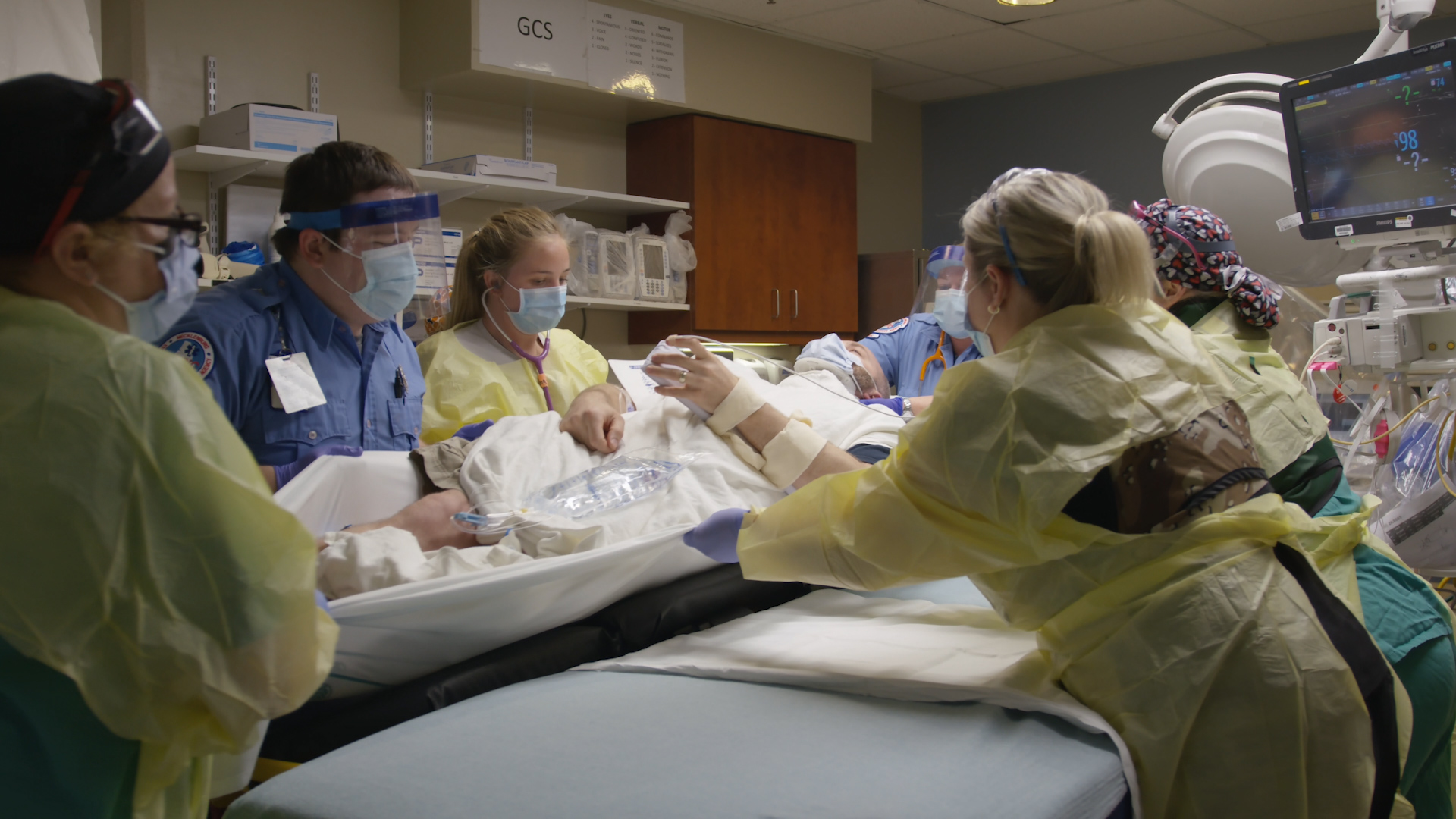 Jacobs has served Atrium Health's Level I trauma center for more than 25 years and founded the Trauma Outcomes Committee in the mid-1990s, which continues today. He has served as the trauma process improvement director for much of his tenure which has thrived over the years, thanks to his leadership and the investments made by Atrium Health. Jacobs was instrumental in Atrium Health's participation in the American College of Surgeons' Trauma Quality Improvement Program where Carolinas Medical Center as become a top performer nationally, achieving trauma mortality and complication rates well below the national average. One of Jacobs' biggest legacies is his role in recruiting and building Atrium Health's current trauma faculty.
"I have been involved in the hiring and recruitment of nearly all of the 14 full-time trauma surgeons and 15 advanced practice providers," says Jacobs. "It is truly rewarding to see how we have grown, and to work alongside the caliber of individuals that I currently have the privilege of working with."
Christmas will oversee all aspects of care for Atrium Health's level 1 trauma center, the only one in Charlotte. Care teams respond 24/7 by air or by ground transport to the most complex forms of traumatic injury. Whether at Carolinas Medical Center, Levine Children's or across other locations, including the Level III trauma centers located at Atrium Health Cabarrus and Atrium Health Cleveland, the trauma teams are equipped to provide complex care for patients across the Carolinas and Georgia.
"Christmas is a compassionate leader with a vision for growth and standardization of care across our trauma divisions," said Brent Matthews, MD, chair of Atrium Health's Department of Surgery. "We are honored to have him lead our team as we continue providing the highest level of comprehensive care for critically injured patients in the region."
Christmas joined the faculty of the trauma center at Carolinas Medical Center in Charlotte, North Carolina in 2006. He also currently serves as adjunct associate professor of surgery for the University of North Carolina at Chapel Hill and as the president of the Eastern Association of Surgical Trauma which is a scientific organization providing leadership and development for young surgeons.
Christmas received his B.A. degree from the University of Virginia in Charlottesville in 1996 and his MD from the University of Louisville School of Medicine in 2000. He completed his internship, residency, and surgical critical care fellowship in the Department of Surgery at the University of Louisville from 2000-2006 where he was inducted into the Alpha Omega Alpha Honor Medical Society. He is board certified by both the American Board of Surgery and the American Board of Surgery – Surgical Critical Care.
"I am truly honored to lead such a talented team of physicians and surgeons at one of the nation's premier trauma centers," Christmas said. "I look forward to continuing to expand our trauma capabilities and serve the patients within our communities."
---
About Atrium Health
Atrium Health is a nationally recognized leader in shaping health outcomes through innovative research, education and compassionate patient care. Headquartered in Charlotte, North Carolina, Atrium Health is an integrated network not-for-profit healthcare system with over 70,000 teammates at nearly 40 hospitals and 900 care locations. With locations throughout the Carolinas as well as Georgia, Atrium Health is a leading-edge innovator in virtual care and mobile medicine. It provides top-ranked pediatric, cancer and heart care to patients, as well as specialized musculoskeletal programs and organ transplants. Ranked among U.S. News & World Report's Best Hospitals in eight different pediatric specialties, it has also received the American Hospital Association's Quest for Quality Prize. Its flagship hospital, Atrium Health's Carolinas Medical Center, is the region's only Level I trauma center and is consistently rated among the nation's best. With a commitment to every community it serves, Atrium Health seeks to improve health, elevate hope and advance healing – for all. Last year alone, Atrium Health provided more than $2.07 billion in free and uncompensated care and other community benefits.