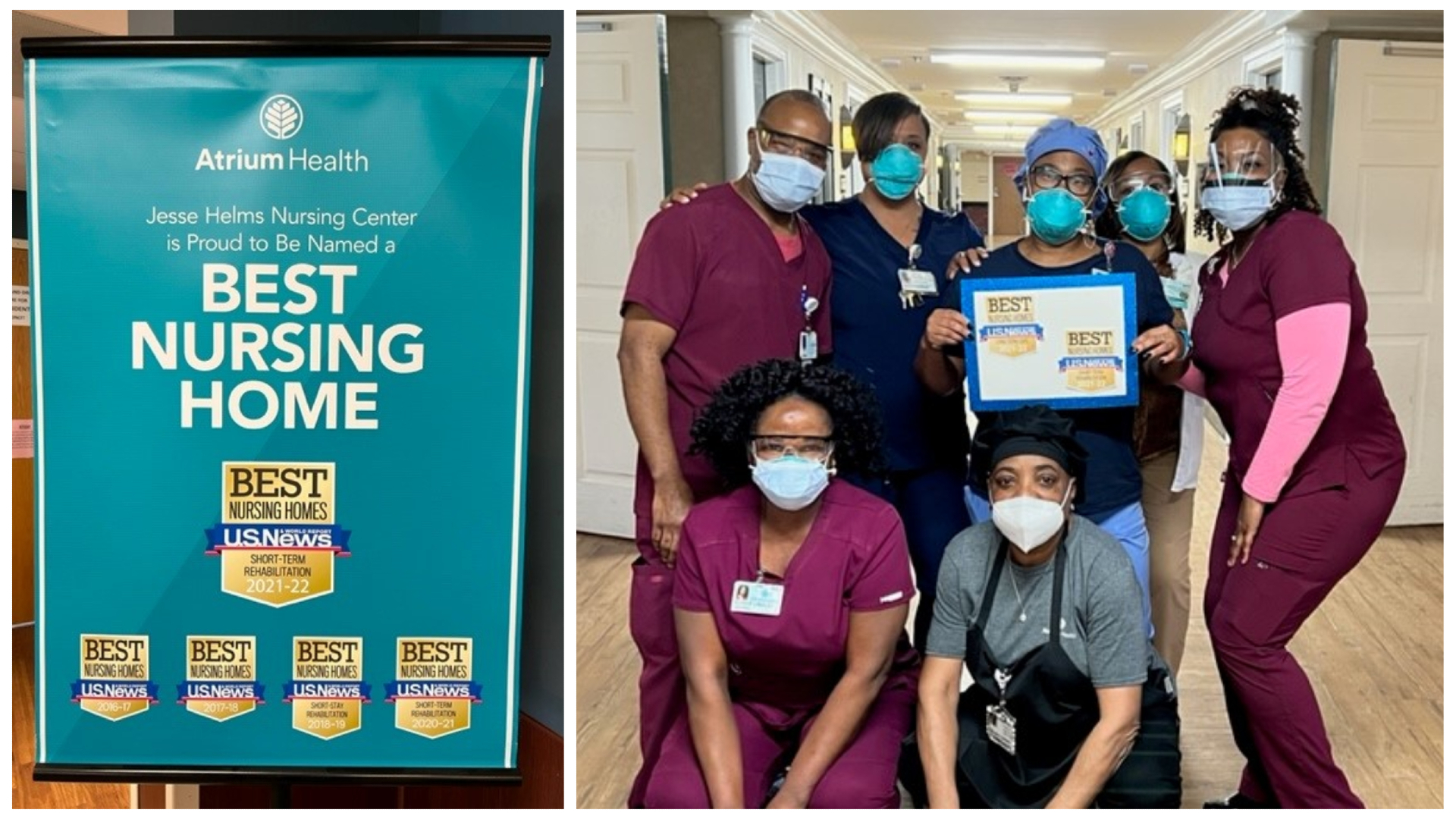 U.S. News & World Report Names Atrium Health Sardis Oaks and Atrium Health Jesse Helms Nursing Center Among Nation's Best Nursing Homes
03.14.2022
Atrium Health News
Atrium Health facilities were among just 13% nationally to achieve high performing status

CHARLOTTE, N.C., Mar. 10, 2022 – Two Atrium Health skilled nursing facilities in the Charlotte region have been recognized among the "Best Nursing Homes" in the nation by U.S. News & World Report. Atrium Health Jesse Helms Nursing Center and Atrium Health Sardis Oaks were recognized by the publication and are among just 13% of U.S. skilled nursing facilities to receive the distinction. 
Sardis Oaks achieved a rating of "high performing," the highest possible rating, in both short-term rehabilitation and long-term care and was one of just 27 from North Carolina's pool of 428 nursing homes to receive a five-star rating. Jesse Helms' "high performing" rating was achieved in short-term rehabilitation. U.S. News gives the designation of Best Nursing Home only to those homes that satisfy its assessment of the appropriate use of key services and consistent performance in quality measures.
"We are grateful for the expertise and experience of our teams who care for our patients and residents, especially in light of the significant challenges of the last two years," said Dr. John Barkley, vice president and chief medical officer, Continuing Care Services, Atrium Health. "The credit for this distinction lies with our care teams – including our physicians, nurses, certified nursing assistants, nutritionists and other specialists – who have worked tirelessly to provide the best possible to some of the most vulnerable in our communities."
U.S. News & World Report evaluates nearly 16,000 skilled nursing facilities (nursing homes) across the United States, annually. The organization creates a calculation that rates the best skilled nursing facilities at 4.5 to 5 stars. This rating is based on each facility's performance over time, calculating key quality care measurements, in conjunction with therapy hours and nursing staff to patient ratios. This time-lapsed measurement makes such a designation for skilled nursing facilities difficult to achieve.
"U.S. News takes pride in providing relevant, up-to-date information when making any sort of health care decision," says Zach Adams, health data engineer at U.S. News. "This important information can help families, residents and caregivers make a decision that keeps safety and accessibility at the highest priority."
Atrium Health Sardis Oaks, which is located in Charlotte, North Carolina, and Atrium Health Jesse Helms Nursing Center, which is located at Atrium Health Union in Monroe, North Carolina, partner with the region's top doctors and specialists to offer outstanding skilled nursing and rehabilitative care by Atrium Health Carolinas Rehabilitation.
Atrium Health Carolinas Rehabilitation was recently named among the top 15 facilities in the nation for rehabilitation and is the only rehabilitation hospital in Charlotte to be given this distinction. As one of the nation's leading – and largest – rehabilitation providers, Atrium Health delivers comprehensive, state-of-the-art care and top outcomes. Backed by Atrium Health's award-winning flagship hospital Atrium Health Carolinas Medical Center, Carolinas Rehabilitation offers an unmatched level of expertise in the Southeast. Board-certified doctors, nurses and therapists specialize in innovative, personalized therapy for common to complex conditions due to injury or illness.
Atrium Health Navicent Baldwin is also listed among the best nursing homes in the nation, having achieved five stars and a "High Performing" rating in Short-Term Rehabilitation. With 360 nursing homes in Georgia, Atrium Health Navicent Baldwin, which is located in Milledgeville, Georgia, was one of just eight in the state who received a five-star rating.
Other Atrium Health highlights from recent U.S. News & World Report's best hospital rankings include:
To learn more about Atrium Health's U.S. News & World Report 2021-2022 rankings, please visit AtriumHealth.org/TheBest.
About Atrium Health 
Atrium Health is a nationally recognized leader in shaping health outcomes through innovative research, education and compassionate patient care. Based in Charlotte, North Carolina, Atrium Health is an integrated, nonprofit health system with more than 70,000 teammates serving patients at 40 hospitals and more than 1,400 care locations. It provides care under the Atrium Health Wake Forest Baptist name in the Winston-Salem, North Carolina, region, as well as Atrium Health Navicent and Atrium Health Floyd in Georgia and Alabama. Atrium Health is renowned for its top-ranked pediatric, cancer and heart care, as well as organ transplants, burn treatments and specialized musculoskeletal programs. A recognized leader in experiential medical education and groundbreaking research, Wake Forest University School of Medicine is the academic core of the enterprise, including Wake Forest Innovations, which is advancing new medical technologies and biomedical discoveries. Atrium Health is also a leading-edge innovator in virtual care and mobile medicine, providing care close to home and in the home. Ranked nationally among U.S. News & World Report's Best Hospitals in eight pediatric specialties and for rehabilitation, Atrium Health has also received the American Hospital Association's Quest for Quality Prize and its 2021 Carolyn Boone Lewis Equity of Care Award, as well as the 2020 Centers for Medicare & Medicaid Services Health Equity Award for its efforts to reduce racial and ethnic disparities in care. With a commitment to every community it serves, Atrium Health seeks to improve health, elevate hope and advance healing – for all, providing more than $2 billion per year in free and uncompensated care and other community benefits.