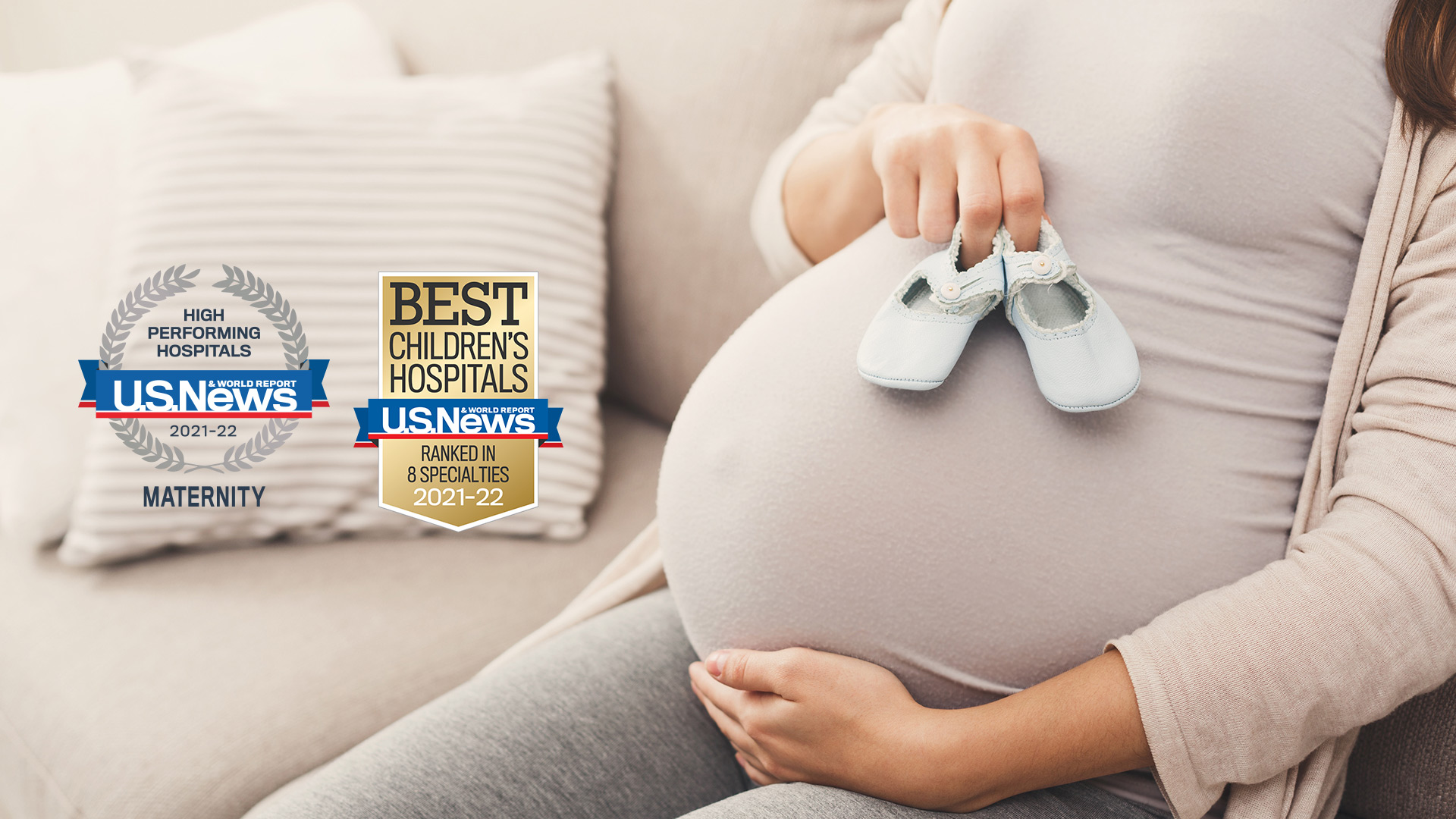 Atrium Health Leads State; Only Hospitals in Region Recognized Among U.S. News & World Report's Best Hospitals for Maternity Awards
12.07.2021
Atrium Health News
Atrium Health Cabarrus, Atrium Health Pineville and Atrium Health Union all rated "High Performing"
CHARLOTTE, N.C., Dec. 7, 2021 – Atrium Health Cabarrus, Atrium Health Pineville and Atrium Health Union are being recognized by U.S. News & World Report in its inaugural "Best Maternity Hospitals"awards. All three hospitals are classified as "High Performing," which is the highest level of achievement possible this year, and considered by U.S. News among the best maternity hospitals in the nation. Atrium Health is the only health system in the region to be recognized by U.S. News for Best Maternity Hospitals and is home to Atrium Health Levine Children's Hospital, named a U.S. News & World Report "Best Children's Hospitals" for 14 consecutive years – making Atrium Health the best choice for moms and babies.
To be recognized as high performing, Atrium Health Cabarrus, Atrium Health Pineville and Atrium Health Union had to excel on multiple quality metrics that matter to expectant families, including complication rates, C-sections, whether births were scheduled too early in pregnancy and how successfully each hospital supported breastfeeding. Only one-third of the hospitals evaluated by U.S. News for maternity care earned the top rating. Atrium Health's three recognized hospitals are more than any other health system and are among only 11 in the state of North Carolina to receive the distinguished high performing designation.

"We are delighted to have three hospitals on U.S. News & World Report's inaugural list of 'Best Maternity Hospitals' and to be included among the best-of-the-best for maternity care," said Dr. Suzanna Fox, enterprise deputy chief physician executive and Atrium Health Women's Care enterprise service line leader. "Our outstanding women's care teams are dedicated to providing the best possible experience for new moms. This award will help expecting families make informed choices – to reassure them they can receive the highest-quality care for their maternity needs at Atrium Health hospitals."
Atrium Health Women's Care prides itself on personalized attention and has the unique privilege of meeting the needs of women where they are in each phase of their life. From general gynecologic care to obstetrics and postpartum support, Atrium Health provides patients with expert care close to home, along with a connection to its specialty services in maternal fetal medicine, gynecologic oncology, reproductive endocrinology, pelvic health and many others.
"All families deserve to be informed on how hospitals perform on key indicators of quality, which is why U.S. News has compiled and published a trove of maternal health data from hospitals across the country," said Ben Harder, managing editor and chief of health analysis at U.S. News & World Report. "The hospitals we've recognized as 'High Performing' meet a high standard in caring for patients with uncomplicated pregnancies."
In addition to this honor, Atrium Health is the only health system recognized by both U.S. News & World Report and Newsweek for the best maternity care, making it the most recognized system for high-quality maternity care in the Charlotte region.
Additional Recognition from U.S. News & World Report
As new parents seek out the best possible care for their newborn child, Atrium Health Levine Children's Hospital is perennially ranked among the Top 50 "Best Children's Hospitals" by U.S. News & World Report. This year, Levine Children's was recognized as being among the best-in-the-nation in eight pediatric specialties.
Earlier this year, Atrium Health Carolinas Medical Center was also recognized by U.S. News & World Report as the "Best Hospital" in the Charlotte metro region for fifth consecutive year. And for the first time, Atrium Health Carolinas Rehabilitation was named among the best-in-the-nation for rehabilitation care as part of the 2020-2021 rankings and is the only rehabilitation hospital in Charlotte to be given this distinction.
About Atrium Health
Atrium Health is a nationally recognized leader in shaping health outcomes through innovative research, education and compassionate patient care. Based in Charlotte, North Carolina, Atrium Health is an integrated, nonprofit health system with more than 70,000 teammates serving patients at 40 hospitals and more than 1,400 care locations. It provides care under the Atrium Health Wake Forest Baptist name in the Winston-Salem, North Carolina, region, as well as Atrium Health Navicent and Atrium Health Floyd in Georgia and Alabama. Atrium Health is renowned for its top-ranked pediatric, cancer and heart care, as well as organ transplants, burn treatments and specialized musculoskeletal programs. A recognized leader in experiential medical education and groundbreaking research,Wake Forest University School of Medicineis the academic core of the enterprise, including Wake Forest Innovations, which is advancing new medical technologies and biomedical discoveries. Atrium Health is also a leading-edge innovator in virtual care and mobile medicine, providing care close to home and in the home. Ranked nationally among U.S. News & World Report's Best Hospitals in eight pediatric specialties and for rehabilitation, Atrium Health has also received the American Hospital Association's Quest for Quality Prize and its 2021 Carolyn Boone Lewis Equity of Care Award, as well as the 2020 Centers for Medicare & Medicaid Services Health Equity Award for its efforts to reduce racial and ethnic disparities in care. With a commitment to every community it serves, Atrium Health seeks to improve health, elevate hope and advance healing – for all, providing more than $2 billion per year in free and uncompensated care and other community benefits.