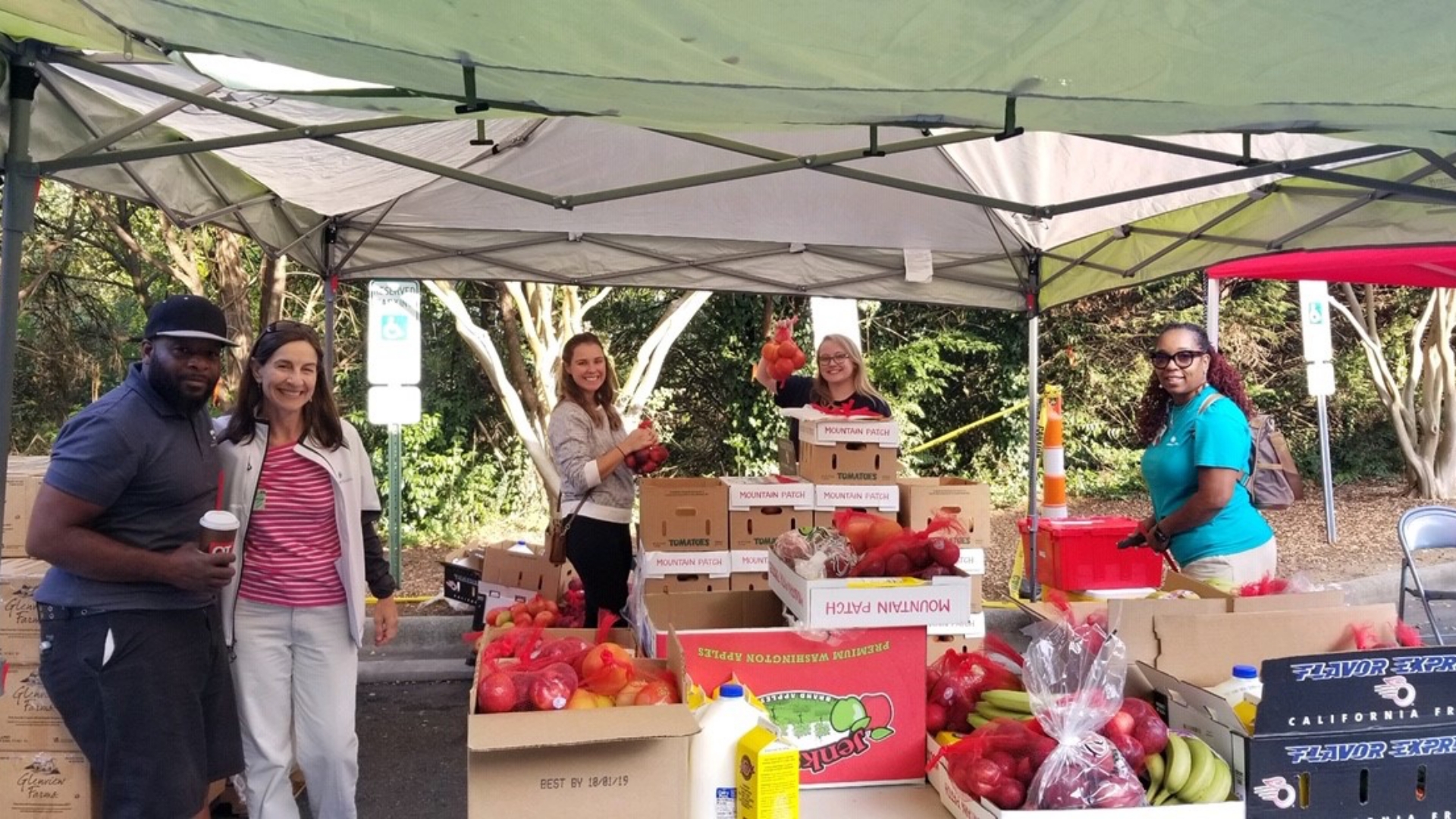 Atrium Health Sets New Record by Providing $2.46 Billion in Community Benefit
06.22.2022
Atrium Health News
Health system ranked among the highest in nation for uncompensated and undercompensated care, as well as other community benefits.
CHARLOTTE, N.C., June 21, 2022 – Atrium Health continues to be the largest provider of community benefit among health systems in the region. New numbers released today show the Atrium Health enterprise returned $2.46 billion in community benefit to the areas it serves in the form of uncompensated and under-compensated care, as well as other community benefits, during its 2021 fiscal year.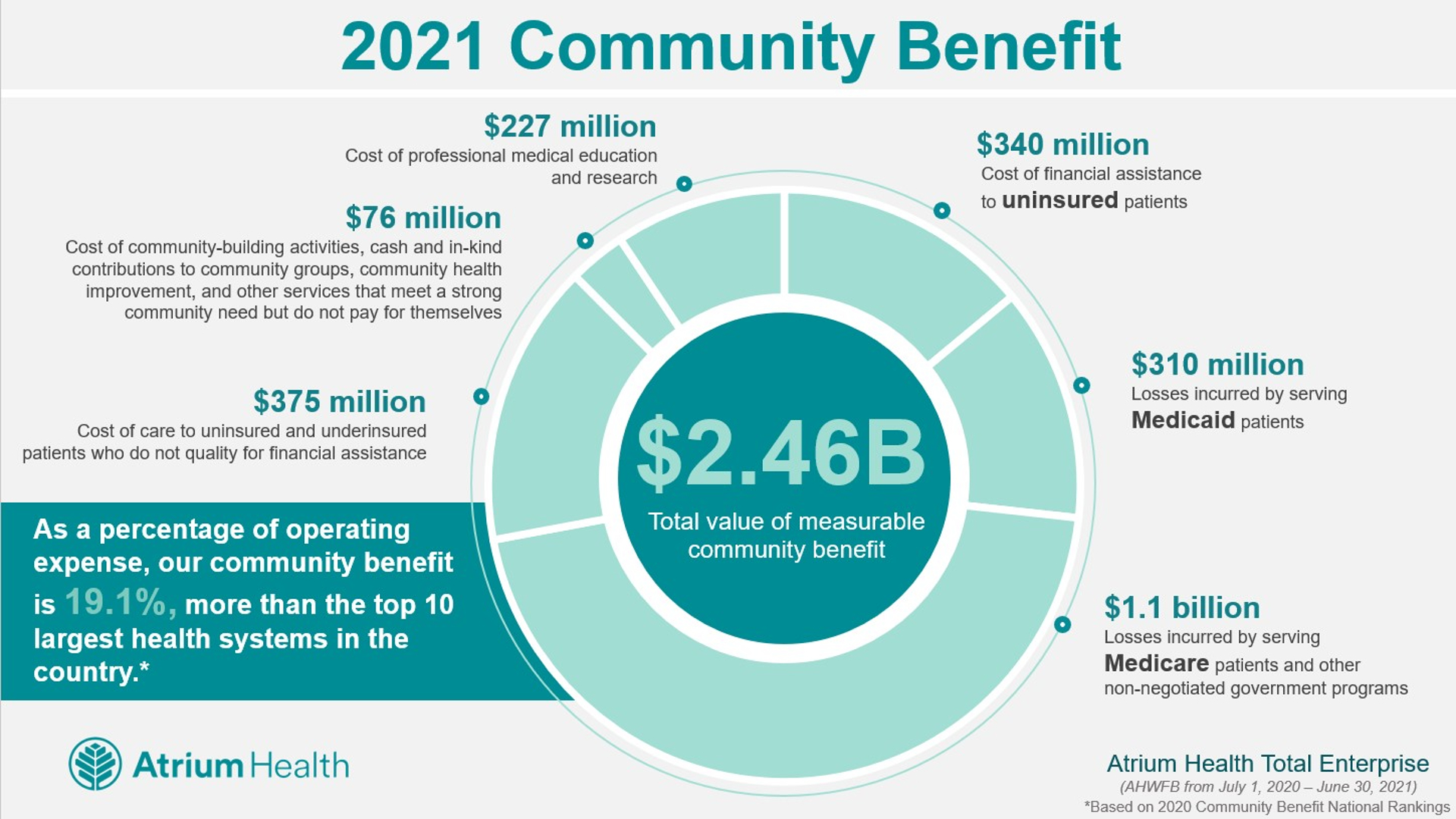 Atrium Health adheres to a "for all" mission, meaning if someone needs medical care, it won't turn them away, regardless of their ability or inability to pay. Its mission goes beyond providing medical care. It also means engaging in improving overall health, helping to address critical life needs like food, housing and economic opportunity.
"Atrium Health is more than just a health system," said Eugene A. Woods, president & CEO of Atrium Health. "We are, first and foremost, a neighbor to more than 7 million people in our service areas, and we pride ourselves on our deep commitment to our communities. Our $2.46 billion in community benefit this past year – a new annual record – has gone toward helping a grandfather who doesn't have health insurance; a mother who needs healthy food to feed her children; a young woman who dreams of becoming a neurosurgeon. The health and well-being of our community is at the heart of everything we do to improve health, elevate hope and advance healing – for all."
The $2.46 billion community benefit number is $160 million higher than the previous year and its highest-ever community benefit number. Atrium Health's community benefit is also among the highest in the nation, representing 19.1% of its total operating expense – greater than the 10 largest health systems in the nation.
To put the community benefit number into context, the amount given back to communities is slightly less than the state of North Carolina's annual budget spending for the Department of Public Safety last year. With roughly 7 million people living in our service areas, $2.46 billion equates to more than $350 per person invested back into the community in uncompensated or under-compensated care and other community benefits.
Hospital systems are paid for providing care to patients on a government-funded health care program, such as Medicare or Medicaid. But, the fact is, the payments received do not cover the actual cost of providing that care. Last year, Atrium Health incurred $1.1 billion in losses serving Medicare patients and other subscribers to non-negotiated government programs and, as the largest Medicaid provider in the state of North Carolina, another $310 million in losses to care for Medicaid patients, due to the non-negotiable rates paid by government payers.
Atrium Health recognizes that not everyone has access to or is eligible for health insurance coverage. Atrium Health has a generous financial assistance program in place designed to help those patients with charity care, discounts and no-interest and low-interest payment options. It often automatically waives bills without the patient even having to ask for it, based on their income – in fact, over 100,000 patients benefit from this each year. An additional 160,000 uninsured patients each year automatically receive an uninsured discount.
Atrium Health provides free charity care to patients who are at or below 200% of the federal poverty level (FPL) and offers substantial discounts to those who are below 400% of the FPL. As part of that, Atrium Health writes off another $340 million of treatment for uninsured patients and $375 million for uninsured or underinsured patients who don't qualify for one of its programs.
Atrium Health is also on the leading edge of community health initiatives and other efforts to combat important issues like affordable housing, combatting hunger and addressing disparities in access to health care. Its involvement across a myriad of issues like these represented an additional $76 million investment back into the communities it serves.
One final element included in the annual community benefit number is something that will be of growing importance within the Atrium Health enterprise as a leading academic medical center: professional medical education and research. Wake Forest University School of Medicine is the academic core of Atrium Health. It will soon open a second campus in The Pearl innovation district in Midtown Charlotte. As that happens and the innovation district comes to life, Atrium Health will be expanding on the $227 million invested last year into training the next generation of medical professionals and searching for new therapies and cures that will improve health, elevate hope and advance healing – for all.
About Atrium Health
Atrium Health is a nationally recognized leader in shaping health outcomes through innovative research, education and compassionate patient care. Based in Charlotte, North Carolina, Atrium Health is an integrated, nonprofit health system with more than 70,000 teammates serving patients at 40 hospitals and more than 1,400 care locations. It provides care under the Atrium Health Wake Forest Baptist name in the Winston-Salem, North Carolina, region, as well as Atrium Health Navicent and Atrium Health Floyd in Georgia and Alabama. Atrium Health is renowned for its top-ranked pediatric, cancer and heart care, as well as organ transplants, burn treatments and specialized musculoskeletal programs. A recognized leader in experiential medical education and groundbreaking research, Wake Forest University School of Medicine is the academic core of the enterprise, including Wake Forest Innovations, which is advancing new medical technologies and biomedical discoveries. Atrium Health is also a leading-edge innovator in virtual care and mobile medicine, providing care close to home and in the home. Ranked nationally among U.S. News & World Report's Best Hospitals in eight pediatric specialties and for rehabilitation, Atrium Health has also received the American Hospital Association's Quest for Quality Prize and its 2021 Carolyn Boone Lewis Equity of Care Award, as well as the 2020 Centers for Medicare & Medicaid Services Health Equity Award for its efforts to reduce racial and ethnic disparities in care. With a commitment to every community it serves, Atrium Health seeks to improve health, elevate hope and advance healing – for all, providing $2.46 billion last year in free and uncompensated care and other community benefits.