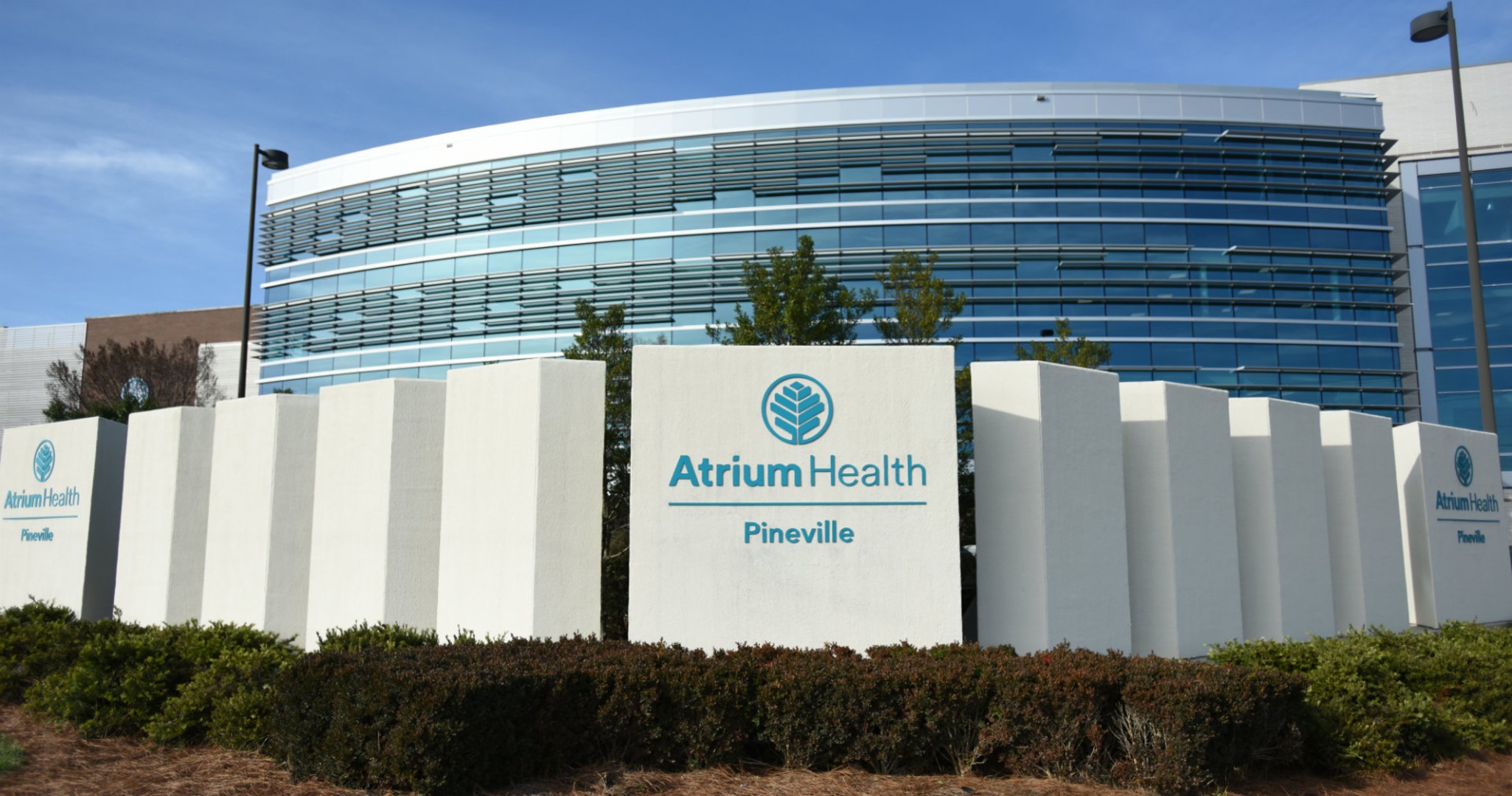 Atrium Health Pineville Honored for its Coronary Bypass Surgery Program
07.21.2022
Atrium Health News
Exclusive and highest rating considered the gold standard for patient care outcomes
CHARLOTTE, N.C., July 21, 2022 – Atrium Health Pineville has earned a distinguished three-star rating – the highest possible designation – from The Society of Thoracic Surgeons (STS) for its patient care and outcomes in coronary artery bypass grafting (CABG) procedures. The rating places Atrium Health Pineville's heart bypass surgery program in the top 20% of programs in the United States and Canada.
CABG is the most common type of heart surgery, with 340,000 cases in the U.S. each year. The surgery is performed to bypass blocked coronary arteries and restore blood flow to the heart, often to save the life of a person following a heart attack.
"This rating is a tribute to our strong partnership with Atrium Health's Sanger Heart and Vascular Institute and the intentional focus of the many teammates and medical staff that support the care of cardiac patients across Atrium Health Pineville," said Alicia R. Campbell, vice president and facility executive of Atrium Health Pineville. "It signifies our leadership and consistent focus on quality to ensure patients reach necessary milestones for the best possible outcomes. It also lets patients in the greater Charlotte and South Carolina regions know they can stay close to home for the best cardiac surgery care."
The STS star rating system is one of the most sophisticated and scientifically validated measures of quality in health care and is considered the gold standard of how heart surgery outcomes are measured. The rating is based on large sets of data, comparing case records and patient outcomes over a 3-year period among different programs. The data includes a wide variety of measures, such as length of time on a ventilator, length of hospital stay, hospital readmission within 30 days of surgery, the need for additional procedures and mortality. About 90% of cardiac surgery programs in the U.S. participate in the rating program.
"Our patients deserve excellence in all aspects of health care," said Dr. Thomas Maxey, interim chair of cardiovascular and thoracic surgery at Sanger Heart & Vascular Institute. "This is particularly true in heart surgery, where the difference can literally mean life or death. This recognition places our coronary artery bypass grafting program at Atrium Health Pineville as the highest-ranking program within 300 miles of Charlotte. It is not only a testament to our world-class cardiac surgeons in Pineville, but the entire team involved in perioperative care."
"Achieving such a designation requires a relentless focus on patient safety and quality care," said Dr. Larry Watts, director of cardiothoracic surgery at Atrium Health Pineville. "This is an outward recognition of the hard work of our team and the processes we have put in place. Everyone on our team should be proud."
The heart surgery program at Atrium Health Pineville has grown steadily in recent years and now performs about 350 heart bypass surgeries each year.
The STS National Database was established in 1989 as an initiative for quality improvement and patient safety among cardiothoracic surgeons. Participation in the database and public reporting demonstrates a commitment to quality improvement in health care delivery and helps provide patients and their families with meaningful information to help them make informed decisions about health care.
Atrium Health Pineville is also ranked as the second-best hospital in the Charlotte region by U.S. News & World Report and joins Atrium Health's Carolinas Medical Center on IBM Watson's Top 50 Cardiovascular Hospitals list four years in a row for its advanced cardiovascular care from Sanger Heart & Vascular Institute.
About Atrium Health
Atrium Health is a nationally recognized leader in shaping health outcomes through innovative research, education, and compassionate patient care. Based in Charlotte, North Carolina, Atrium Health is an integrated, nonprofit health system with more than 70,000 teammates serving patients at 40 hospitals and more than 1,400 care locations. It provides care under the Atrium Health Wake Forest Baptist name in the Winston-Salem, North Carolina, region, as well as Atrium Health Navicent and Atrium Health Floyd in Georgia and Alabama. Atrium Health is renowned for its top-ranked pediatric, cancer and heart care, as well as organ transplants, burn treatments and specialized musculoskeletal programs. A recognized leader in experiential medical education and groundbreaking research, Wake Forest University School of Medicine is the academic core of the enterprise, including Wake Forest Innovations, which is advancing new medical technologies and biomedical discoveries. Atrium Health is also a leading-edge innovator in virtual care and mobile medicine, providing care close to home and in the home. Ranked nationally among U.S. News & World Report's Best Hospitals in eight pediatric specialties and for rehabilitation, Atrium Health has also received the American Hospital Association's Quest for Quality Prize and its 2021 Carolyn Boone Lewis Equity of Care Award, as well as the 2020 Centers for Medicare & Medicaid Services Health Equity Award for its efforts to reduce racial and ethnic disparities in care. With a commitment to every community it serves, Atrium Health seeks to improve health, elevate hope and advance healing – for all, providing $2.46 billion last year in free and uncompensated care and other community benefits.
About The Society of Thoracic Surgeons
The Society of Thoracic Surgeons (STS) is a not-for-profit organization that represents more than 7,600 surgeons, researchers, and allied health care professionals worldwide who are dedicated to ensuring the best possible outcomes for surgeries of the heart, lung, and esophagus, as well as other surgical procedures within the chest. The Society's mission is to enhance the ability of cardiothoracic surgeons to provide the highest quality patient care through education, research, and advocacy.