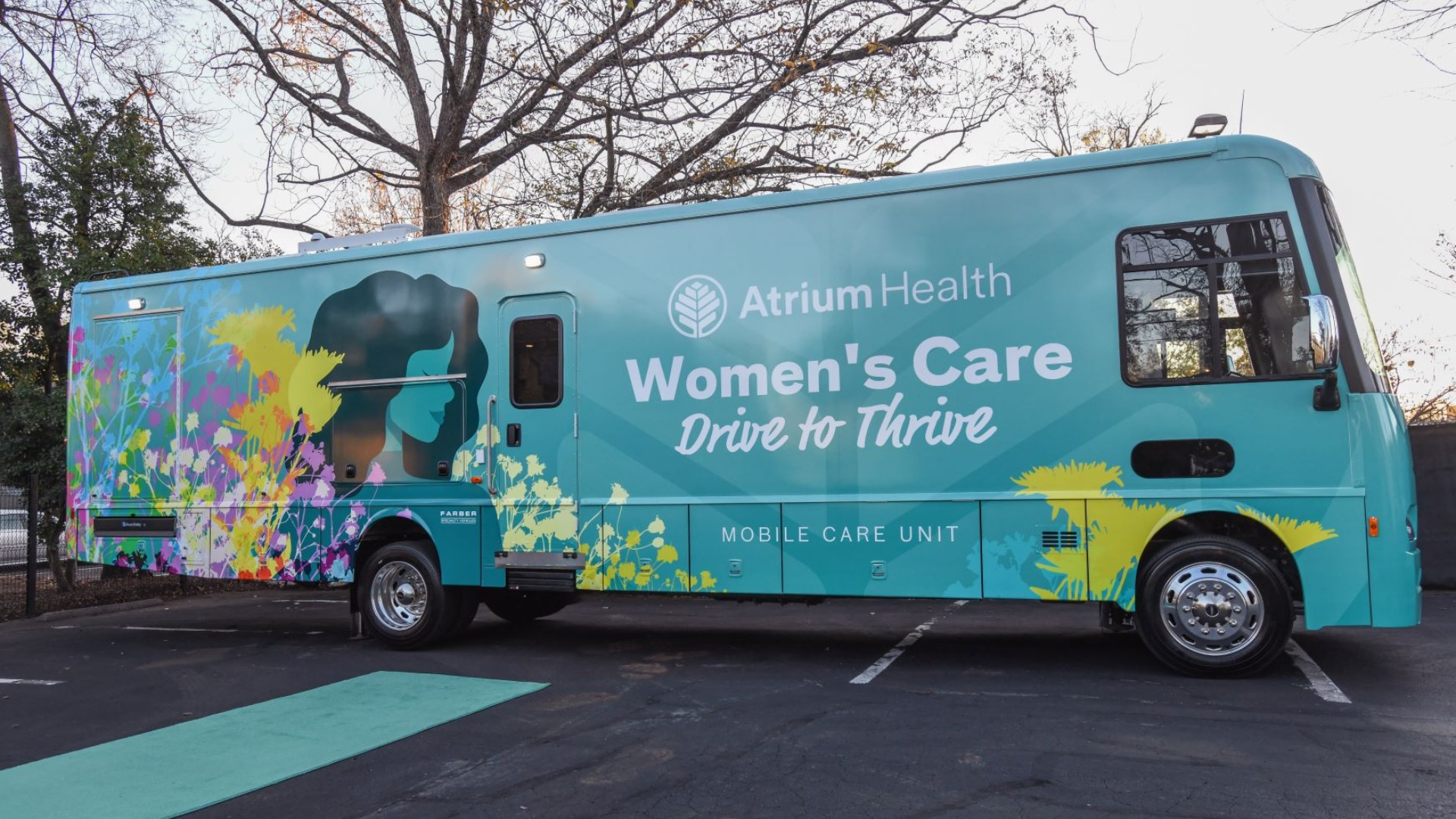 Atrium Health Growing Mobile Medicine Presence with Drive to Thrive Initiative
01.23.2023
Atrium Health News |
Women's Health
"Drive to Thrive" is first-of-its-kind in North Carolina to bring OB-GYN care to underserved populations
CHARLOTTE, N.C., Jan. 23, 2023 – Atrium Health is expanding its mobile services and fleet of mobile medical units to serve its communities in need. The initiative is one of the nation's first mobile units dedicated solely to women's health care, with the goals of decreasing maternal mortality rates and unintended pregnancies by bringing state-of-the-art OB-GYN care to the underserved communities that need it most.

Approximately 1 in 10 newborns in North Carolina are born premature and the state's pre-term birth rate for Black infants is nearly double that of other races and ethnicities. The statewide infant mortality rate is 6.8%, the 11th highest in the nation. Meanwhile, undocumented women in North Carolina deliver more than 10,000 babies per year, with many avoiding care due to fear of deportation.
"Throughout my 30 year career as an OB-GYN, I have witnessed, firsthand, the effects women and their unborn babies face when patients do not receive timely prenatal care," said Dr. Suzanna Fox, deputy chief physician executive and women's health care service line leader for Atrium Health. "Transportation challenges, language barriers and lack of insurance cause many women in underserved communities to delay care or forgo it altogether."
Generous donors Dr. Todd Kopczynski, a retired OB-GYN, and his wife, Barbara, helped fulfill the vision of creating the innovative mobile OB-GYN unit. It provides everything a patient needs for an initial visit, in a warm and welcoming environment. Team members include board-certified OB-GYNs, as well as Spanish-speaking advanced practice providers and social workers. The unit will provide exams to women who seek care and can help with scheduling follow-up appointments at one of the more than 40 Atrium Health Women's Care locations.
"To help more women in underserved communities gain trust in doctors and the overall medical field, the Atrium Health Women's Care team met with nonprofits, churches and other community organizations across the region to learn more about their health care needs," said Fox.
Atrium Health has a variety of mobile health units including two mobile food pharmacies, an Atrium Health Levine Cancer Institute Mobile Lung CT Unit and the Atrium Health MED-1 Mobile Emergency Department. Atrium Health Primary Care is currently building out its mobile health presence and will soon add a third mobile unit to its fleet - one more step to ensuring equitable access to health resources.
Although appointments are not necessary, patients may call 704-468-0137 to make an appointment or request additional information about the Drive to Thrive resources that are available.
Editor's Note: Members of the media are invited to tour the "Drive to Thrive" mobile medical unit at Atrium Health NorthPark OB-GYN, 251 Eastway Drive, in Charlotte, at noon on Tuesday, Jan. 24. Dr. Fox and Dr. Kopczynski will be available for interviews.
---
About Atrium Health
Atrium Health is a nationally recognized leader in shaping health outcomes through innovative research, education and compassionate patient care. Based in Charlotte, North Carolina, Atrium Health is an integrated, nonprofit health system with more than 70,000 teammates serving patients at 40 hospitals and more than 1,400 care locations. Atrium Health is part of Advocate Health, the fifth-largest nonprofit health system in the United States, which was created from the combination with Advocate Aurora Health. It provides care under the Atrium Health Wake Forest Baptist name in the Winston-Salem, North Carolina, region, as well as Atrium Health Navicent and Atrium Health Floyd in Georgia and Alabama. Atrium Health is renowned for its top-ranked pediatric, cancer and heart care, as well as organ transplants, burn treatments and specialized musculoskeletal programs. A recognized leader in experiential medical education and groundbreaking research, Wake Forest University School of Medicine is the academic core of the enterprise, including Wake Forest Innovations, which is advancing new medical technologies and biomedical discoveries. Atrium Health is also a leading-edge innovator in virtual care and mobile medicine, providing care close to home and in the home. Ranked nationally among U.S. News & World Report's Best Hospitals in eight pediatric specialties and for rehabilitation, Atrium Health has also received the American Hospital Association's Quest for Quality Prize and its 2021 Carolyn Boone Lewis Equity of Care Award, as well as the 2020 Centers for Medicare & Medicaid Services Health Equity Award for its efforts to reduce racial and ethnic disparities in care. With a commitment to every community it serves, Atrium Health seeks to improve health, elevate hope and advance healing – for all, providing $2.46 billion last year in free and uncompensated care and other community benefits.