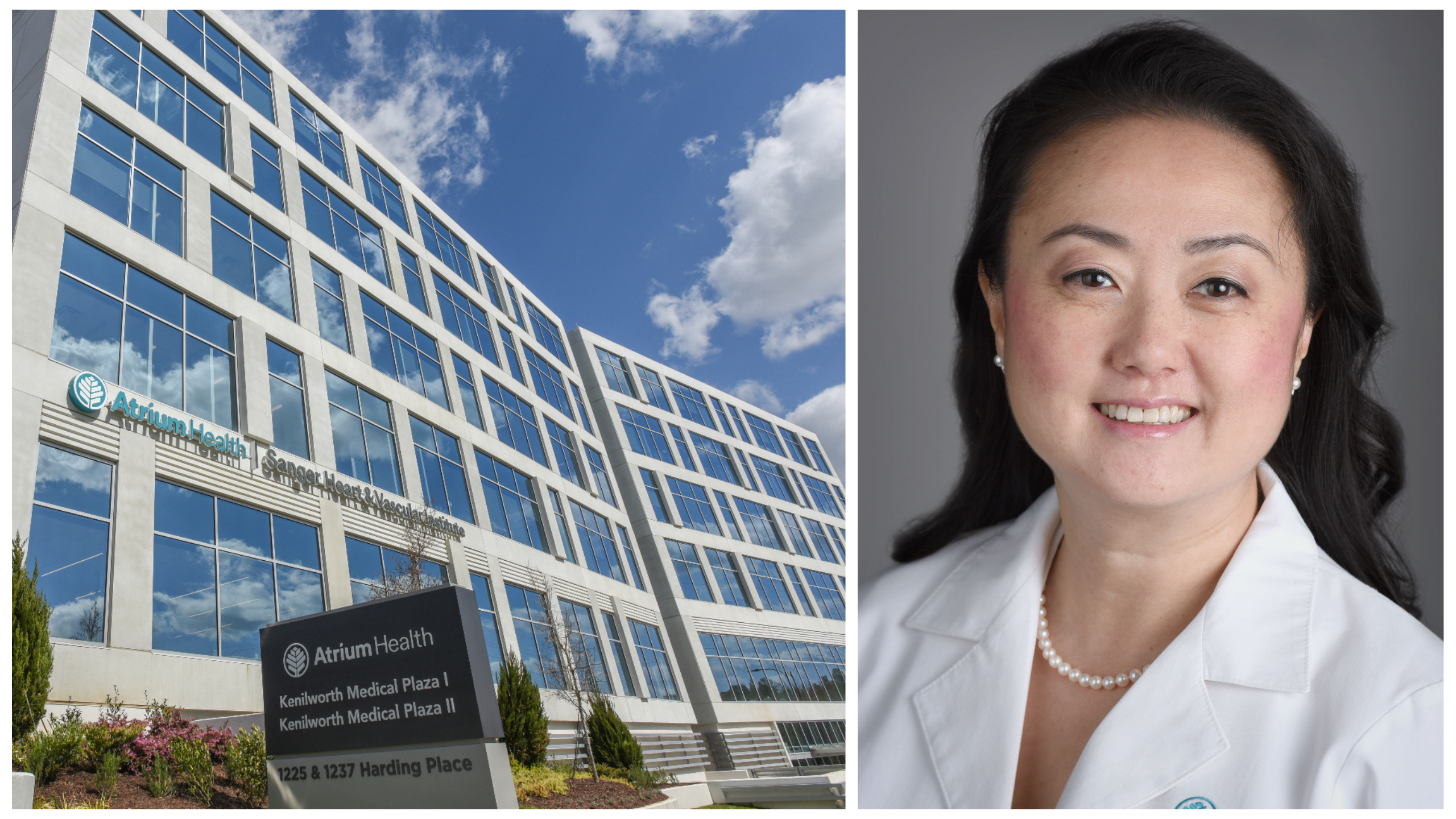 Atrium Health Center for Women's Cardiovascular Health is Region's First
01.03.2023
Atrium Health News |
Sanger Heart & Vascular Institute
Atrium Health Center for Women's Cardiovascular Health is Region's First
Nationally known specialist offers advanced, comprehensive heart care for women of all ages
CHARLOTTE, N.C. January 03, 2023 – Atrium Health Sanger Heart & Vascular Institute has established a Center for Women's Cardiovascular Health, led by Dr. Esther (Soo Hyun) Kim, a nationally known cardiologist and vascular medicine specialist who is an expert in treating spontaneous coronary artery dissection (SCAD) and fibromuscular dysplasia (FMD).
The new center is the first in the greater Charlotte region to offer expertise in SCAD and FMD, important causes of heart attack and stroke in women. In addition, Kim and colleagues will care for women with the full range of heart and vascular disease concerns. These include heart attacks and aneurysms, as well as patients at high risk for heart disease due to family history or risk factors affected by lifestyle, such as high blood pressure and high cholesterol. The center will also formalize the management of pregnant women with heart disease and provide care for those who are identified as high-risk for future heart disease due to risk factors identified during pregnancy, such as a pre-eclampsia and gestational diabetes.
"Atrium Health Sanger Heart & Vascular Institute is special in many ways," said Kim. "It is on the cutting edge of cardiovascular imaging, has nationally recognized expertise in multiple cardiovascular procedures and is recognized as an innovator in the way it delivers heart and vascular care. Sanger Heart & Vascular Institute has all the components necessary to treat a wide range of common cardiovascular diseases, but it is also exceedingly prepared to care for patients with more uncommon cardiovascular diseases, such as SCAD and FMD."
FMD is a disease of blood vessels caused by abnormal cell development in the walls of arteries, leading to arterial blockages, tears and aneurysms. It can cause a heart attack, stroke or high blood pressure. It is different from other heart problems that result from plaque buildup in the arteries. It's also not due to blood vessel inflammation or blood clots.
SCAD, which is a tear in a heart vessel, is an uncommon cause of heart attacks overall, but it accounts for about 40% of heart attacks in women under age 50. Women account for 90% of SCAD patients. Many patients with SCAD also have a vascular disorder, including FMD. Kim leads the largest multi-center registry for SCAD patients in the country, which currently enrolls patients from more than 20 sites.
"Most of my SCAD patients are women in their mid-40s to 60s who have no other cardiac risk factors," said Kim. "It's a rare disease and many patients have never met anyone else with the same diagnosis. It's very meaningful work to care for them."
Proper diagnosis of SCAD is crucial, as the treatment of heart attack from SCAD is very different from heart attack due to blockages from cholesterol plaque. While patients who experience a heart attack from cholesterol plaque blockage are best treated with angioplasty and stent, most stable patients who experience a heart attack from SCAD will do best with medical therapy and time to allow their arteries to heal.
Another major focus of the new clinic will be caring for women who have complicated pregnancies with such conditions as hypertension and gestational diabetes that put them at risk of future heart attacks and stroke. The center will benefit from collaboration with Dr. Kelecia Brown, an OB-GYN specializing in high-risk maternal and fetal medicine at Atrium Health Women's Institute, Dr. Jorge Alegria, a congenital cardiologist at Atrium Health Levine Children's HEARTest Yard Congenital Heart Center, Dr. Ashleigh Meiers, an adult cardiologist at Sanger Heart and Vascular Institute with a special interest in the field of cardio-obstetrics and Dr. Michael Shapiro, a nationally recognized preventive cardiologist at Atrium Health Wake Forest Baptist This team of experts will be able to provide comprehensive cardiovascular care for women across the disease spectrum, from those who may be at risk of heart disease to women with known heart disease from common and rare causes. A multidisciplinary approach will be taken for pregnant patients with known heart disease to develop individual care plans to support safe delivery and continued care for the mother post-delivery.
"Atrium Health has a culture that fosters teamwork and innovation," said Dr. Suzanna Fox, Atrium Health's deputy chief physician executive and women's care service line leader. "Through the personalized and collaborative approach between our providers within women's care and the Center for Women's Cardiovascular Health, we can ensure an advanced level of care for mothers-to-be in our communities."
According to Kim, these patients need to be followed in the "fourth" trimester, after giving birth. Kim adds that Black women have an especially higher incidence of heart problems following complicated pregnancies.
Women nationwide are diagnosed with heart disease and treated at a later stage than men. With the new center's focus on the needs of female patients, the goal is to eliminate that discrepancy and provide timely care.
"We developed the new Center for Women's Cardiovascular Health to ensure that women in our region are receiving the best care for cardiovascular disorders, both in terms of prevention and treatment," said Dr. Geoffrey Rose, president of Atrium Health Sanger Heart & Vascular Institute. "We are thrilled that Dr. Kim has joined us and we are excited about what the new center will mean for our patients."
Kim recently joined Atrium Health Sanger Heart & Vascular Institute after serving for six years at Vanderbilt University Medical Center, where she was a professor of medicine in cardiovascular medicine. Before that, she spent 11 years at the Cleveland Clinic, where she did fellowships in both cardiology and vascular medicine and was a staff physician in cardiology and vascular medicine. She did her residency in internal medicine at The Johns Hopkins Hospital.
---
About Atrium Health
Atrium Health is a nationally recognized leader in shaping health outcomes through innovative research, education and compassionate patient care. Based in Charlotte, North Carolina, Atrium Health is an integrated, nonprofit health system with more than 70,000 teammates serving patients at 40 hospitals and more than 1,400 care locations. Atrium Health is part of Advocate Health, the fifth-largest nonprofit health system in the United States, which was created from the combination with Advocate Aurora Health. It provides care under the Atrium Health Wake Forest Baptist name in the Winston-Salem, North Carolina, region, as well as Atrium Health Navicent and Atrium Health Floyd in Georgia and Alabama. Atrium Health is renowned for its top-ranked pediatric, cancer and heart care, as well as organ transplants, burn treatments and specialized musculoskeletal programs. A recognized leader in experiential medical education and groundbreaking research, Wake Forest University School of Medicine is the academic core of the enterprise, including Wake Forest Innovations, which is advancing new medical technologies and biomedical discoveries. Atrium Health is also a leading-edge innovator in virtual care and mobile medicine, providing care close to home and in the home. Ranked nationally among U.S. News & World Report's Best Hospitals in eight pediatric specialties and for rehabilitation, Atrium Health has also received the American Hospital Association's Quest for Quality Prize and its 2021 Carolyn Boone Lewis Equity of Care Award, as well as the 2020 Centers for Medicare & Medicaid Services Health Equity Award for its efforts to reduce racial and ethnic disparities in care. With a commitment to every community it serves, Atrium Health seeks to improve health, elevate hope and advance healing – for all, providing $2.46 billion last year in free and uncompensated care and other community benefits.