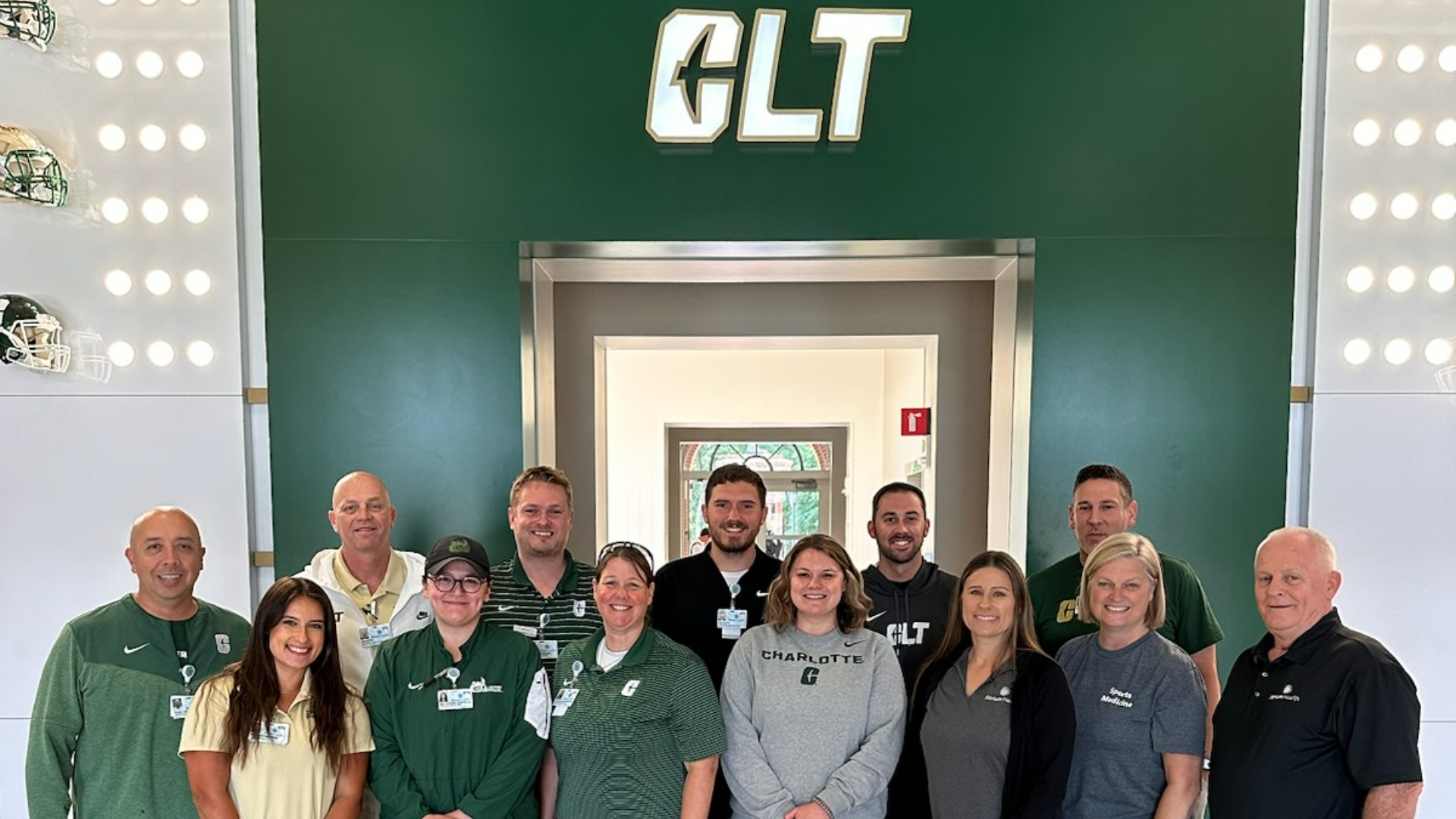 Atrium Health Partners with UNC Charlotte 49ers to Provide Extensive Sports Medical Services
06.29.2023
Atrium Health News |
Musculoskeletal Institute
Atrium Health to expand athletic trainer and physician services
CHARLOTTE, N.C., June 29, 2023 – To ensure student-athletes have access to high-quality, nationally recognized orthopedic and sports medicine services, the University of North Carolina at Charlotte athletic department and Atrium Health have joined forces to provide a variety of sports medicine services along with health and wellness programs for student-athletes. The collaboration includes embedded certified athletic trainers, sports nutritionists, physical therapists and associated physician and provider coverage. Atrium Health is the official health care provider for the Charlotte 49ers and is proud of its long-time dedication to the health of the school's student-athletes.
Through the partnership, which became effective June 1, 2023, Atrium Health will expand its exclusive athletic training offerings to the university for all sports. The goal of the new agreement is to further enhance the athletic experience and to promote the safety of student-athletes through additional providers and services. Historically, Atrium Health provided athletic trainers, a team physician, sports nutritionists, physical therapy and event medicine coverage. Enhanced services include: 15 athletic trainers by the fall of 2024; physical therapy; access to two sports nutritionists for performance; a team physician; clinical navigation; and event medicine, including CPR training.
"The university's partnership with Atrium Health is transformational for our program," said Mike Hill, Charlotte 49ers' director of athletics. "We are committed to the health and wellness of our student-athletes and Atrium Health delivers in a myriad of ways. To be able to offer our student-athletes extensive sports medicine services, including expanded sport coverage and expertise in physical therapy and sport nutrition is vital to the ongoing health and safety of our athletes."
The well-orchestrated team of orthopedic and sports medicine specialists at Atrium Health will continue to provide comprehensive care to help student-athletes stay on top of their game. Dr. Anthony Martin, a sports medicine physician at Atrium Health Musculoskeletal Institute, and Dr. Robert Jones, a sports medicine specialist at Atrium Health Musculoskeletal Institute, will serve as the Charlotte 49ers' team physicians.
"Our continued partnership with the Charlotte 49ers is part of our mission to provide unparalleled musculoskeletal care to student-athletes," said Dr. Claude T. Moorman III, president of Atrium Health Musculoskeletal Institute. "We take care of athletes at all levels, from those in recreational sports to pros in the Carolinas and beyond and are honored that the Charlotte 49ers rely on us to provide them with the best sports medicine care on the sidelines, in the athletic training room and in our facilities."
As one of the nation's largest programs, Atrium Health provides sports medicine care to more than 20 professional and collegiate teams and more than 100 high schools across the Southeast. Learn more about Atrium Health Musculoskeletal Institute and how Atrium Health provides health care services to athletes across the Carolinas.
---
About Atrium Health
Atrium Health is a nationally recognized leader in shaping health outcomes through innovative research, education and compassionate patient care. Based in Charlotte, North Carolina, Atrium Health is part of Advocate Health, the third-largest nonprofit health system in the United States, which was created from the combination with Advocate Aurora Health. A recognized leader in experiential medical education and groundbreaking research, Wake Forest University School of Medicine is its academic core. Atrium Health is renowned for its top-ranked pediatric, cancer and heart care, as well as organ transplants, burn treatments and specialized musculoskeletal programs Atrium Health is also a leading-edge innovator in virtual care and mobile medicine, providing care close to home and in the home. Ranked nationally among U.S. News & World Report's Best Hospitals in eight pediatric specialties and for rehabilitation, Atrium Health has also received the American Hospital Association's Quest for Quality Prize and its 2021 Carolyn Boone Lewis Equity of Care Award, as well as the 2020 Centers for Medicare & Medicaid Services Health Equity Award for its efforts to reduce racial and ethnic disparities in care. With a commitment to every community it serves, Atrium Health seeks to improve health, elevate hope and advance healing – for all, providing $2.46 billion last year in free and uncompensated care and other community benefits.
About Advocate Health
Advocate Health is the third-largest nonprofit integrated health system in the United States – created from the combination of Advocate Aurora Health and Atrium Health. Providing care under the names Advocate Health Care in Illinois, Atrium Health in the Carolinas, Georgia and Alabama, and Aurora Health Care in Wisconsin, Advocate Health is a national leader in clinical innovation, health outcomes, consumer experience and value-based care, with Wake Forest University School of Medicine serving as the academic core of the enterprise. Headquartered in Charlotte, North Carolina, Advocate Health serves nearly 6 million patients and is engaged in hundreds of clinical trials and research studies. It is nationally recognized for its expertise in cardiology, neurosciences, oncology, pediatrics and rehabilitation, as well as organ transplants, burn treatments and specialized musculoskeletal programs. Advocate Health employs nearly 150,000 team members across 67 hospitals and over 1,000 care locations and offers one of the nation's largest graduate medical education programs with over 2,000 residents and fellows across more than 200 programs. Committed to equitable care for all, Advocate Health provides nearly $5 billion in annual community benefits.
###