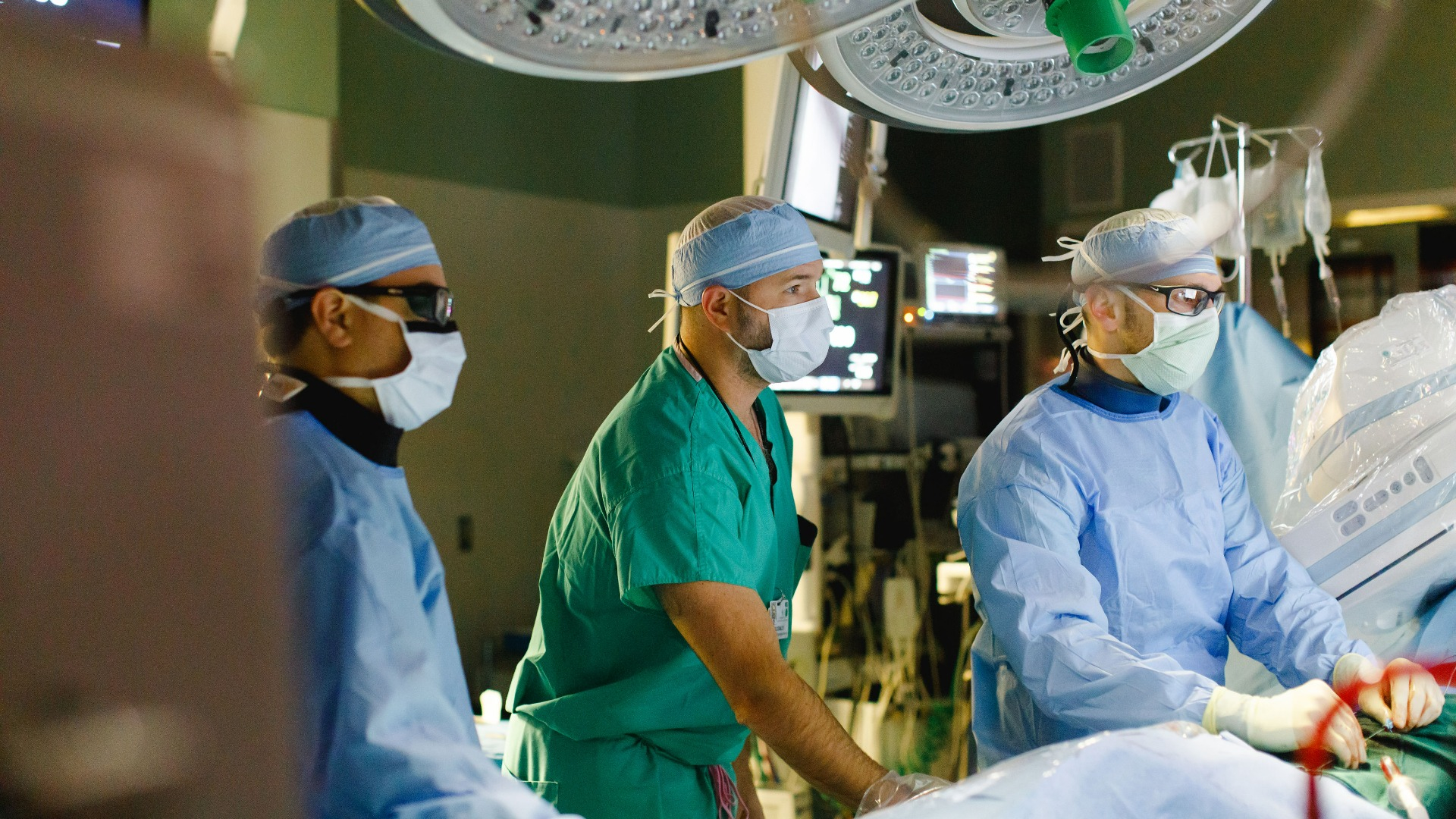 Atrium Health Cardiac Surgery Outcomes Among the Best in the Nation
07.03.2023
Atrium Health News |
Sanger Heart & Vascular Institute
Exclusive and highest rating is considered the gold standard for patient care outcomes
CHARLOTTE, N.C., July 3, 2023 – Atrium Health Carolinas Medical Center and Atrium Health Pineville have earned the prestigious three-star rating – the pinnacle of achievement – from The Society of Thoracic Surgeons (STS) for cardiac surgery outcomes in coronary artery bypass grafting (CABG) procedures and mitral valve replacement and repair (MVRR). These ratings place Atrium Health Sanger Heart & Vascular Institute's cardiac surgery program in the top 10-15% of programs in the United States and Canada.
Approximately 300,000 adult cardiac surgery procedures are performed each year in the U.S. These procedures include CABG to bypass blocked coronary arteries and restore blood flow to the heart, often to save the life of a person following a heart attack. MVRR are procedures used to treat diseases of the mitral valve, one of the four valves that control blood flow in the heart. The mitral valve helps blood move from one part of the heart (the left atrium) to another (the left ventricle) and stops it from going back the wrong way when the heart beats.
"This rating is a tribute to our strong partnership with Atrium Health Sanger Heart & Vascular Institute and the intentional focus of the many teammates and medical staff that support the care of cardiac patients across the region," said Dr. Gary Little, a senior vice president at Atrium Health and the chief medical officer of its Charlotte market. "It signifies our leadership and consistent focus on quality to ensure patients reach necessary milestones for the best possible outcomes. It also lets patients throughout our service area know they can stay close to home for the best cardiac surgery care."
Atrium Health Carolinas Medical Center and Atrium Health Pineville both earned the highest ratings for CABG procedures, while Carolinas Medical Center also received the highest rating for MVRR.
The STS star rating system is one of the most sophisticated and scientifically validated measures of quality in health care and is considered the gold standard of how heart surgery outcomes are measured. The rating is based on large sets of data, comparing case records and patient outcomes over a three-year period among different programs. The data includes a wide variety of measures, such as length of time on a ventilator, length of hospital stay, hospital readmission within 30 days of surgery, the need for additional procedures and mortality. About 95%-98% of cardiac surgery programs in the U.S. participate in the STS rating program.
"Exemplary health care is a fundamental expectation for every patient we serve," said Dr. John R. Frederick, chief of cardiovascular surgery at Atrium Health Sanger Heart & Vascular Institute. "In cardiac surgery, this emphasis on excellence takes on greater significance as we're dealing with procedures that can directly affect a patient's survival. This distinguished recognition serves as a testament to the unparalleled expertise of our cardiac surgeons and the comprehensive, multidisciplinary team involved in ensuring the highest standards of care."
In 2022, Atrium Health Sanger Heart & Vascular Institute completed 59 mitral valve replacement surgeries and performed 497 heart bypass procedures. At Atrium Health, CABG and MVRR procedures are performed at Carolinas Medical Center, Atrium Health Pineville and Atrium Health Cabarrus.
"Earning this honor is a testament to our unwavering commitment to patient safety and high-quality care," said Dr. Larry Watts, director of cardiothoracic surgery at Atrium Health Pineville. "It's an external acknowledgment of our team's tireless efforts and the effective strategies we've established. Our entire team should feel a sense of pride in this achievement."
In 2018, thanks to a $1.1 million grant award from The Duke Endowment, Atrium Health Sanger Heart & Vascular Institute launched the Perfect Care Program, a digital patient monitoring platform that has greatly improved the efficiency and effectiveness of virtual care for cardiac patients after surgery. This has resulted in less hospital time, significantly reduced readmission rates and improved patient adherence to medication instructions – outcomes that are part of STS data collection and used for measurement of the three-star rating. Since 2019, the Perfect Care Program has served more than 1,300 patients in Charlotte and the surrounding region.
"There is no question that Perfect Care should be the standard going forward for patients who are undergoing complex surgical care, especially in the cardiovascular space," said Frederick.
---
About Atrium Health
Atrium Health is a nationally recognized leader in shaping health outcomes through innovative research, education and compassionate patient care. Based in Charlotte, North Carolina, Atrium Health is part of Advocate Health, the third-largest nonprofit health system in the United States, which was created from the combination with Advocate Aurora Health. A recognized leader in experiential medical education and groundbreaking research, Wake Forest University School of Medicine is its academic core. Atrium Health is renowned for its top-ranked pediatric, cancer and heart care, as well as organ transplants, burn treatments and specialized musculoskeletal programs Atrium Health is also a leading-edge innovator in virtual care and mobile medicine, providing care close to home and in the home. Ranked nationally among U.S. News & World Report's Best Hospitals in eight pediatric specialties and for rehabilitation, Atrium Health has also received the American Hospital Association's Quest for Quality Prize and its 2021 Carolyn Boone Lewis Equity of Care Award, as well as the 2020 Centers for Medicare & Medicaid Services Health Equity Award for its efforts to reduce racial and ethnic disparities in care. With a commitment to every community it serves, Atrium Health seeks to improve health, elevate hope and advance healing – for all, providing $2.46 billion last year in free and uncompensated care and other community benefits.
About Advocate Health
Advocate Health is the third-largest nonprofit integrated health system in the United States – created from the combination of Advocate Aurora Health and Atrium Health. Providing care under the names Advocate Health Care in Illinois, Atrium Health in the Carolinas, Georgia and Alabama, and Aurora Health Care in Wisconsin, Advocate Health is a national leader in clinical innovation, health outcomes, consumer experience and value-based care, with Wake Forest University School of Medicine serving as the academic core of the enterprise. Headquartered in Charlotte, North Carolina, Advocate Health serves nearly 6 million patients and is engaged in hundreds of clinical trials and research studies. It is nationally recognized for its expertise in cardiology, neurosciences, oncology, pediatrics and rehabilitation, as well as organ transplants, burn treatments and specialized musculoskeletal programs. Advocate Health employs nearly 150,000 team members across 67 hospitals and over 1,000 care locations and offers one of the nation's largest graduate medical education programs with over 2,000 residents and fellows across more than 200 programs. Committed to equitable care for all, Advocate Health provides nearly $5 billion in annual community benefits.
###