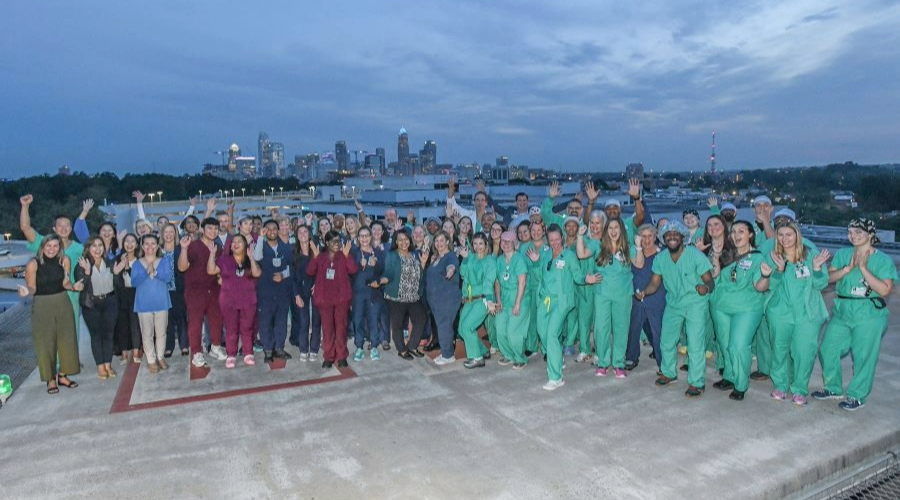 The Joint Commission Recertifies Atrium Health with Gold Seal of Approval®
10.24.2023
Atrium Health News
Atrium Health is home to two of 15 centers nationally to receive spine surgery distinction
CHARLOTTE, N.C., Oct. 24, 2023 – Atrium Health Carolinas Medical Center was awarded recertification of The Joint Commission's Gold Seal of Approval® for Advanced Certification in Spine Surgery by demonstrating continuous compliance with its performance standards. Only 15 hospitals in the U.S. currently hold this prestigious designation in spine surgery. In addition to Carolinas Medical Center, which was first awarded in 2021, Atrium Health Cabarrus also received the designation in 2022.
The Gold Seal is a symbol of quality that reflects a health care organization's commitment to providing safe and quality patient care. The independent, not-for-profit The Joint Commission is the nation's oldest and largest standards-setting and accrediting body in health care.
Atrium Health and Carolina Neurosurgery & Spine Associates (CNSA) partnered in this achievement which, in 2021, established SpineFirst to elevate the delivery of spine care. The goals of SpineFirst align with the high standards set by The Joint Commission for excellence in care coordination and a commitment to consistent communication across all spine care settings.
"We are proud of the tremendous care our teams at Atrium Health Carolinas Medical Center provide each and every day," said Chan Roush, vice president and facility executive for Carolinas Medical Center. "This recertification highlights our continuous commitment to providing our patients the highest quality of spine services and medical expertise here in Charlotte."
In collaboration with the American Academy of Orthopaedic Surgeons and American Association of Neurological Surgeons, the certification focuses on the surgical flow process, beginning with the pre-surgical spine consultation through hospital admission, the surgery experience, rehabilitation activities and follow-up visits with the spine surgeon.
The Joint Commission Advanced Certification in Spine Surgery requires its Gold Seal sites to be committed to continuous improvement, with a focus on decreased variation in care delivery. To maintain this certification, each center is required to submit quarterly outcome data, progress reviews and, every two years, undergo a full review of services to ensure compliance. The Joint Commission standards are developed in consultation with health care professionals and providers, measurement experts and patients.
Carolinas Medical Center and CNSA underwent a rigorous, in-person review as part of the recertification, including collaborative design, implementation and evaluation of the spine program and alliance of interdisciplinary teams. Carolinas Medical Center was evaluated on meeting patient needs through safe and accessible facilities, patient-specific therapy, evidence-based interventions and the patient's involvement in care. The team at Carolinas Medical Center was also assessed on its communication between the outpatient practices at CNSA.
"This recertification emphasizes and celebrates the interdisciplinary collaboration between surgeons and care teams to ensure that we are delivering the highest quality, patient-centered care possible," said Dr. Paul Kim, executive medical director of SpineFirst. "We are proud of our care team, and those who contributed to this accomplishment, for continuing to provide world class care to the communities we serve."
Multidisciplinary teams across Carolinas Medical Center worked to ensure each group had opportunities to weigh in on the process, ask questions and collaborate in preparation for the site visit, including leaders and staff in nursing, pre-operative care, the operating room, the post-anesthesia care unit, rehabilitation and many more.
"Atrium Health and CNSA are leaders in clinical expertise, research and quality outcomes," said Dr. Claude "T" Moorman, president of Atrium Health Musculoskeletal Institute. "Together through SpineFirst, we are honored to have received recertification from The Joint Commission for our collaborative effort and excellence in patient care."
For more information about the Gold Seal of Approval for Advanced Certification in Spine Surgery, please visit The Joint Commission website.
###