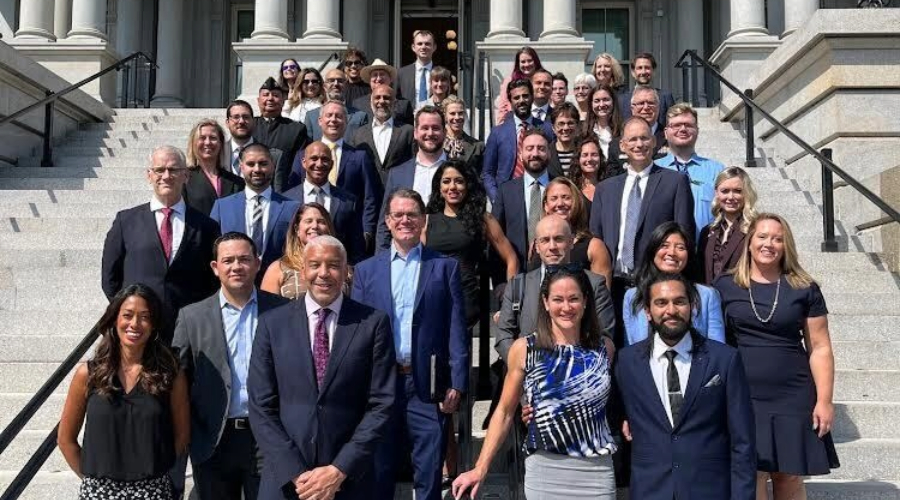 Atrium Health Levine Cancer Selected for Leadership Role in CancerX Initiative
09.13.2023
Atrium Health News
Nationally-renowned program to contribute expertise and data to steering committee
CHARLOTTE, N.C., Sept. 13, 2023 – CancerX has announced its inaugural steering committee and strategic priorities for 2023-2024 and experts from Atrium Health will be among those helping to shape the renewed efforts to conquer the deadly disease that impacts 1.9 million people each year in America. Dr. Rasu Shrestha, executive vice president and chief innovation & commercialization officer for Advocate Health, of which Atrium Health is a part, is one of 12 members selected to serve on this inaugural committee, comprised of representatives from organization members from the founding membership of CancerX. Atrium Health is one of only three health systems in the nation to be selected.
Atrium Health Levine Cancer, CancerX and its more than 125 members are working to achieve President Joe Biden's national goals for the "Cancer Moonshot." Those goals include reducing the death rate from cancer by at least 50% over the next 25 years and improving the experience of patients and their families who are living with and surviving cancer. Of the 17 moonshot initiatives, CancerX is the only one using digital innovation to advance the fight against cancer.
"Atrium Health Levine Cancer is a national leader in clinical expertise, research and innovation, and as part of Advocate Health, we believe we can help truly catalyze the mission of CancerX," said Shrestha. "As a part of the steering committee, we are delighted to have a prominent role in shaping CancerX and are committed to the collaboration and to bringing our technological approaches, combined data across our footprint and leadership strengths to this initiative to help end cancer."
Announced by the White House Cancer Moonshot in February 2023, CancerX is a public-private partnership to boost innovation in the fight against cancer. Co-created by the Digital Medicine Societyand Moffitt Cancer Center, alongside the Office for the National Coordinator for Health Information Technology and Office of the Assistant Secretary for Health, it convenes many diverse stakeholders needed to unleash the power of innovation to create a future that's free of cancer burden.
Nationally recognized Atrium Health Levine Cancer has the largest cancer program in the Carolinas and one of the largest programs in the Southeast, with more than 25 cancer care locations providing access to top-ranked physician expertise, groundbreaking clinical trials and the latest cancer treatments. It is fueled by the research of the National Cancer Institute-designated Atrium Health Wake Forest Baptist Comprehensive Cancer Center and supported by Wake Forest University School of Medicine, the academic core of Advocate Health.
"We are deeply excited to join the other CancerX steering committee member organizations in helping drive innovative solutions for decreasing the burden of cancer in our society, for all those afflicted," said Dr. Ruben Mesa, president of Atrium Health Levine Cancer and executive director of Atrium Health Wake Forest Baptist's Comprehensive Cancer Center.
Atrium Health Levine Cancer facilities serve more than 4.8 million residents across 30 counties in North and South Carolina. Among these, 43% of those live in rural communities with more than 26,000 annual cancer cases. As part of Advocate Health, the third-largest nonprofit health system in the nation, Atrium Health and Atrium Health Levine Cancer bring a wealth of resources to CancerX, including expertise in virtual care for genetics counseling, nutrition and other specialties, a molecular tumor board and a financial tumor board, for decision support, equity and financial toxicity.
To learn more about CancerX, visit Cancerx.health. To learn more about Atrium Health Levine Cancer, visit AtriumHealth.org/LevineCancer.